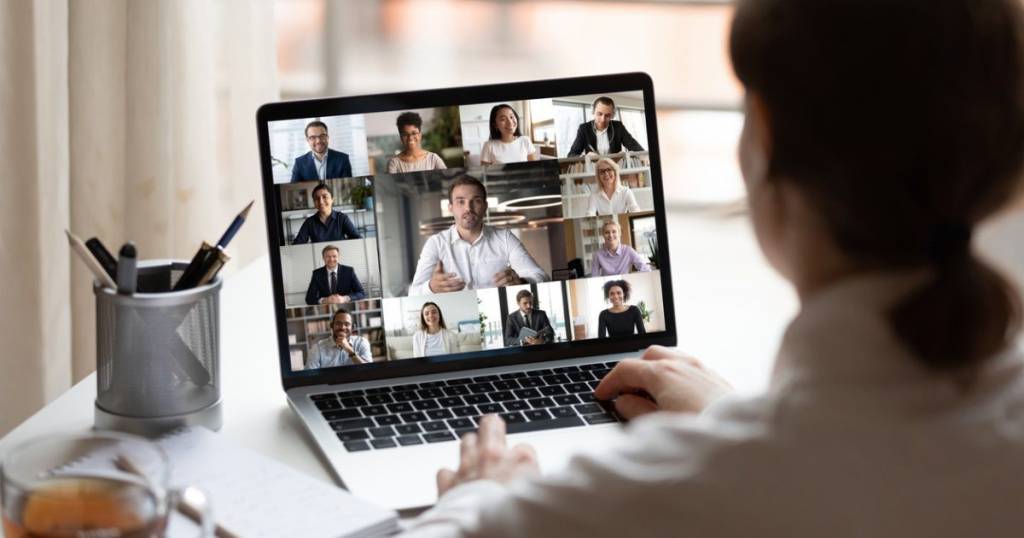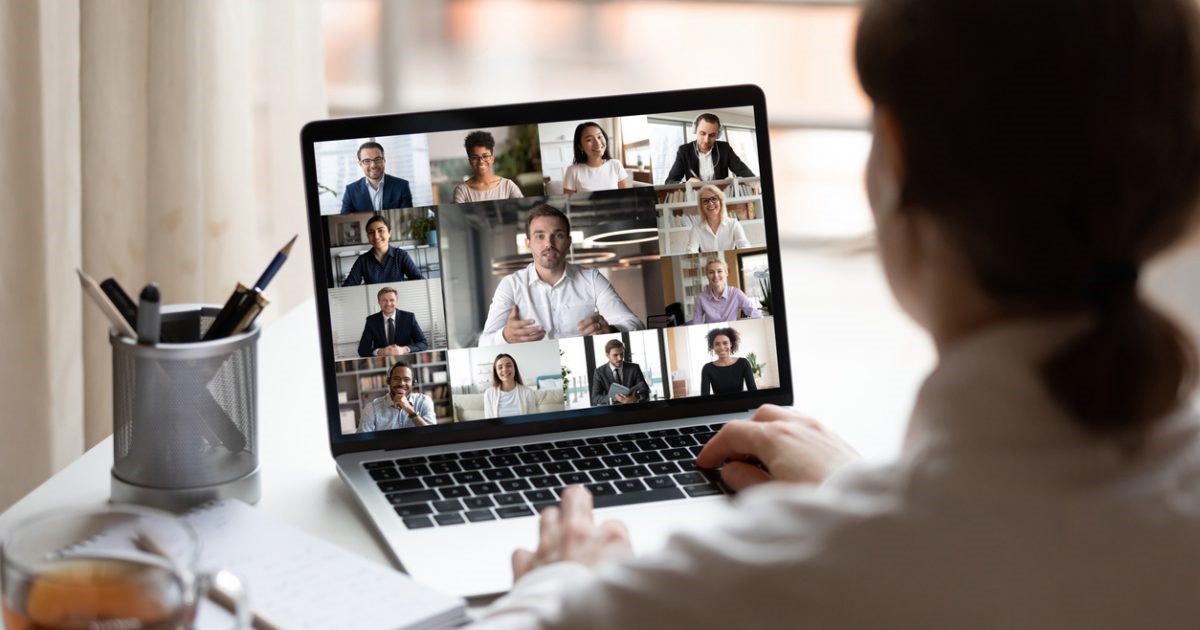 Launcher
Thought Leadership
Advantages and Disadvantages of Virtual Meetings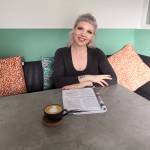 Julie Adams
•
Oct 12, 2022
In this article, we look at:
It comes as no surprise that business travel has dwindled in the past few years. But what might come as a surprise is that this dip is suggested to become more permanent. A recent poll published by YouGov found that only a third of business flyers expect to return to the same level of air travel as before the coronavirus pandemic.
Instead, many organizations will move to hosting 'virtual' or 'hybrid meetings,' i.e., those where some attendees join in person and others dial in via a video-conferencing platform. We take a look at the advantages and disadvantages that come with the trend towards less business travel and more virtual meetings.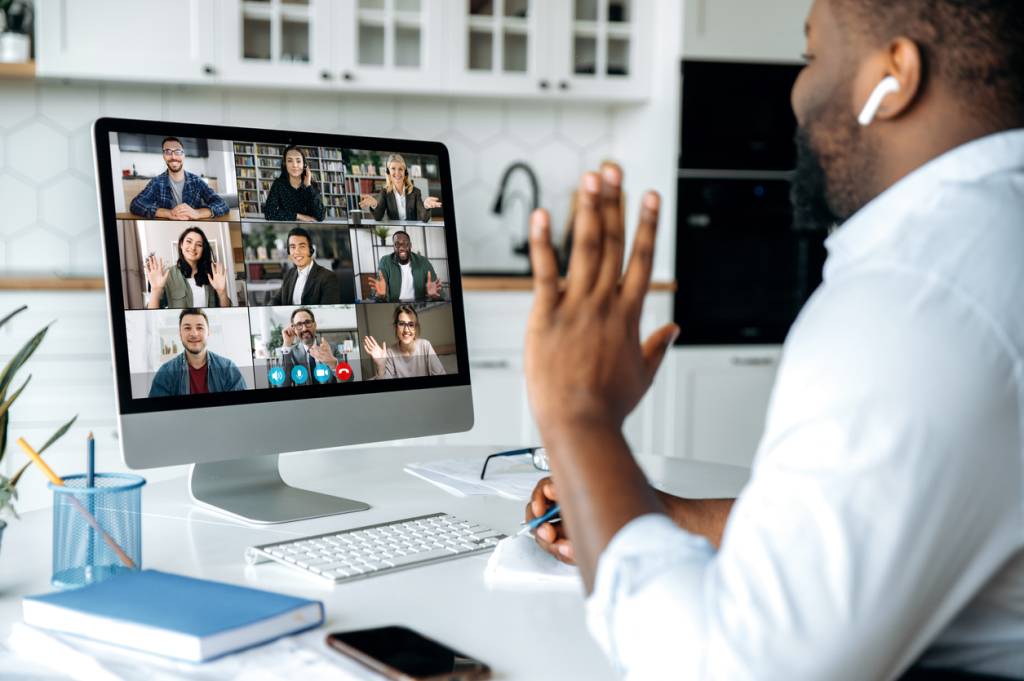 What are the advantages of virtual meetings?
1. Less spend on travel and expenses across the organization
Less travel means less spending on things like flights, accommodation, food, and catering. This is money that can instead be reinvestment back into the organization for research and development, hiring, personal development, and resources.
2. More accessibility for all employees to engage with clients and colleagues in other locations
While virtual meetings might miss out on the intimacy and productivity of smaller, in-person meetings – they enable the sharing of ideas among wider audiences, increasing participation and contribution.
It's therefore no surprise that companies worldwide are investing in upgrading their AV set-up to create a more "in the room" experience for those who aren't in the room.
3. More inclusive workplaces for those who are unable to travel
Virtual meetings are more accessible for everyone who needs to be there – whether they join from home or another country. This increases participation for those who may experience travel restrictions due to things like ill health, childcare, financial restraints, or impaired mobility. And for companies with a globalized workforce, a good virtual meeting policy creates alignment in communication and facilitates integration between teams.
4. Environmentally friendly
It's no secret that travel, especially by air, is one of the significant contributors to global CO2 emissions. Opting to hold a virtual meeting instead of traveling is a proactive way to decrease a company's carbon footprint. It's a significant way to make business practices more sustainable overall.
What are the disadvantages of virtual meetings?
1. Less face-to-face contact with clients and colleagues
As much as we all love wearing jogging bottoms to virtual team meetings, video calls struggle to mimic the richness of face-to-face meetings. Only 16% of people reported that they would like to say goodbye to the office for good. Why? Because we all depend and thrive off the interactions with others – be it for collaborative or social purposes.
Companies will need to find ways to ensure teams and clients have the opportunity to build good relationships – this may mean still having occasional face-to-face meetings or scheduling specific times for social calls.
2. Difficult to organize
For facilitators, virtual meetings can prove difficult to manage as you can't rely on everyone having access to the same meeting technology or physical resources. Experts in remote teamwork often recommend adopting this rule: if anyone is virtual, everyone is virtual; meaning that any meeting with remote participants should be moved entirely into the virtual meeting space.
3. Technical difficulties
Technology issues – be it audio, visual, or internet connections – are insidious when it comes to hybrid meetings. They take up time, degrade the impact of content, and reduce engagement.
Video-conferencing interoperability is also a related issue – there isn't one unified video platform we all use. And many of the platforms still can't communicate with each other (although Zoom and Teams made headway on this issue earlier this year). This means you have to rely on your participants all being familiar with the video platform you choose to use or, alternatively, that your meeting room is equipped to handle the platform they prefer to use.
This is something we considered when designing our Launcher meeting room solution. With Launcher installed on the meeting room screen, you can easily launch your scheduled call with ease, whatever the platform. Webex, GoToMeeting, Google Meet, Microsoft Teams, Zoom, Lifesize, BlueJeans…Launcher works with the tools you work with.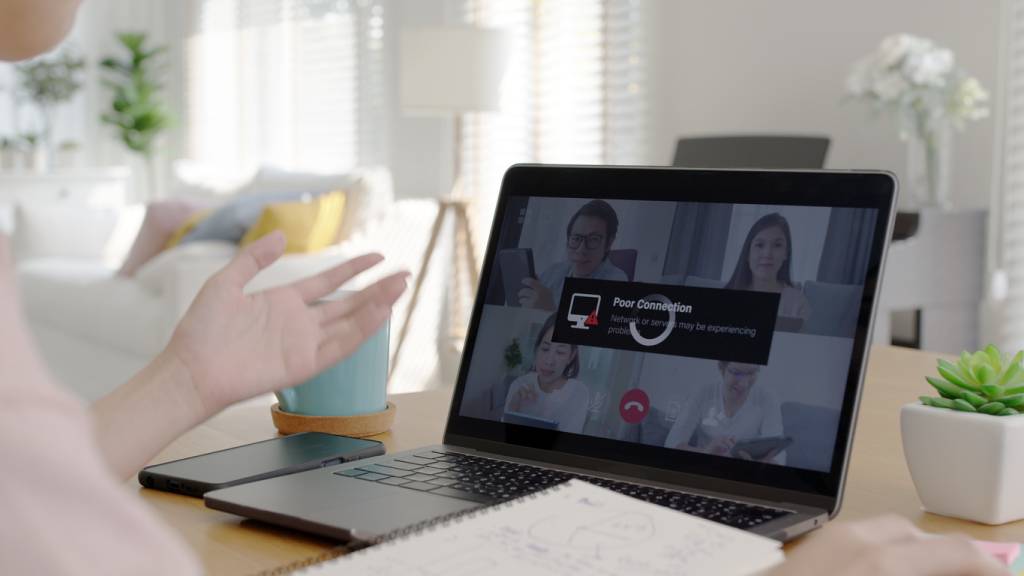 4. Less appealing to individuals wishing to travel
Often in a job interview, candidates will ask the question of travel opportunities. For many, particularly graduates, the chance to visit new cities and places is an exciting perk of working for certain companies. Organizations may have to find new ways to entice candidates into the workplace and create a compelling workplace culture that doesn't involve travel.
How can organizations future-proof their meeting spaces for hybrid working?
1. Make use of virtual conference spaces
Just as the education and entertainment industries found ways to host sessions online, many companies have also started to offer up 'virtual' conference spaces for larger meetings and events. Not only are these 'virtual' spaces more cost-effective, but they also encourage wider participation for those attendees who may be unable to travel to an in-person event.
Virtual conferences make it harder to hold more casual conversation and network as you would in a normal setting. It's important, therefore, to include pauses or separate sessions where more informal, social exchanges can take place.
2. Invest in hybrid meeting spaces
A meeting room table with a few chairs is no longer going to cut it when it comes to the future office. With less business travel and more employees opting to work from home at least part of the time, meeting spaces will need to be equipped to facilitate hybrid meetings – and this means giving the virtual attendees the same experience as those in the room. We looked at how you can equip your meeting spaces for hybrid meetings in one of our previous articles.
3. Make your meeting spaces video agnostic
With the rise of both virtual meetings and hybrid meetings, many organizations are facing challenges when it comes to supporting the myriad of different video platforms out there. Due to the lack of interoperability between UC tools, IT admins are having to deal with the need to launch calls from different vendors in the meeting space. However, with spaces often vendor-locked, this can lead to security risks and technical issues.
Our call and app Launcher software acts as a smart interface for the meeting room screen. With Launcher installed, employees can walk into any meeting space and instantly launch their scheduled video calls – whether it's Mucrosoft Teams, Google Meet, Zoom, Webex, GoToMeeting, Lifesize, or BlueJeans.
Attendees can also sign into the meeting room screen from their personal devices using the Launcher mobile app. Integration with 365 and Google accounts make it easy to access video calls, calendars, and content on any screen, in any room.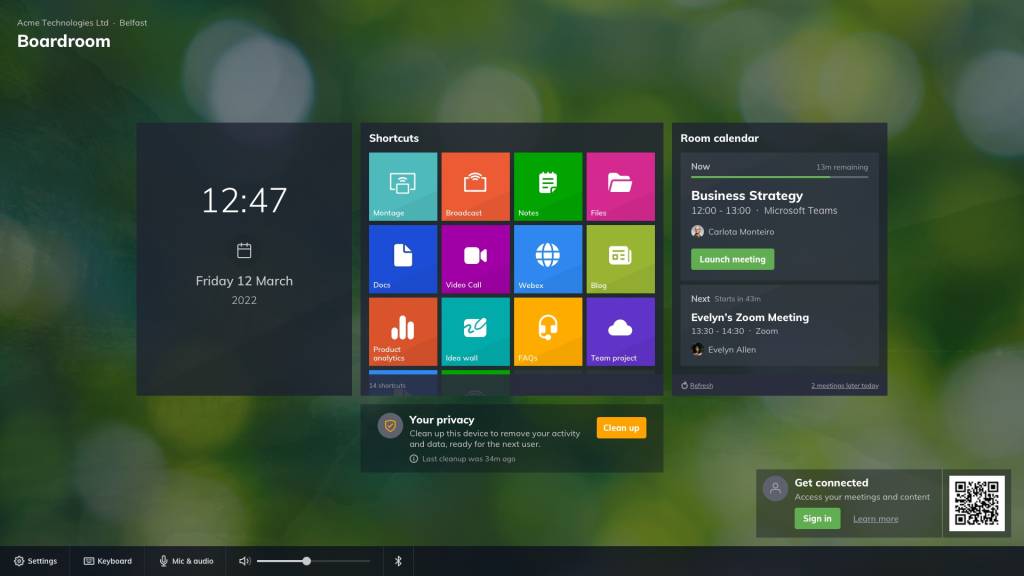 Want to stay in the loop?
Keep up-to-date with everything DisplayNote – including new releases, job openings, and customer giveaways.
Don't worry, we'll not spam you and we'll never share your email with anyone