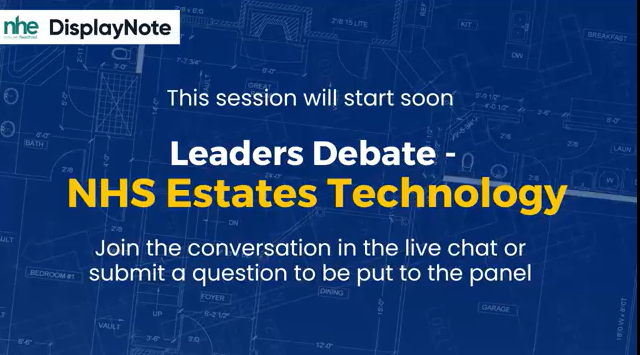 Leaders Debate – NHS Estates Technology
Digital transformation in NHS Estates not only helps relieve some of the pressure of an increasingly busy health service but tackles future demands head-on. Smart buildings enable Estates leaders to measure and control a building's heating, ventilation, air-con, lighting, security, and other systems centrally with a high degree of accuracy and efficiency.
DisplayNote's Ed Morgan joined a panel of experts to talk about the role hybrid meeting spaces can play in positively shaping the working environment and preparing the NHS for the workforce of the future.
Panelists:
Ed Morgan, Chief Operating Officer, Displaynote Technologies Ltd
Joel Glover, Director of Commercial Development, Central and North West London NHS Foundation Trust
Matthew Inada-Kim, Consultant Acute Physician, Hampshire Hospitals NHS Foundation Trust
Find out how you can prepare your spaces for hybrid meetings
Want to stay in the loop?
Keep up-to-date with everything DisplayNote – including new releases, job openings, and customer giveaways.
Don't worry, we'll not spam you and we'll never share your email with anyone