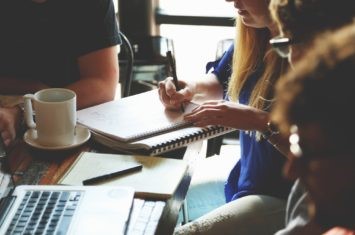 11 Ways to Use A Wireless Presentation System in Your Organisation
DisplayNoteBlog
•
Jan 19, 2017
Do you have a wireless presentation system in your meeting spaces and huddle rooms? If so, who uses it? Is it there for management meetings or does it get used right across the organisation? If you're thinking of deploying a wireless presentation system, one of the questions you might be asking yourself is, will this tool get fully utilised and deliver a good return on your investment?
In the first of two posts, we take 4 departments and look at some commonplace use cases for wireless collaboration.
Sales
Exploring the Funnel
With everyone being able to cast onto the main meeting room display, your sales meetings can now become a 360 degree review of your pipeline. Your Sales team can display their individual pipelines on the display and the Sales Manager can share a visual of the overall pipeline which can be compared and analysed. . As is often the case, some of the team may work from home or be en route to an appointment. Your wireless presentation should allow them to join and present from wherever they are.
Bringing In the Experts
Who says you need everyone to travel to an appointment just to be effective. Using a wireless presentation system that allows in room and remote connectivity will allow sales team members to also remotely introduce colleagues (like engineering or finance) into a physical meeting with a customer. These experts within their fields can be present in the meeting from a distance and can share their technical and financial expertisie or even share contravts or technical drawings with screen and content sharing capabilities.
Activity Sharing
One thing we find really useful is for the Sales team to share a weekly update of planned activity, these allows us, as a team to see who's doing what, where help is needed, what days are busiest and plan accordingly. We find that everyone being able to wirelessly present at the same time removes any uncertainty or misunderstanding, everyone is on the same page.
Marketing
Preparing for an exhibition
About 6 months before any exhibition, your marketing team will reach a point where they have to make a decision on booth designs. Usually there are 3 or 4 to choose from, either from one or competing vendors. A wireless presentation system makes it easy to view all designs at the same time and, therefore expedite the decision making process. In addition, using a solution that offers out of room connectivity means a vendor can join you on the call and share content such as additional drawings, floor plans, budgets etc.
Designing
You're working on a new landing page and the design team have sent you 6 possibilities. Instead of working through these one by one, you can use a wireless presentation system to show all 6 together. If they're in the meeting, take a snapshot of the preferred design and send it to them in real-time.
Optimising Conversion Rates
If you're a marketer, then it's a safe bet to say conversion rates are very important to you. For example, you'll want to know how many people visited your landing page, how many completed a form, of those that completed a form, how many did what you wanted them to do. Usually this means having lots of tabs open – your landing page, analytics, forms, marketing automation software and flicking across these tabs as you begin to dive deeper and really understand what visitors are doing or not doing. Using a wireless presentation system like Montage means you can have all of this data on a large display, all at the same time, making it easier to build a complete picture of your target audiences, their intent and where the process could be tweaked.
Engineering
Comparing Code
It's pretty easy to share your screen with another engineer. But what if you need to share your screen with 6 other engineers at the same time? Using a wireless presentation system that allows multiple people to come together and share their screens all at the same time, enables you and your colleagues to see the bigger picture and make better, faster, more informed, shared decisions.
More Accurate Roadmaps
A good wireless presentation system will allow remote participants to connect as naturally as those in room. This can be really useful when you're updating or reviewing roadmaps. Use the solution to present GANNT charts, Issue Tracking, and Management Reports and, at the same time, bring in any engineers that happen to be on site, at home with another department.
Design
Brainstorming
Building any sort of product means many different stakeholders coming together and working towards a predefined shared outcome. At the start of the process you could have members of the engineering team, design, UI/UX and Product Management.
That means you need to get everyone involved in the brainstorming phase. You'll want to have an open and flat structure here, which means everyone has equal access to resources such as design files, business metrics, and user data. A wireless presentation system can come into its own at the brainstorming stage, allowing everyone to share what's on their screen and contribute to the session.
Design Kick Offs
For collaboration to succeed, all collaborators need to agree on the goals of the project. Documenting these and sharing them to the main display during a kick off meeting removes any ambiguity and allows you go around the room getting feedback and agreement from everyone.
What's next?
Montage is a wireless presentation system that allows up to 6 participants to connect and present from in and out of the meeting room. To see it in action, you can schedule a demonstration here.
Want to stay in the loop?
Keep up-to-date with everything DisplayNote – including new releases, job openings, and customer giveaways.
Don't worry, we'll not spam you and we'll never share your email with anyone