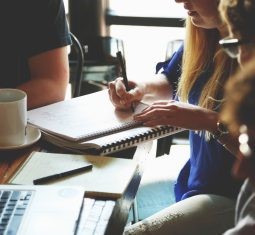 3 Ways To Enhance Your Interactive Whiteboard
DisplayNoteBlog
•
May 27, 2016
Ever found yourself thinking: "that interactive whiteboard of ours was a pretty significant investment, if only we could use alongside our iPads and mobile devices?"
Ryan Semans, Director of Instructional Technology & Development at Tierney Bros, shares with us three ways to leverage your existing interactive whiteboards and enhance the teaching and learning experience using DisplayNote. His mission: To simply help schools enhance and further support past instructional technology investments and to (most importantly) create various avenues for a better teaching and learning experience for all involved.
Interactive Whiteboard
Idea #1-Set yourself (and the students) Free One of the basic, but important, features of DisplayNote is the ability to control your IWB. I often get asked how can students more easily interact with the contact on the IWB? With DisplayNote you, the teacher, can control the content for demonstration purposes. Also, want to make the student the lead driver of your interactive whiteboard? Simply make them the presenter or hand them your mobile device. An added benefit of IWB control is that ability to untether yourself from the "front of the room" and move around for better lesson facilitation, student support and classroom management.
Idea #2-Demonstrate and Collaborate I guess I am sharing two ideas here, but why not? DisplayNote has mobile device integration, but also allows an IWB to leverage the DisplayNote software. This allows you the opportunity to select students to collaborate with the content on the IWB at the same time and to use the native tools from the website and/or program you are using on the computer (IWB) as a way to highlight strategic ways to use said website and/or program. This transforms modeling to a personalized, individualized experience that helps students conceptualize how and why to use a specific website and/or program.
Idea #3- Assessment for Learning Finding the gaps in understanding immediately creates the opportunity for lesson modification and strategic student support. DisplayNote has formative assessment tools built within the software that allow teachers to be intentional with assessment and instruction. How does this relate to IWBs you might ask? Well, when pushing the formative question(s) out to the student devices you can leverage the content on your interactive whiteboard as the question content. This is very basic, but does help with efficient assessment practices, as you do not have to do anything substantial to ask those essential, diagnostic questions on the fly for future lesson modifications.
You may also be interested in our blog post Interactive Whiteboard or Roam Free with iPad.
Want to stay in the loop?
Keep up-to-date with everything DisplayNote – including new releases, job openings, and customer giveaways.
Don't worry, we'll not spam you and we'll never share your email with anyone