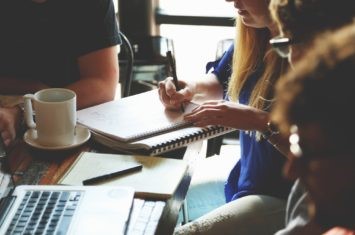 5 Ways Montage Wireless Presentation System Can Help You Meet Smarter
DisplayNoteBlog
•
Sep 2, 2016
Since we've launched Montage, we've learned quite a lot – the main being that meetings are just much better with a wireless presentation system. We have spoken to many customers, AV experts, analysts, systems integrators and technology-partners, to get their feedback on what wireless collaboration brings to meetings rooms. For us, Montage has completely changed how we meet, both for internal meetings and with teams in other locations, working from home and teams on the road.
How have those meetings changed? What are we doing now that we didn't do before or what are we not doing now that we did before? Here's the top 5 ways that a Wireless Presentation System can simply help you have better meetings.
1. Stop wasting precious meeting time.
Using a Wireless Presentation System immediately eliminates the frustration at the start of a meeting where people fight and fuss over cables & connectors, plugs & leads. Being able to walk into a meeting room and, without having to attach anything whatsoever to your device, mirror your device and content to a main meeting room display just leads to a seamless and fuss-free approach to meetings.
As it is, too much time is spent in meeting rooms.
Too many brilliant people are stuck in too many meetings. Meeting cultures begat more meetings, and the downward cycle continues, crippling productivity.Ken Norton, former product manager for Google Calendar
If you account for 5 minutes getting set up and connected to share information and screens at the beginning, there's also the disturbance caused by switching presenters or disconnecting-and-reconnecting devices to change the content displayed – all unnecessary with Montage.
The ultimate goal of having better meetings is to get more done in less time, hopefully leading to even less meetings in the long run. Montage can be a vital tool in this productivity-drive to fix broken meeting spaces.
2. Connect easily, no matter where in the world you are.
Whether you're across the room or across the world, connect fast, easy & securely to a meeting with Montage.
Using the Windows desktop application or the Chrome extension, as long as you have an internet connection and the security pin, you can have someone join from anywhere at all, whether that's a colleague who you need to contribute to a collaboration session or a report or a customer or contractor who is being brought in to consult and update on the progress of a project – it's simple with Montage.
With Montage's built in video & voice features, you can have all the connectivity of a face-to-face meeting, seeing and hearing each other whilst also seeing what's on each other's devices. Collaborating from wherever couldn't be simpler.
3. Get your point across quicker, easier & clearer.
The Montage interface is specifically designed to help you display the information you have, how you need it. It's geared towards an intuitive 'show-and-tell' approach, where not only can you mirror your device to a main display, but you can control it from there also using either touch gestures or mouse control – you can also control your PC from the meeting room display for those occasions when you're up-at-the-front.
Using the range of tools available within Montage to facilitate having better meetings, you can annotate, analyse, share and compare, discuss and develop. Manipulating how the content is shown helps you explain your points and provide supporting information in tandem. Being able to view all the content from multiple sources at the same time helps aid understanding and increases your presentation power.
4. See all of the content, miss none of the context.
It can be frustrating in meetings when information is being presented but you just don't feel like you're getting all of it. Whether you're in room or remote, the Active Display mode allows you to use Montage to really drill down into the content you're discussing.
Each attendee can see the active display mirrored onto their own devices and make their own annotations and notes whilst engaging in the meeting discussion. It's great to discuss how Montage can help you have better meetings, but imagine those terrible meetings we've all been to. Those meetings where a presenter is talking through some data and none of it is making sense, perhaps handouts weren't accurate or it turns out you're quite literally not all on the same page – Montage helps you avoid misunderstanding and allows you to keep the full team involved no matter where they are, anyone can show their content to substantiate and clarify their points; anyone can annotate on their content for emphasis and explanation.
5. Share everything you want.
According to research firm Markets and Markets, BYOD and enterprise mobility initiatives are growing at a compound annual rate of over 25% per year and by 2019 will be worth $266.17 billion in the United States. It's just a fact now, people coming to your meetings will want to be able to share their content from their devices. Montage works with Windows, iOS, Android & Mac, but further than that, because you're mirroring the device and not any specific content, you'll never run into a situation where a file extension isn't compatible for whatever reason – we've all been there, and it sucks!
You don't have to share the whole device though, for an extra layer of privacy you can choose to only share a specific window or application open on your Mac or PC.
Additionally, the file share function within Montage means you can not only have better meetings but more complete meetings. Instead of following up afterwards with meeting notes and any updated content or material-to-be-shared, you can do it then and there from within the Montage tool bar, reducing the need for time consuming meeting chores that far outlast the duration of the meeting itself.
Next Steps
Want to improve your team meetings?
Want to stay in the loop?
Keep up-to-date with everything DisplayNote – including new releases, job openings, and customer giveaways.
Don't worry, we'll not spam you and we'll never share your email with anyone