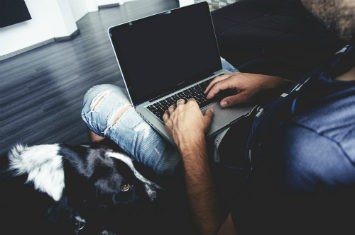 Advantages & Disadvantages of Remote Working
DisplayNoteBlog
•
Aug 26, 2020
Vladimir Lenin once said that there are decades when nothing happens and then there are weeks when decades happen.
Over the past few months, as we see how the ways we work have changed forever, it's hard not to think he had a point.
In person meetings are now video calls, spare rooms are now offices and flexibility at work, for many, means remote first but being able to go to office for a few days a week.
The speed of this transition was dizzying. Over hours, days and weeks, companies of every shape size and industry went from office-based to work from home.
As they did, their teams were quickly discovering that remote-first comes with its fair share of advantages and disadvantages.
And while we don't have to tell you every pro and con, I wanted to list my top 3 advantages and 3 disadvantages of remote first.
Advantages
1. Less travel
An obvious one but a big one.
Aside from the impact on my wallet (costs to get to and from the office, car parking, sandwiches and daily coffee), less travel means I can dedicate that time to other things instead.
Be that work projects, family time, exercise, learning a new skill, reading or just doing nothing.
2. Flexibility
"Never let a clock tell you what you got time for It only goes around, goes around, goes around". Fontaines DC
Work is now more about what I do, not where or when I do it. I can organise my day around my needs, not around set hours of the day.
Now I can get up early, do an hour or two of work before my kids get up, then spend time with them over breakfast before jumping on calls with customers or colleagues.
On the flip side, I can work later in the evening, when the house is quieter or when other time zones come online. Or I can choose to spend a few hours away from work in the middle of the day and pick things back up in the evening.
Point is, I have more say in how I organise my day and my workload.
3. Meritocracy
One huge plus is that work is about the work. What I and others achieve.
Not about posturing, being loudest, walking busily around the office or other visual 'busyness' cues.
Disadvantages
1. Less Connection with Colleagues
Working from home can at times feel isolated.
Even when interacting with co-workers via communication and collaboration tools, it is not the same as being in the office environment.
No more hearing colleagues discuss projects, solving problems together or even eating lunch together. And the ideas that are sparked from those spontaneous interactions.
Like us, many companies are working hard on solving this problem. How do we achieve the right balance between home working and time spent together in a way that's productive, collaborative and, importantly, safe?
It's one of the reasons many organisations are turning towards our Launcher software.
Giving staff the ability to walk into any meeting space and instantly launch video calls and apps. And with the Launcher mobile app, without even having to touch the screen or table top console.
2. Video call fatigue
Video calls can be hard work.
On top of the niggles from joining multiple calls, finding invites (is it in Outlook, it is in Slack?), navigating the UI of different providers, video calls require more brainpower.
You need to pick up on non-verbal cues, pay attention to tone and pitch, and ready yourself to jump into a conversation at the right time.
Even silence is hard work.
3. Striking the balance
The flip side of greater autonomy and flexibility is trying (and failing) to get the right balance between the W part and H part of WFH.
With the daily 9-6 being set in stone, it was a time when you knew you could absolutely get stuff done – you went to the office, you did your thing and you went home.
Sure, ending at six and commuting home didn't normally mean a complete downing of tools but WFH means that now the lines are even more blurred.
It's all too easy to keep working on something or because you work in whatever room you can. The place that was a sanctuary, is now a collection of different work stations. That's why it's important to look after yourself while working from home – there are also lots of great tips out there to help keep you productive while you're WFH.
Summary
Although there are many advantages of remote working which are beneficial, for many, a blended approach to remote working can be most effective.
With teams working from home 3-4 days per week and working from the office at other times, the experience of remote working can be different for each individual and company.
What makes it easier is having the right tools, both at home and in the meeting room.
Tools like Launcher make your team's time in the office more productive. It simplifies the meeting experience by giving staff secure, easy access to their apps, video calls, and calendars in meeting rooms and huddles spaces.
Next Steps…
Want to stay in the loop?
Keep up-to-date with everything DisplayNote – including new releases, job openings, and customer giveaways.
Don't worry, we'll not spam you and we'll never share your email with anyone