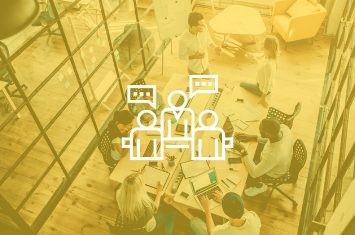 Discover the 80-20 rule of designing a collaborative space.
DisplayNoteBlog
•
May 1, 2018
Almost 40 years ago, research showed that 85% of U.S. employees said they needed places to concentrate without distraction. Organisations built thousands of high-walled cubicles to support their workers.
20 years later, employees flipped this notion on its head, with 50% claiming they needed more access to other people, and more interaction. Organisations responded by shifting towards open spaces that support collaboration and removing areas for individual work.
Open plan offices don't come without their share of problems – distractions, lack of privacy, less concentration. The main issue with open plan offices is that they encompass a "one size fits all" approach. The benefits of a more open, relaxed office are undoubtable – they boost team work, collaboration, interaction, and actually reduce stress. Despite the fact that more organisations are making a move towards open plan offices, they are also realising the need for privacy.So instead of 80% of the office being high-walled cubicles, with 20% meeting rooms for collaboration, organisations should go with 80% collaborative open plan, with 20% spaces for privacy.
A real example of best practice.
Take Deliveroo as an example.
Last year they moved their headquarters to a 55,000 square foot office in London. This new office is currently home to almost 1000 employees. The new office includes an on-site gym, 27 fully equipped meeting rooms, and a shared rooftop overlooking the River Thames.
One of the meeting rooms is designed like a basketball court, and in place of the hoops, is a gigantic screen. This room is used for large team meetings or organisation-wide meetings.
In addition to these 27 meeting rooms, the office includes a number of "quiet zones". These zones are a mixture of private phone booths, rooms with comfortable chairs, and break-out areas with pool tables and swings.
Deliveroo are the perfect example of an organisation who doesn't take the "one size fits all" approach. They understand that open plan offices boost collaboration and interaction within the organisation. But they also understand that some people need space to work on some things alone.
Collaboration technology.
Instead of thinking of collaboration technology as solely for board rooms or conference rooms, think of it as technology to boost collaboration in these open plan areas. Huddle spaces and meeting areas are now well cemented in office spaces – and these are no longer closed off rooms.
Team collaboration solutions that allow for creative thinking, brainstorming, annotation, and feedback will prove beneficial in these open areas. These types of solutions allow for spontaneous collaboration, even with a team who's in a different office.
When these collaboration areas are more common and more relaxed, employees in turn feel more relaxed, and more comfortable sharing ideas and challenging others.
So why not flip today's office on its head like Deliveroo? Open plan collaboration, and separate rooms for privacy, as opposed to meetings.
If you found this blog insightful, we think you'd like another one…"Are collaboration solutions finally getting serious about simplicity?"
Want to stay in the loop?
Keep up-to-date with everything DisplayNote – including new releases, job openings, and customer giveaways.
Don't worry, we'll not spam you and we'll never share your email with anyone