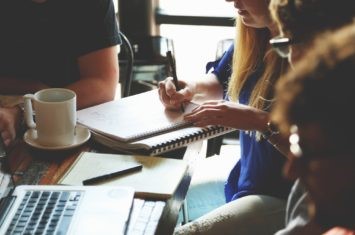 Collaborate to Innovate
DisplayNoteBlog
•
Feb 9, 2017
5 Ways that Collaboration Tools can Increase Company Success
Collaboration and teamwork in today's modern workplace are becoming increasingly important to create new ideas and be as innovative as possible. Companies strive to keep up with or outperform their competition. Collaboration stands out as a major contributor to achieving this.
According to 'The Innovation Playbook for 2016 report' from Forrester; "Firms that don't innovate in the age of the customer will disappear. Effective and sustained technology-based business innovation will determine a company's competitive success. Disruption is occurring in every market, and project-based investments, focused on simply improving the current state, won't be adequate to survive."
Collaboration takes many guises and means many things to different people but its essence it is people coming together to work on or towards a shared outcome.
By collaborating across your business, you are removing obstacles to great ideas, bringing people together no matter where in the world and helping them to connect and share information with colleagues, suppliers and even customers.
Collaboration tools can help enterprises to act quicker on issues and brainstorm to come up with new ideas faster.
There are many ways that collaboration tools can improve business performance and increase success.
Here are my top 5…
Increase Employee Engagement
Collaboration tools can help to engage employees who are situated within the office across many departments or floors as well as employees who are working remotely from home, from the road or different Geos across the world. With an effective collaboration tool employees can interact face-to-face via video or instantly via voice calls or instant messages from anywhere in the world. Colleagues can share their opinions with each other in a quick and effective way with no communication barriers.
Nearly 9 in 10 remote employees say that collaboration and team communication tools help them feel more connected to the company and their colleagues.
Reduced Lag Times in Ongoing Projects
Collaboration tools can reduce project time lines significantly. The ability to communicate in real time can increase your chances of solving issues within a quicker time period, rather than communicating back and forth via of email chains or scheduling phone calls.
As the communication is in real time it can also reduce the chances of miscommunication and will ensure that each person involved in a specific project is on the same page. With an effective collaboration tool, project specific communications can remain relevant and segmented into specific project names or groups. A straightforward, 5 minute conversation via voice or video calls, using a collaboration tool can eliminate 10 – 20 back and forth emails. This real time communication and collaboration can also free up more time for employees to focus on core tasks to be completed within the project.
Reduced travel costs
Many people enjoy face to face interactions with their colleagues, suppliers, customers and prospective customers, but in the world of global business these interactions can quickly become expensive and at times not cost effective. Collaboration tools can enable you to continue to carry out these face-to-face interactions with colleagues and clients around the world, without incurring those unnecessary travel costs.
Using video, voice, screen sharing and even white boarding features in some great collaboration tools can enable everyone to come together, chat face-to-face via video, annotate and comment on content via screen sharing and also brainstorm new ideas by sketching them out together using collaborative whiteboards.
Faster Innovation
When wishing to accelerate innovation and new product creation, the ability to communicate with ease and with no obstacles is very important. A new product development team can collaborate in real time over video and voice, work on content together uisng a collaborative whiteboard, make suggestions and come up with new ideas to then create an innovative shared outcome which can be saved and shared across the full team.
Better Sales Conversions & Client Relations
When building and nurturing great relationships, many people recommend and prefer a meeting in person and at times this can be the right thing to do.
However, a meeting 'in person' may be better, say, for example, further along the sales cycle of a new deal, but when it comes to building the initial stages of communication and relationships with new, prospective clients, it may be just as or more beneficial to make use of video or voice calls and screen sharing within a collaboration tool to communicate and collaborate to build the initial relationship, then when the time is right, meet in person.
In summary
Collaboration takes many guises and means many things to different people but in order to succeed in a competitive, global business world, making collaboration easier within your organisation is vitally important.
Next Steps…
You may be interested in finding out more about collaboration tools for your organisation.
You may also be interested in our blog post How to Build a Shared Vision & Successfully Collaborate on a Project.
Want to stay in the loop?
Keep up-to-date with everything DisplayNote – including new releases, job openings, and customer giveaways.
Don't worry, we'll not spam you and we'll never share your email with anyone