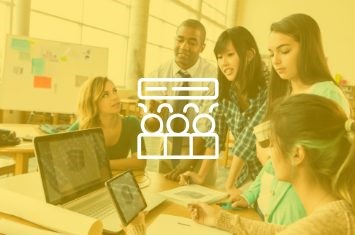 Our top 5 collaboration predictions for 2018.
DisplayNoteBlog
•
Jan 30, 2018
We saw a lot of trends come to light last year. Notable ones are AI (particularly chat bots), collaboration being instrumental towards operational excellence, and voice communications becoming simply 'communications'.
These trends unlike others, have stuck around, and cemented themselves in the essence of collaboration.
We're going to write about our predictions for the trends that will come apparent in 2018 – and because they are based on feedback from real customers, we believe these ones will stick around too.
Video
From speaking with our customers towards the end of 2017, it was evident that they are using online video more than ever before. From creative video marketing campaigns, to explainers, video ads, success stories and more, video will only continue to be a critical asset within organisations. Stats show that some of the largest B2B companies host more than 10,000 videos, with no signs of slowing down. Businesses in high tech and manufacturing are the most frequent publishers, averaging more than 20 videos per month, and the average video length is 8 minutes.
Collaboration solutions vendors need to put an emphasis on supporting video. Because organisations are using video more than ever, lag or latency will not be accepted. The power of video in sales and marketing is increasing even further. We see a lot of meetings now using video to train staff, spark ideas, and to aid collaboration. You can read about how we approach video here.
We believe that 2018 will see the focus on video streaming, and the recognition that it's a fundamental asset in business collaboration.
The hybrid workplace
We previously spoke about the hybrid workplace, but as mentioned in the last trend, traditional offices are dwindling because people don't work in an office 100% of the time anymore. Some people work from home, and some people work remotely, from a local office space or hub. So the virtual workspace needs as much attention, if not more, than the physical workplace. People should be able to work from anywhere, and access information on the go. But where the difficulty lies is sharing this information that they have in the palm of their hands. There are still physical barriers to sharing information and ideas with colleagues. Equally as importantly, everyone should be able to collaborate from anywhere – in the virtual world or the physical one. Collaboration solutions need to not only provide the access to information, but the ability to share the info, in the most seamless way possible.
IoT collaboration
Everything is getting smarter. Our devices. Our screens. Our meeting spaces. They already have the ability to "talk to each other". And things like the Amazon Echo and the Google Home are being used in business, almost as much as in the home. Amazon have already announced 'Alexa for Business'. This will help people perform tasks such as managing their calendars, dialling into meetings, or searching for information. These smart devices will further boost the efficiency of collaborative meetings.
We believe 2018 will see this become more mainstream, and these virtual assistants will do even more. They could record meetings, for play back at a later time, they could control the apps we use, and open them/project them on to a large screen, they may even act as storage units in the future.
Even greater security
Unfortunately 2017 was known as the year of the hacker. Data breaches and security in general across all communications channels has become a major issue. One of the things we get asked often is "how secure is my data?" This is no longer a checkbox at the end of a selection process, but one of the very first things we get asked, in order to even make the shortlist of potential collaboration solutions.
And now with additional hardware or integrated solutions, such as Alexa for Business, security needs to be considered for all avenues of collaboration.
Infinite workspaces
Taking into consideration the rise of the remote worker, we know that infinite, collaborative workspaces will peak this year.
These workspaces are prevalent in teams that are dispersed, or project teams such as those in design, construction etc whereby every member of the team need to contribute and share content. Collaboration solutions will go beyond wireless presentation, and allow people to communicate, contribute, and collaborate in real-time, no matter where they are. They can create and edit documents together. Meetings will no longer be sessions to discuss a project – they will be sessions to work on a project.
Imagine, scattered teams, working together, collaborating on a project, with real-time context. No emails back and forth, separate conference calls, or location barriers in their way. Just getting the work done.
Conclusion
We're confident that these 5 trends will be dominating collaboration in 2018, and they are here to stay.
At DisplayNote, we create solutions to bring people, ideas, and information closer together. We break down the barriers that stand in the way of effectively sharing information and ideas in meeting spaces – barriers such as location, network, and device type.
What differentiates us, is our approach to collaboration – simplicity, flexibility, and security are at the forefront.
If you're looking to adopt a collaboration strategy this year, or already have one in place, but need to ensure it's always up to date, consider these trends and make sure your solution of choice can keep up with them.
Better still, take a free trial of our wireless presentation solution, Montage, and see for yourself how simple collaboration can generate major benefits for your organisation.
Want to stay in the loop?
Keep up-to-date with everything DisplayNote – including new releases, job openings, and customer giveaways.
Don't worry, we'll not spam you and we'll never share your email with anyone