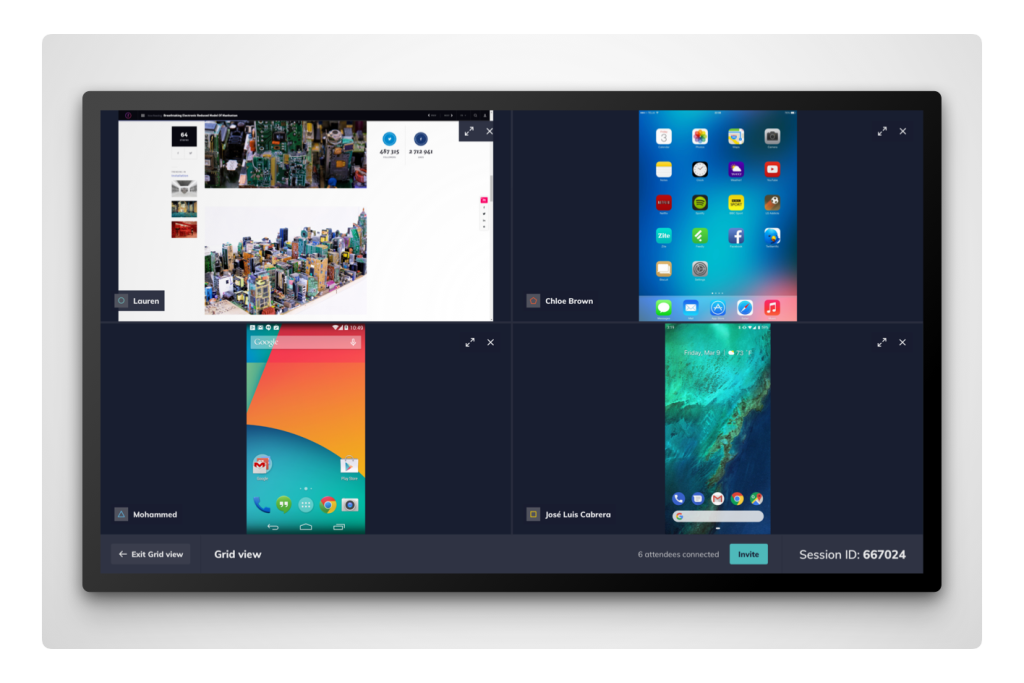 Collaborative AND Comparative Grid Display
DisplayNoteBlog
•
Oct 25, 2023
Grid View is a great way to see multiple attendee devices on the main display at the same time.
In addition to allowing presenters to view and compare work from different sources, Grid View allows screensharing to be viewed in a variety of ways:
Single screen view – best for presenting
Two screen view – best for side-by-side comparisons
Four screen view – best for meetings with many collaborators
Grid View comes into its own when you consider the control it gives the teacher or presenter:
Permission control – Grid View and moderator mode work hand in hand, meaning that while Grid View is active, attendees must be granted permission before sharing their screen.
View control – Teachers or presenters have control over where attendee screens will appear within Grid View, whether they're displayed in full screen, and they'll also be able to make remove any screenshare from the session.
Grid View works great in places like classrooms, where teachers need to invite contributions from the multiple students while still staying in control throughout.
How Grid View works
Grid View can be enabled from the settings tab in your Montage receiver software and works alongside moderator mode. So, head to settings, turn on moderator mode and toggle on Grid View. Once those options are enabled, any connected device will be displayed on the Montage home screen, where you'll be able to jump quickly into Grid View and invite any attendee to join you.
Grid View's size and layout will adapt automatically as attendees join or as you remove them. You'll experience smooth transitions between views for one, two or four connected attendee screens.
Learn more about DisplayNote's Montage wireless presentation technology. 
Want to stay in the loop?
Keep up-to-date with everything DisplayNote – including new releases, job openings, and customer giveaways.
Don't worry, we'll not spam you and we'll never share your email with anyone