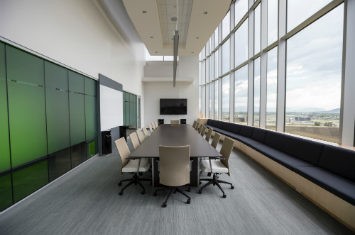 Open up your boardroom with collaborative solutions.
DisplayNoteBlog
•
Jun 14, 2017
Is your boardroom used to its full potential? Or does it lie empty for the majority of the time? We highlight how to truly transform your boardroom with collaborative solutions.
Typical boardrooms.
Typically, a boardroom is used for meetings with the company's Board of Directors. Everyone sits round a huge table, discusses company objectives, and takes notes. Usually, a member of staff will sit in, to take minutes, and send these out to the board members.
However more commonly, boardrooms and other meeting rooms are becoming a waste of space. According to a recent workplace strategy report by CBRE, 59% of all meetings observed showed there were only 2-3 people in any given meeting. This is likely due to the fact that there is an increase in employees working remotely, leaving the meeting room unoccupied for large periods of time.
Culturally the boardroom is seen as the 'bored room', where employees are gathered to stare at a screen, take notes, and be spoken to.
This mentality needs to change, and companies should do everything in their power to enhance the boardroom experience, and generate organisation benefits from this.
Technology is so advanced, and is adapting at a rapid pace. You don't only need to cater for your company now, but also for the future.
Companies are not the same as they were twenty, ten, even five years ago. Reports show that the amount of remote workers is set to account for 42% of the global workforce in 2020.
It's not as simple nowadays to get your remote employees in the same room at the same time. Conflicting calendars, different time zones, and cost of transport make this difficult. Building a relationship with remote workers can also be a challenge. Speaking via email or telephone a few times a week just doesn't cut it. 97% of employees believe that a lack of alignment within a team impacts the outcome of a task or project.
But you can completely reinvent your boardroom, and overcome these issues with Collaborative Solutions.
Collaborative solutions.
Communication is vital for company success, and thanks to the latest technology, you can keep in touch with your remote staff like never before.Collaborative Solutions let you communicate with remote staff via video call, and allow them to share content to your boardroom display, even when they're not in the room. Remote staff can present their content, and allow the team in the boardroom to annotate, add comments, and give feedback in real-time, (and vice versa) allowing for a true collaborative effort. Multiple devices can be presented to the main display at once, making it easy for different members of staff to present their content.
All this content, along with any annotations or comments can be saved as a file, and emailed to all participants, saving the need for an allocated staff member to take minutes or notes, and send these around.
Collaborative solutions allow for scheduled meetings, or ad-hoc idea sharing. You can quickly link up a display in one location to a display elsewhere, and collaborate in real-time on an interactive whiteboard, or over the top of documents.
One thing that all collaborative solutions should be, is simple. Everyone should be able to walk into the meeting room and use them, without torturing the IT guy – whether it's someone from Finance sharing forecasts, or a member of the Marketing Team casting images.
With the right solution, your boardroom becomes a truly collaborative hub, where great ideas and projects are planned and executed. Staff from different departments and different locations can all come together and contribute to company success, reinforcing that common goal and improving internal working relationships.
And this isn't limited to staff projects. You can use Collaborative Solutions to work on projects with external companies, such as design agencies, partners, or even the board of directors.
No matter what you use your boardroom for, it should always be collaborative.
So get rid of the 'bored room' and say no more to inefficient meetings. Look to the future, where your meeting room is at the core of collaboration, innovation, and success.
Check out our collaborative solutions that will truly revolutionise your boardroom now and for the future.
Next Steps…
To see our collaborative solution Montage in action, book a demo now!
Want to stay in the loop?
Keep up-to-date with everything DisplayNote – including new releases, job openings, and customer giveaways.
Don't worry, we'll not spam you and we'll never share your email with anyone