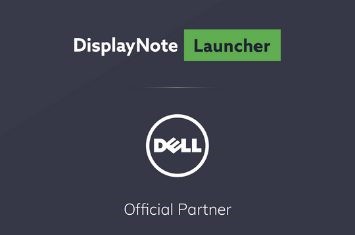 DisplayNote's Launcher & Dell Technologies come together to simplify the world's meeting spaces.
DisplayNoteBlog
•
Jul 2, 2020
Belfast, July 2nd, 2020. DisplayNote and Dell Technologies today announced that DisplayNote's Launcher software, a one-tap app launcher for meeting room displays, is to be offered alongside the Dell Technologies range of enterprise-focused touch displays as well as being sold as stand-alone software by Dell Technologies software team.
"Our Launcher software is designed to simplify today's meeting rooms by making it easier to start collaborating", said DisplayNote CEO Paul Brown. "Combining Launcher's simplicity with Dell Technologies' best in class displays is a naturally good fit for both companies and, more importantly, for people that want to simplify their meeting spaces."
About Launcher
Launcher is an app launcher for meeting spaces that delivers a standardized one-touch experience. It allows users to participate in meetings and easily launch video calls and access any collaboration app installed on the PC or display.
Features Includes:
One-touch access to video calls on Zoom, Teams, Webex, GoToMeeting
Customisable Windows Kiosk for Windows displays
MS Exchange and Google Calendar integration
Access to OneDrive and personal calendars
Quickly launching calls with one-touch via the mobile app
Device clearing of cache and local data for privacy
PIN protected admin settings
Launcher is designed to simplify the meeting room by providing a consistent and hassle-free experience to launching apps through its intuitive UI, smart use of technology, and seamless integration with third-party tools.
Want to stay in the loop?
Keep up-to-date with everything DisplayNote – including new releases, job openings, and customer giveaways.
Don't worry, we'll not spam you and we'll never share your email with anyone