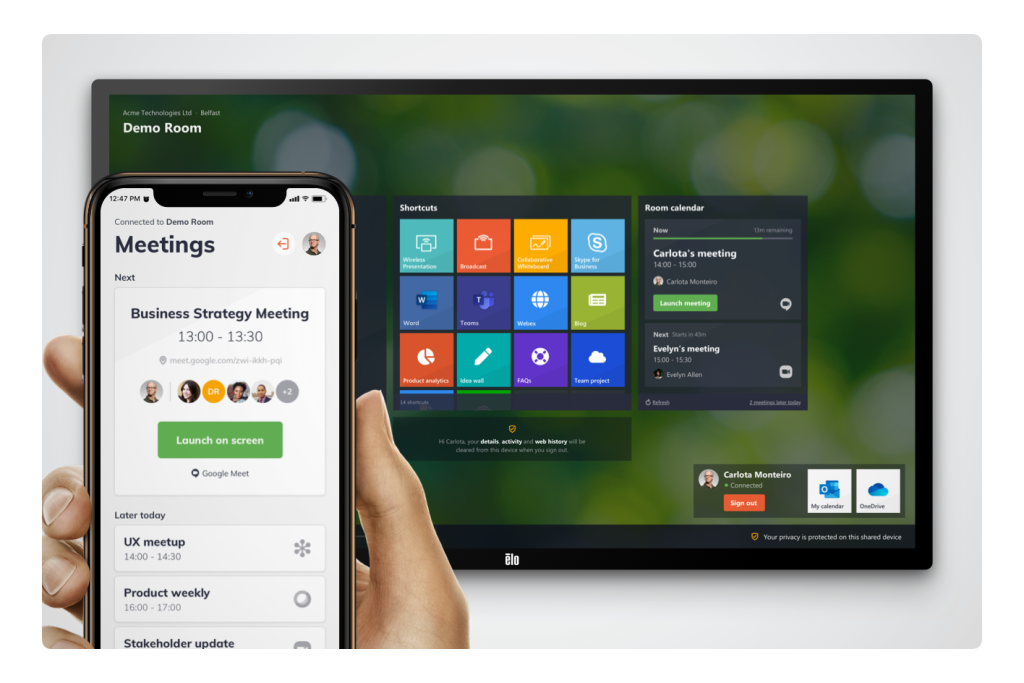 Elo serves up meeting simplicity with a mix of modular thinking and Launcher.
DisplayNoteBlog
•
Jul 30, 2020
Touchscreen specialists use Launcher to eliminate meeting kick-off complexity.
Elo is on a mission to help people do their jobs better and spend less time doing it. Cited as the inventor of touchscreens, Elo's core values are rooted in delivering solutions that solve problems through simplicity. That's why its new Huddle Kit solution is using Launcher to take simplicity to the next level.
Launcher lets users start video calls and launch any app onto the meeting room display with one simple touch of a button. As if that wasn't simple enough, the Launcher mobile app allows users to launch video calls from the comfort of their seat.
With over 25 million touch screen installations worldwide, Elo understands meeting-room simplicity is key for corporate customers. Inefficient meeting room technologies can consume precious minutes at the start of every meeting, adding up to a big loss in productivity over time.
We spoke with Kristin Roubie, Elo's Sr. Channel Sales Manager, to see how a company like Elo uses Launcher to simplify meetings.
Kristin, could you talk to us about the Huddle kit and why it was created?
Elo delivers enterprise-ready interactive solutions that simplify collaboration with a modular, software-agnostic design. The Huddle Kit, like all of Elo's corporate solutions, is built on a flexible platform that enables businesses to configure application-specific solutions with components that are purpose built to work together.
And in your view, what was missing from meeting spaces that he Huddle kit could help with?
Simplicity. Traditional meeting room setups are comprised of components from multiple manufacturers requiring complex cabling and programming in order to work together.
All of the components in the Huddle Kit are designed to seamlessly work together with an Elo large format interactive touchscreen display for an all-in-one experience driven off a single power supply.
What do you think the modern meeting attendee wants when it comes to video calls and app launching?
Attendees want tech that just works.
Ease of use.
Ease of connecting.
Ease of starting meetings.
Eliminating the complexity of starting and connecting to meetings is extremely important, especially in today's world of a widely dispersed workforces where we are often attending back-to-back video calls.
What were you looking for in a solution like Launcher and what features did it need?
Elo's goal when developing collaboration and enterprise solutions is making meetings easy. By including Launcher, IT teams can easily add quick links to collaboration software on the dashboard so meeting participants can access what they need fast while minimizing the need for assistance.
What do customers like about Launcher and the collaboration solution?
Launcher is extremely compelling to the IT support teams as it enables them to lock down the conference system so that the appropriate applications are easily accessible and meetings are able to start with one touch. This frees up their administrative time to be more productive and pleases users because it limits confusion.
How has Launcher impacted meeting spaces?
In my opinion Launcher removes confusion for starting a meeting and for transitioning from one application to the next. It guide attendees through the simple and intuitive user interface where all of the applications are available in one place for easy accessibility and one click start up.
Thanks Kristin. And lastly for our readers, what's next for meeting rooms?
In today's world with limited travel and widely dispersed teams, video conferencing and remote collaboration is paramount to the success and productivity of business. I believe we will see a larger quantity of small huddle spaces as well as open air meeting areas for collaboration where Bring-Your-Own-Device and whiteboarding will be ideal.
Connect with Kristin on LinkedIn.
Launcher is designed to simplify the meeting room by providing a consistent and hassle-free experience to launching apps through its intuitive UI, smart use of technology, and seamless integration with third-party tools.
Want to stay in the loop?
Keep up-to-date with everything DisplayNote – including new releases, job openings, and customer giveaways.
Don't worry, we'll not spam you and we'll never share your email with anyone