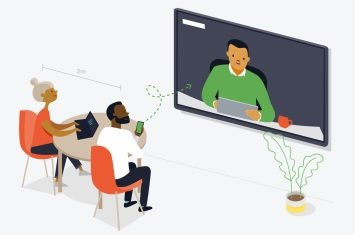 From a distance: Collaborating safely in meeting spaces.
DisplayNoteBlog
•
Jun 5, 2020
As we approach our third month of lockdown it's fair to say that our typical day-to-day has changed significantly and perhaps even forever. While the impact of the pandemic on our personal and business lives is evident, as human beings we've already begun adapting to our new working environments: kitchen tables have replaced workstations, chat apps are being used more than ever and meeting spaces are being replaced with video calls in the quietest room we can find.
Places of businesses too are adapting: from setting up employee rotas to manage office footfall to making physical changes to layouts in compliance with social distancing measures.
While it is true that many companies have accepted the inherent benefits of remote work, it's clear from speaking to those that oversee meeting spaces, that there's a movement underway to deliver an approach that blends working from home with office work alongside others.
At the heart of this movement are meeting spaces. If meeting spaces are an important cog in a blended approach, then we must ask ourselves some serious questions around safety:
• How can we safely conduct meetings within the meeting space while keeping the session relevant and productive?
• How do we safely interact with physical aspects of the room such as touch displays or other shared devices such as a mouse and keyboard?
While there are no easy answers or off the shelf solutions, there are tools out there that can certainly help businesses blend remote working with on-premise working without compromising on safety.
Take our Launcher solution as an example. At its core, it simplifies the process of launching video calls and collaboration apps on the large meeting room screen. Normally a user simply steps up to the screen to tap the option to launch the meeting. However, that may not be possible any more: meeting room policies may be temporarily restricting interaction with touch screens and control panels, or users may be required to remain seated during a meeting.
This is where the Launcher mobile app comes into its own. The Launcher mobile app has been designed as a companion for the meeting room user, allowing them to conduct meetings from the safety of their own seat and without having to interact with any shared devices within the space.
The Launcher mobile app allows you to step into any space where a shared display has been set up with Launcher and start any video call via the main meeting room display at the simple tap of a button, and all of that from your own smartphone and without having to use the room's shared mouse or keyboard.
If you're interested in hearing more about benefits that Launcher could bring to your business, and how it can help you make a return to a new business normal, get in touch. Better yet, you can try Launcher for yourself completely free for 14 days.
Want to stay in the loop?
Keep up-to-date with everything DisplayNote – including new releases, job openings, and customer giveaways.
Don't worry, we'll not spam you and we'll never share your email with anyone