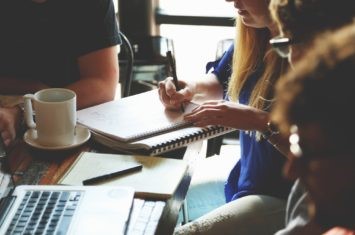 The essential guide to improving remote collaboration.
DisplayNoteBlog
•
May 27, 2016
Firsty, let me make a bold statement: Everyone now is a remote worker or mobile worker. I'm basing this on a few assumptions: one, you actually work from home or off-site or at some point outside of your organisation's physical space, you answer emails, take calls, read presentations on the train, meet with others at different locations.
This means we are all, in some shape or form, a remote worker. As I said, there are of course those who are actual remote workers, most of the time based elsewhere, whether in a satellite office, at home, co-working spaces or just travelling on the road.
The below diagram gives some stats on Americans who reported working from home. And this is just working from home!
How to contribute whilst Remote Working
Contributing effectively to your organisation and team while being in a different location from that team from elsewhere is a challenge – it's getting easier but there are still problems to be overcome no matter how far down the line you are in terms of building out and working with distributed teams.
So, how can organisations make it easier for remote collaboration to take place? A great read is a blog post by Nicole Fallon at Business News Daily that explores work-from-home myths, including:
You can be just as productive working on your couch as at a desk or table
Meetings aren't productive if they aren't face to face
'Work From Home' strictly means 'from your home' as opposed to other non-office settings
You can work anytime, day or night
You work more than people who work in the office
Working from home has too many distractions and, anybody can be successfully doing it
Whilst these are all valid myths, remote working does indeed have challenges to meet and companies need consider how to enable optimum productivity for remote working.
Go Beyond Video and Voice
Many companies have telepresence solutions now, in fact they are a pre-requisite – be it an existing hardware solution that sits in meeting rooms at HQ or low-fi software versions available to anyone with a browser.
For today's teams, video and voice is just not enough – today's teams are going beyond video and voice communication and demanding solutions that allows them to wirelessly present, share a whiteboard, edit documents, chat one-to-one or in a group.
Get Information Out Of Those Files & Folders
The amount of information available and knowledge shared in a typical workday is staggering and it's pretty essential for all workers, whether they're in or out of the building – having an adequate, accessible and secure data storage system is invaluable.
It's not enough for information to just be emailed back and forth as required, solutions like OneDrive, Dropbox, Box, Sharepoint and Google Drive are a lifeline for remote working: they help connect the people with the information. There should be no information that someone working in the building can access that those remote working cannot – the challenge here is to find tools that make it easy for organisations to get information and knowledge out of those files and folders and into the hands of the right people.
Don't Neglect Those Back At Base
Marissa Mayer, CEO of Yahoo, said the following after ending her companies practice of allowing working from home, "People are more productive when they're alone, but they're more collaborative and innovative when they're together." Mayer here is advocating people coming back in from the cold, so to speak, working together to grow a stronger company, meaning lots more meetings in meeting rooms.
Collaboration is a two-way street, we see no sense focusing all our efforts in putting the right tools in place for distributed teams in just sitting people at a desk and not setting up the work environment for collaboration.
This is where Montage comes into its own. However Marissa, what if you set up your company so that your workers are productive regardless of where they are? Take meetings for instance, something we at DisplayNote Technologies have studied… a lot – we have an office in Murcia, Spain and I'm currently writing this from our Belfast, Northern Ireland office. On any given day our divided teams could be wireframing a site together, having a weekly sales meeting with remote workers, going through a development plan together – before we created documents we were looking at.
We would have to share content and then try to vocally or visually jigsaw everything together in a meeting. It doesn't have to be this hard.
Imagine if Marissa Mayer wasn't in the office, but had to take part in a meeting – but a different meeting, one with Montage – despite remote working, she could see and hear everyone in the meeting room, she could see, on her device, any content that's shared to the main meeting display. Within the same meeting interface, attendees can share files and annotate on content. Y'know – actually working together.
It's this kind of innovation that's needed for remote working to be a true success, all-encompassing solutions that cater to as many needs as possible for those working remotely. You could use a whole range of non-connected tools to try to piece together something that works for you, but the productivity gains of combined solutions should never be underestimated. Like with Montage, Wireless Presentation, Communication & Collaboration in one hardware solution.
You should also neglect the 'watercooler moments' at your peril. Team cohesiveness is incredibly important, it's where relationships are former, it's where team-buy-in happens. If you can't arrange physical meet ups often, provide some sort of solution for teams to communicate in a non-work fashion, even just a simple chat tool to stay in touch and become more than just workmates – colleagues are more likely to help each other out and inspire each other.
Next Steps
Interested in connecting and collaborating with co-workers on any device from anywhere?
You may also be interested in our blog post My Top 5 Steps to Improving your Teams Collaboration.
Want to stay in the loop?
Keep up-to-date with everything DisplayNote – including new releases, job openings, and customer giveaways.
Don't worry, we'll not spam you and we'll never share your email with anyone