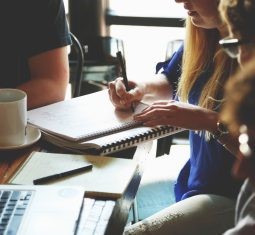 Introducing Montage 2.0 wireless presentation system.
DisplayNoteBlog
•
Apr 6, 2017
Montage Wireless Presentation System is deployed in meeting spaces right across the globe and we're always hard at work behind the scenes to ensure our customers can cast their displays quickly, at high resolution and in a reliable, scalable way.
Today, I am excited to announce an update to Montage that will deliver intuitive audio, higher resolution and improved video performance, while keeping bandwidth requirements at a minimum.
To give all our users the best performance possible, we've concentrated engineering efforts on 2 components: video quality (both from device to display and when reviewing the active display), and audio streaming.
We believe that wireless presentation systems should work from anywhere with minimum effect on bandwidth. We want to ensure that Montage is the most scalable wireless presentation technology for enterprise wide adoption.
For this reason we are also introducing Montage 2.0 as a subscription based software for Windows. Which means that organisations can deploy Montage without the need for additional hardware in their meeting rooms and huddle spaces.
Video Streaming
Having multiple meeting attendees' stream great quality video is fundamental to wireless presentation, whether you're doing it in one room or one hundred. What's crucial to making this happen, especially when deploying multiple systems across an organisation, is how the system handles available bandwidth.
To solve this problem we have made huge improvements on Montage handles bandwidth. In 2.0 we have dedicated a lot of engineering time to improving WebRTC. Doing this allows Montage to get a much more accurate measurement on available bandwidth and allows the system to dedicate resources accordingly.
The end result is multiple users having full 1080p streaming with excellent quality and performance whether that's casting from device to display or viewing another screen in active display mode.
For this version of Montage we've updated to the latest version of WebRTC used in Chrome which now adds support for H.264. This has helped us to remove freezing due to improved mechanisms for packet loss, increased image quality and a higher frame rate.
In addition, we've spent considerable time profiling and analysing the Montage application to optimise memory and CPU usage. For the meeting attendee, this means a much more fluid and smoother UI with increased frame rate, all in all a clearer faster picture.
Improved Audio
For 2.0 we realised we needed to move away from using Stereo Mix to handle audio towards a solution that gives users much more control and flexibility.
Using Stereo Mix meant users relying on too many outside variables to deliver good audio: drivers needing to be implemented, making sure that it was enabled. Some devices supported it, others didn't. Sometimes we found that Stereo Mix wasn't available or enabled and, in the end, it didn't work properly.
For users of Montage it meant that audio choices would have to be made, in settings, before connecting to a meeting.
To overcome these problems we built a system called Audio Loop Playback which makes audio more fluid and intuitive as it means we don't have to rely on having an audio mixer. Now when a user joins a meeting, their screen audio is automatically shared to the meeting.
If they then turn on their mic, screen audio is no longer shared to the meeting, instead mic audio will be shared. Turning off their mic will disable the mic and begin streaming screen audio again. In addition, pausing screen at any time will also pause your screen audio.
To build Audio Loop Playback we've built upon the Microsoft Windows Audio Session API (WASAPI).
This enables client applications to manage the flow of audio data between the application and an audio endpoint device.
Now every audio stream is a member of an audio session. Through the session abstraction, a WASAPI client can identify an audio stream as a member of a group of related audio streams. The system can manage all of the streams in the session as a single unit, which to the users means much more robust and fluid streaming of mic and device audio.
In addition we have also connected the WebRTC part of audio selection to this new implementation to make it easier to select and stream audio from each of the devices.
Improvements to Audio Input and Output Selection
Previously Audio input and output was decided prior to a session in system settings and included making a decision on choosing Screen Audio versus Mic. In 2.0 the audio settings has three options:
Drop down to select audio input – that is the source for your mic.
Drop down to select audio output – that is the source used to play audio out from the client app.
A checkbox to select 'Mute audio at source'. This is selected by default. When selected the sound does not come out of the users speakers during a meeting and will only come out of the Montage meeting speakers. If deselected you'll get audio from both.
Native Apps for iOS & Android
For 2.0 we have made connecting to a Montage session a much more richer and inclusive experience with the addition of native apps for both iOS and Android.
Available from the App Store and PlayStore, the Montage apps will allow meeting attendees to share content from their mobile device to the meeting room display. Users can connect in the room and remotely with video and voice for real-time communication.
In addition, native app users can view the active display right from their mobile device. So if a colleague is sharing content, remote users can view that on their mobile device no matter where they are.
Joining from an app
Joining from the apps couldn't be easier. Simply open the app, enter your name, meeting ID and PIN (if presenter has set one).
Once connected, users can make themselves active display (i.e. their device will be full screen on the large format display. They can also turn on their camera, microphone and pause their display.
Montage for Android
Using the native Android app, users can connect to a Montage session and share whatever's on their screen. There are options for becoming active display, viewing the active display and turning on their camera for video and voice calls.
Montage for iOS
When connecting with the iOS application, this version will allow users to share their browser, make themselves the active display and view the active display. In addition, users can share their camera and mic for real-time video and voice calls.
Changes to Montage
To ensure the best possible video and image quality, we have made the decision to allow a maximum of 6 devices to connect to a Montage session. Doing so has allowed us to make huge improvements on bandwidth required, load on network, latency, frames per second and overall video performance.
In addition, and with ease of use very much in mind, we have also changed how Android users can connect to a session. Version 2.0 will no longer support Miracast. Instead Android users can connect via a native Montage app. The app designed specifically for connecting to a Montage session is a move towards a standardised experience for Android users and also supports both in room and out of room wireless presentation.
Next Steps…
Don't just take our word for it, book a demo below to see Montage 2.0 in action.
You may also be interested in 5 Must Have Features of a Wireless Presentation System
Want to stay in the loop?
Keep up-to-date with everything DisplayNote – including new releases, job openings, and customer giveaways.
Don't worry, we'll not spam you and we'll never share your email with anyone