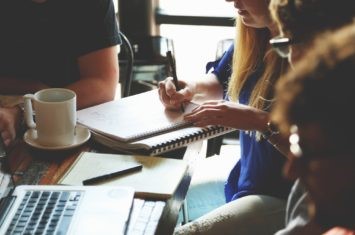 Introducing Montage wireless presentation apps for iOS and Android.
DisplayNoteBlog
•
Apr 20, 2017
Wireless Presentation Systems should always encourage people to share and work together on ideas, no matter where they are. When it comes to presenting ideas from your mobile device to the main meeting room display, it's important that proximity to the meeting room does not become a barrier.
To solve this problem, we just launched two new native Montage wireless presentation apps for Android and iOS. This means meeting attendees, both in the room and remote can connect to a Montage wireless presentation system from their mobile devices.
Joining and presenting content from the app is completed in the same way as desktop: simply enter your name and Meeting ID and you've joined the meeting. From there you can cast your screen to the main meeting room display, making it either full screen or viewing it alongside your colleagues' screens as part of a Montage Meeting.
For those joining remotely you can cast your device AND communicate with those in the meeting room by turning on your camera and microphone.
In addition, off site users can remotely view what's happening on the main meeting room large format display right from their mobile device.
To begin with iOS users will be able to cast their browsers to the display, with updates planned for document and image sharing. In room meeting attendees can still use AirPlay to mirror their devices. Users on Android can cast any application to the meeting room display via the Montage wireless presentation system.
Apps are available now on Google Play or App Store
Next Steps…
To see how you can use the Montage Wireless Presentation System to bring people and ideas closer together, schedule below.
You may also be interested in Screen Sharing: Is this The Most Important Tool in Business?
Want to stay in the loop?
Keep up-to-date with everything DisplayNote – including new releases, job openings, and customer giveaways.
Don't worry, we'll not spam you and we'll never share your email with anyone