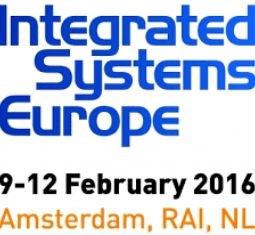 The large format touch display evolution at ISE 2016.
DisplayNoteBlog
•
May 27, 2016
ISE 2016
Now that the world's best attended trade show for professional AV & electronics systems, ISE 2016, is over, it's time to reflect and to think back about one area of the show that's seen huge changes in the last few years: the large format touch display. We ask ourselves – how have they changed, what does the future look like and what are users and manufacturers doing with them.
Large Format Touch Displays
The main thing that stood out for us at ISE; the advancements made into seeing the large format touch screen – moving from displays that show a singular piece of content to becoming solutions that are capable of transforming every action that takes place in the meeting room.
With each developmental leap in collaboration, interactivity and productivity, the possibilities from well-connected meeting and huddle rooms are growing exponentially. It's truly revolutionary to see these displays become the centre, so-to-speak, of the meeting room rather than just the means to display a solitary screen in a larger format.
All of the main manufacturers at ISE 2016 seem to have ramped up the level of focus on practicalities and functionality – with the large format display market increasing globally from 2014 to '15 by 23%, to the current value of $8bn. According to Futuresource's ISE report, the interactive presentation sector shipped over 90,000 panels in 2015, rising to nearly 130,000 through 2016.
The demand from end users for a solution that does much more than just display that singular piece of content is at such a volume that manufacturers see solutions such as Montage, as essential rather than as an optional extra.
Great Touch Displays Are Getting Great Touch Applications
Touch displays are no longer an, "well, we might get one," item when fitting out meeting rooms. The benefits that they and the tools that work alongside provide are now impossible to ignore. Installing large format touch displays and equipping them with the solutions that genuinely enhance productivity and interactivity is now the expected state rather than an optional extra.
Project & Facilities Managers, AV installers and Systems Integrators & Designers are embracing the wealth of solutions available to supplement the screen itself. Demonstrating these displays to the customers by using incredible touch enabled apps, makes the question, "what do I need a large format touch display for?", a simple one to answer – "To get so much more from your meetings."
As much as the manufacturers of large format touch displays have grown ever more innovative with features such as points-of-contact, bezeling, PCAP technology and ever-flatter-panels, there is the need to accompany displays with these practical tools that not only support the meeting, but critically enhance it.
As the technology develops further you can expect to see the concept of 'collaboration', an oft-used buzzword, become integrated in every facet of meeting rooms and meeting spaces.
Wireless Presentation, Communication & Collaboration…Now as Standard
Tool integration & synergy will be the next sea-change in the technology, with displays becoming the platform for Annotation, Wireless Presentation, Collaborative Whiteboarding, Remote Connectivity, Document Editing, and Messaging with the possibility of these even becoming totally unified.
Users are now expecting that these tools are delivered in a single solution and screen manufactuers are adding solutions to their displays to meet this expectation.
Like any great touch display, the latest innovations in the screen itself have to be matched by the innovations behind the technology used on them. What's a touch screen without great touch applications? Evolving a meeting room to have a touch enabled display as the hub of the room, allowing those using the room to work efficiently and to meet smarter, it's a practical and logical move to make.
Meeting Room Evolution Driving Change
Changing employee behaviour in meetings to naturally embrace collaboration and co-operation through technology is something most enterprises have to consider doing in the modern work environment in addition to giving special attention as to how it integrated with the existing equipment (and futureproofing, where possible). It's just a fact that a large format touch display is a significant investment, but with the right tools coupled with it, the return on investment definitely justifies it.
Next Steps
Have a large format touchscreen on your meeting room or thinking about how they can be used in your huddle space? Check out our free eBook below.
Want to stay in the loop?
Keep up-to-date with everything DisplayNote – including new releases, job openings, and customer giveaways.
Don't worry, we'll not spam you and we'll never share your email with anyone