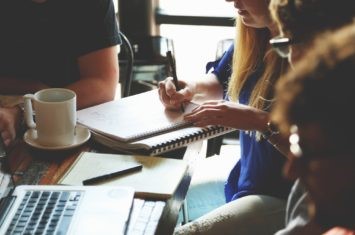 Turning lecture rooms into collaborative learning spaces.
DisplayNoteBlog
•
May 27, 2016
The University of West of Scotland (UWS) is enhancing its teaching portfolio by enabling both staff and students to teach and learn using various different methods. The University has invested in several 'pod' learning spaces to help make the learning experience more interactive and collaborative and has rolled out DisplayNote to allow lecturers and students to communicate more effectively in these environments.
Darren Ricketts, Technical Developer at UWS helped implement DisplayNote in the new collaborative learning spaces. Darren says: "UWS chose DisplayNote as it was by far one of the easiest products in this genre to use and didn't require any special hardware to be installed. We can teach students in different locations with comparative ease, all that is required is an internet connection.
We were also impressed that DisplayNote works on nearly all common mobile platforms i.e. Android, iOS. Lecturers enjoy being able to gauge how the students understand the materials by having quick quizzes and they love having the ability to share their screen and notes directly to the students' devices. The students can also make their own notes on the lecturer's presentation which helps them when it comes to preparing for exams. They use the chat feature to communicate with the lecturer and ask questions without the need to do so in front of the whole class. The collaborative functionality is very good for both classes and small groups; it allows the student to share their work with each other and the lecturer. It also helps the students when working in groups to share what they have done and compare it with others and make adjustments to final projects without the need to crowd around a single computer".
Traditional Classrooms become connected collaborative Learning Spaces
As the University is moving towards using more mobile technology, DisplayNote has been identified as one of the key programs for teaching and is currently being actively promoted. It is envisaged that as more of the 'Pod' rooms come online over the coming year that a move away from the more traditional lecture style to a more collaborative/interactive style learning space will gradually become commonplace.
Want to stay in the loop?
Keep up-to-date with everything DisplayNote – including new releases, job openings, and customer giveaways.
Don't worry, we'll not spam you and we'll never share your email with anyone