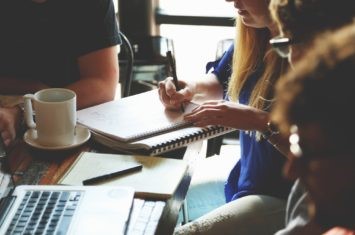 Killer feature that makes your large format display more collaborative.
DisplayNoteBlog
•
Nov 8, 2016
It's a truism that we live in a digital world and organisations are creating and producing a huge amount of content: landing pages, design drawings, blueprints, product designs. This content is being produced quicker than ever before, distributed to more locations and reviewed by more people.
In the past organisations were typically using email for everything: send a document, add comments to that document, post questions to that document. Now, many organisations are questioning if email needs to be used for everything and moving towards solutions that puts content in context, accessible by all and that can be worked on and reviewed in real-time. For evidence see the move towards and adoption of workplace chat solutions, all designed to keep email at a minimum.
So where does your large format display fit into the equation? How do we keep it front and centre and as a place to get work done?
To see your large format display being adopted by today's enterprise, it absolutely must play its part in today's workflows. It must position itself a conduit for collaboration: allowing content to be created, viewed and reviewed by multiple people in multiple locations in real time. When you're at your next roadmap meeting, think about these new ways of working, where you can help remove productivity bottlenecks, keep things moving and keep lines of communication a) open and b) in context.
What should your screen do?
Lots of things. It should tap into a repository for stored content and allow people to use the large format display to open lots of file types, share those files and then allow groups to annotate on them, add comments, manipulate them, save them, make changes and export them.
The experience should be rich and immersive and not the modern day equivalent of a cave painting which sees your collaborative experience end up as a static jpeg that has to be emailed to everyone.
Next Steps…
We have gathered a list of 6 features (within an eBook) that will make your large format display more collaborative. Just click below to request the eBook to be sent directly to your email.
Want to stay in the loop?
Keep up-to-date with everything DisplayNote – including new releases, job openings, and customer giveaways.
Don't worry, we'll not spam you and we'll never share your email with anyone