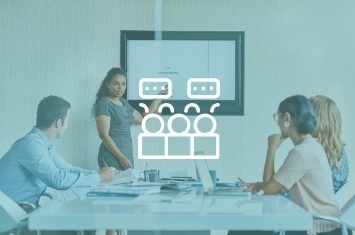 DisplayNote release Montage 2.3.
DisplayNoteBlog
•
Nov 22, 2017
As you're already aware, our agile team at DisplayNote Technologies is constantly adapting and updating our solutions to keep up with customer needs and recommendations.
We are especially proud of our new update, Montage 2.3, which puts security and user experience at its focus. This update is particularly suitable for large enterprises: as well as hardware, Montage also comes as a software-first option, making it a more scalable solution for enterprise. On top of this, we have a management portal coming soon, which will allow organisations to manage and update all their Montage solutions from one place.
Super low latency
Our latest update to Montage takes another giant leap forward in terms of video performance. We've created our own protocol which has put low-latency as the number one priority for Montage. At the core of this, is a new super-fast screen grabber which produces more frames per second, lower latency and higher quality video streaming.
Even more security
At DisplayNote, security is always the first thing we consider. New functionality allows administrators to take control of how meetings are run. This functionality, when turned on, means users will only be able to join a meeting through the local network, and not the cloud. Even though our data is encrypted at Enterprise level for the cloud, this capability gives organisations additional piece of mind, and if sharing extremely sensitive data, may feel reassured if this functionality is enabled.
Now available as hardware AND software
Montage is now available as a software-only solution, a hardware solution, or a combination of both. You decide which works best for you. If you already have existing hardware in your meeting spaces, you don't need to add more clutter – you can simply deploy the software version. If you don't have existing hardware, our Montage box is super small and compact, with all the power, performance and security of the software. With these options, we can provide more flexibility and choice to our customers.
Change cameras and audio during a session with no disruption
Montage 2.3 also sees improvements on the video conferencing side of Montage. Montage will allow connecting cameras to be changed during a meeting with no need to create a new meeting. In addition, cameras can be unplugged and plugged in during a meeting with no adverse effect. Audio settings can also be modified during a meeting – providing an even better video conferencing experience.
Coming soon…
Manage all your Montage devices and software from the cloud
Soon to go live, is our management portal, which makes it possible to manage every Montage-enabled room via the cloud. From here, IT admin can update Montage, change settings, rename rooms, and turn off Montage.
Improvements
For users with 4K screens, Montage will now scale its UI when used alongside them;
There is no longer a restriction on the number of web clients or mobile clients that can connect to a meeting simultaneously (previously you could only have two at any one time). Montage can allow up to six web clients or mobile clients to join simultaneously.
Want to stay in the loop?
Keep up-to-date with everything DisplayNote – including new releases, job openings, and customer giveaways.
Don't worry, we'll not spam you and we'll never share your email with anyone