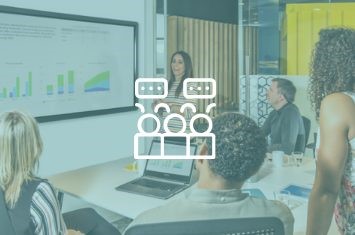 What can Montage bring to your organisation?
DisplayNoteBlog
•
Sep 7, 2017
Traditional meetings are typically boardroom-style meetings, with everyone sitting around a large table. The number of people vary. There is usually a presentation, with someone leading the meeting, and others listening. Probably taking down notes with a pen and paper.
We've come a long way from traditional meetings over the past few years. Informal stand-up meetings have increased. Boardrooms are being turned into Huddle spaces. I even read that some companies plank during meetings to try and make them more efficient.
We can think of a more effective (and less sweaty) way to make your meetings more efficient.
Let's list what Montage, our wireless presentation solution, can bring to your organisation.
1. Save time
With Montage, meetings are more efficient. Montage allows employees to wirelessly share what's on their device, to a main meeting room display. They can do this with a click or tap of a button. Time is saved because there is no set up required at the beginning of a meeting. No need to run around looking for cables or adapters, and it eliminates the famous 'cable-swap' when someone else needs to present content.
2. Collaboration
Meetings are more collaborative with Montage. Up to six people can connect to a main display simultaneously, and share content quickly, and easily compare information side by side. Montage also includes collaboration tools, such as annotations, screen capture, and file sharing, which helps participants to provide feedback and make suggestions. This collaboration is two-way – any annotations made on the main screen, will show on every individual device, and vice versa. There is even a built-in whiteboard that helps users visualise ideas, and the ability to save this whiteboard for reference. Progress is actually made during the meeting, not after.
3. Enhance any meeting, any style
No two meetings are the same. That's obvious. A sales pitch is completely different to a project meeting, for example. Yet many wireless presentation providers don't consider this with their products. Montage allows users to present from the front. For those meeting with the presenter at the front, Montage allows that presenter to re-order and rearrange any content on screen and to also take back control of any connecting PC right from the main meeting room screen. Also, Montage suits those who like to collaborate on work from their own device. They can use their mouse to move content, and make themselves the active presenter. Participants can also view the presenter's content from their own device so no need to even look at the main screen.
4. Save money
Flexible working is at the top of many businesses' agendas. Even with the number of employees working remotely, there is still a need for them to travel into the office to attend meetings. Or similarly, employees based in a different office need to travel somewhere central to meet. Montage provides the capability for remote participants to join and contribute to a meeting from anywhere, as though they are in the same room. They simply join with a meeting ID, and they can also collaborate on content and take over the presentation at any point. They have the ability to switch on their camera and microphone and it is though they are right in the thick of it. This remote capability saves money on travel costs, and even overheads. And as a bonus, it boosts team morale – remote workers no longer feel isolated or left out. It's a win/win situation.
5. Futureproof your existing technology
Not all companies can go and buy the very latest screen every couple of years. It's not feasible. However Montage has been built to accommodate any type of display, from TV screens and Touch screens, to projectors and mini PCs. Regardless of what technology you are presenting to, Montage will allow you to wirelessly present, reducing cable clutter, and modernising your meeting spaces. Montage is available as hardware and software, so you can deploy it whatever way suits you. If you already have a mini PC in the room or an embedded OPS in your screen, all you need is software. If not, Montage is available as a compact computing device that connect to any meeting room screen.
6. Security
BYOD is growing in popularity, and one of the main concerns of this initiative is security. Security for both, the data being stored in the devices, and for the overall network. Montage has advantages over other products, because participants don't have to physically plug anything into their device to present. We all know that paddles and dongles can easily go walkabouts, and get into the wrong hands. Montage eliminates the risk of anything getting lost.
Participants also need to enter a meeting ID to join, and there is an option to add a PIN for that double layer of security. Data is communicated over TLS and DTLS and protected with asymmetric encryption at 2048 bit with a 256-bit symmetric session key. Cloud hosted services provided my Microsoft Azure (ISO/IEC 27001:2005, SOC 1 and SOC 2. And furthermore, there is an option to disable cloud connectivity, allowing you to control who can connect to a meeting.
7. Guest access
One of the differentiators of Montage is that it makes it easy for guests to join a meeting. Some companies don't permit their employees to plug any external hardware into their devices, nor allow them to download anything without administrative rights. Even though Montage allows users to connect via Windows, iOS and Android Apps, it also allows them to use Chrome Browser and Airplay. Making it an extremely user-friendly experience for your guests
Final Thoughts.
As you can see, planking isn't the only way to make your meetings more efficient. Implementing a wireless presentation solution is a much more effective way. The working world is moving forward, with so many new apps and technologies promising to enhance business. It's up to you to keep up, but ensure you select a solution that will grow alongside your business. That can adapt with you. And futureproof your investment.
Next Steps
Arrange a demo today of Montage, our wireless presentation solution (available as hardware or software), and experience the next generation of meetings now.
Want to stay in the loop?
Keep up-to-date with everything DisplayNote – including new releases, job openings, and customer giveaways.
Don't worry, we'll not spam you and we'll never share your email with anyone