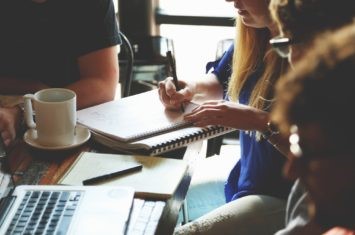 5 top tips and techniques for note taking.
DisplayNoteBlog
•
May 19, 2016
Over here at DisplayNote we are always looking for the best ways to present, the best ways to work and how to make the most of our time and keep on track. Notetaking in presentations is something we all do differently. Different techniques work for different people. So we have asked our team, and our users and provided you with some tips and techniques that might help the knowledge go in and stay in. All tips are paper and tablet-friendly, naturally.
Keep notetaking simple
Make short notes using bullet points and have clear headers. Using index or flash-cards is a great way to keep your notes simple and provide a great tool for reviewing notes when you are recapping on a meeting or revising for a test.
Mind maps
Popular with some people, not so much with others. Great for more visual notetaking and can help to get ideas down on paper when you aren't sure where to start. Start with your idea or the subject of your notes in the middle of your page or screen. Directly from this you can draw lines that link directly to the key facts or subheadings that relate to the subject. As you note more ideas and themes continue to build out the key facts and subheadings and your notetaking becomes as comprehensive and complex as you make it. As you develop this skill you can colour code certain areas and remember, use single words and simple phrases so you don't end up wondering what on earth your notes mean. If you're wondering which Mind Mapping tool could work best for your notetaking, check out theSwoodle blog on Mind Mapping
Highlighting and annotating
Something many people associate with a trusty highlighter pen, this method is still proving very popular in apps and on devices. It is debatable how much this will help you remember points, but it certainly proves an undoubtedly useful tool for referring back to notes that you took during a lesson or presentation and picking out the points you must review and research further.
Use notetaking abbreviations
Ready to learn shorthand? Great, you're all set. Or, more realistically, if you don't have enough time you could learn the commonly used words; 'therefore', 'because' etc. Or, as I did in university, create your own! No one will ever be able to copy your notes.
Audio and Visual aids
These are becoming increasingly popular, especially for those using a computer or device to take and record notes. To refer back to something you heard or saw in the lesson or presentation can certainly help to take you back and remember the context of the notes you took. Recorders and cameras on devices are a great tool to utilise here as essential notetaking solutions. Those of you who are using DisplayNote in your presentations can use the notepad to make your short bullet points. The backgrounds tool is great for flash-cards or to start mind-mapping. Using the highlighter you can quickly mark areas of note or for follow-up. To give yourself the visual of the presentation use the Capture button in DisplayNote, or make a video recording of it all if you are on your computer. So that is my roundup of notetaking tips and techniques.
Go forward and be an awesome note-taker.
Want to stay in the loop?
Keep up-to-date with everything DisplayNote – including new releases, job openings, and customer giveaways.
Don't worry, we'll not spam you and we'll never share your email with anyone