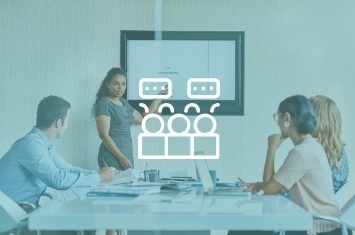 Personalize Your Workspace with Customizable Shortcuts: A Closer Look at the Latest Launcher Release
Zarah Akilagun
•
Nov 14, 2023
When it comes to optimizing meeting spaces in the workplace, the role of customization cannot be overstated. It's not just having the right tools to hand, it's about the consistency and recognition users feel, ensuring the meeting room setup enhances their work, not hinders. The latest release of Launcher has this in mind, by offering custom shortcut icons.
Consistency Across Meeting Spaces
One of the key advantages of this improvement is the ability to create a unified experience across various meeting spaces.
The highlight of this release is the enhanced customization for shortcuts on your home screen. Creating a unified experience across various meeting spaces. By assigning custom images to shortcuts, you're not just organizing your tools; you're improving the recognition of important links. Navigating through your Launcher becomes second nature, and finding critical information or applications becomes a breeze.
Effortless Access to Essential Tools
Shortcuts to apps or web links are a productivity game-changer. No more worries about pre-meeting setups or struggling to connect devices for essential applications. This simple customization improvement ensures that your apps maintain a uniform appearance, irrespective of the meeting room. Now, whether you find yourself in the boardroom or a collaborative workspace, you know exactly where to find what you need.
An extra step in accessibility
Using icons to represent important links helps users understand information faster and more efficiently. Allowing individuals to recognize and navigate through the tools provided, without relying on written word. Improving the accessibility of your meeting rooms and ensuring that neurodiversities like; Dyslexia, Meares-Irlen syndrome or those with English as a second language, can access the tools or features they need with confidence.
Creating a tailored interface for your meeting rooms with Launcher
Customizable shortcuts add a layer of personalization that transforms your digital environment into a reflection of your organization's identity. With a consistent look and feel and effortless access to calls and preferred applications across various platforms.
Paired with Launcher's kiosk mode, IT administrators have the freedom to customize the interface to suit their needs, as well as what users can and can't access on the meeting room system
Find out more on feature improvements, bug fixes and updates in our What's New page.
Want to stay in the loop?
Keep up-to-date with everything DisplayNote – including new releases, job openings, and customer giveaways.
Don't worry, we'll not spam you and we'll never share your email with anyone