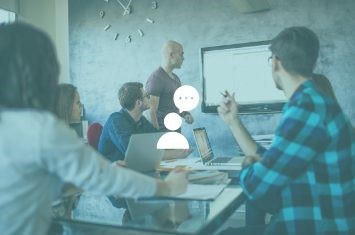 What you should know about wireless presentation dongles.
DisplayNoteBlog
•
Sep 1, 2017
Is it time to reconsider wireless presentation dongles?
As an IT professional, you know you need to put wireless presentation tools in the hands of your colleagues. Not only are they a better experience for the user, allowing them to join and contribute to a meeting with no fuss – they're also a better option for your meeting spaces.
Every organisation is different: their needs are different, their meeting styles are different, their approaches to networking and security vary; so as someone in charge of finding the best solution for YOUR origination, you need really dive deep to discover the best solution available.
You'll need to consider many variables, i.e. hardware vs software, will everyone always be in the same room, which solution meets your security requirements, and many more.
Different options suit different business needs, and there is a place for each and every one. Software, for example, is easier to deploy over a large-scale, it can be customisable, and it updates automatically. Apps allow tablets and smartphones to join a meeting, meaning people aren't limited to only laptops or PCs. Hardware only can suit those organisations who don't have in room computing power like OPSs, fixed PCs or mini PCs to launch the software on.
During your evaluation, you'll also see wireless presentation systems that come with dongles. On the surface, it's not hard to see their appeal: they're positioned as an easy way of someone coming into a meeting, plugging in a dongle and presenting. But is it as easy as that? What else do you need to consider when it comes to wireless presentation systems dongles? What are the other variables you need to consider as you research what wireless presentation will work for your organisation?
Did you try turning it off and on again?
It's ok for you to be a little bit selfish in your choice of a wireless presentation solution. We know that a significant portion of an IT department's time is spent helping to set up meetings – finding the right cable, ensuring the screen is on the correct source etc. IT departments are at the very crux of an organisation, and so many people rely on them. Even myself (who I believe to be somewhat tech savvy) will always seek an IT professional's advice, even if it's just for clarification. So if your organisation intends to dongles during meetings, is the pressure on the IT department really lifted? Or will you still be relied on to come and fix any issues with the dongles, or be on hand to ensure that your users can install the drivers that dongles need.
The Incredible Bulk.
Most dongles are bulky. They hang out of the side of your laptop for the duration of the meeting, which somewhat begs the question – have you truly gone wireless? Sure, technically there are no wires. But there are these mini devices that still need to be plugged into a laptop. One of the driving factors why IT departments look for a wireless presentation system is to get rid of the cable clutter, and not worry about users having to plug things into their device. And dongles aren't the answer to this dilemma. Also, if we're being honest – those dongles will end up lying around the meeting room, or worse – still plugged into someone's laptop as they walk out the door!
Lost and not found.
This leads me to my next point. I don't think an organisation exists where some things don't go walkabouts. It happens so easily. I'm talking staplers, scissors, and the one I get most frustrated about – my Sharpies! The same goes for dongles. What happens when a member of staff walks out of the meeting space with a dongle. Someone comes in to start a meeting, and they're a dongle short. They run around the office like a headless chicken, or send a mass email around the company asking whoever took it, can they please return it? Meeting starts 10 minutes late – just like they did when you still used cables. And worse still, what if a guest walks out with one? Goodbye dongle. Goodbye money. Hello brand new dongle that you had to buy. Goodbye more money.
"Hello from the other side."
Will there ever be a scenario where someone in your organisation needs to connect to a meeting from a different office or location? This is something that dongles will not permit. To join a wireless meeting with a dongle, you need to be in reach of the base device in the room (which usually hasn't got a very wide range). Depending how big your meeting space is, someone at the back of the room may not be in range with their dongle and need to move closer to the main display. Cue the seat shuffle! It's something to bear in mind when considering a wireless presentation dongle solution. Even if this isn't a typical scenario right now, it could be in the near future, with work flexibility taking a priority in a lot of organisations.
Sort the Port.
Remember the furore when Apple announced they would remove the headphone jack? The main complaints were that the AirPods were easily lost, they were uncomfortable, they were expensive. Apple's argument for removing the headphone jack is because they know earphone manufacturers are going down the wireless and Bluetooth paths. So why would meetings be any different? Well, it seems Apple have already considered this. They also got rid of the USB port in the Macbook Pro. Some other laptop manufacturers, such as Microsoft, Dell, and Asus are also heading down this route, reducing the USB ports to only one. Because they know that organisations, are going wireless. So what happens if someone comes into the meeting and wants to present from a USB stick, or an external hard drive? And they have to use a dongle (not technically wireless) which is taking up their one USB port? We know what happens – a call to the IT department, and potentially a waste of investment. Software solutions are continually updated, and without the need for any hardware, you can be assured that software will work now, and in the future.
How long have you got?
When you're researching wireless presentation solutions, one thing that you'd consider is how easy it is to deploy and roll out, especially on a large scale. Even though dongles claim to be a simple 'click and go' solution, initially setting them up is another story. In larger organisations, how many dongles would you likely need? 100, 200, maybe even 500? Not only that, but most dongles are linked to some sort of computing device that needs to be plugged into the back of the screen – thus also needs manual set up. What started out as a small project is now taking up a lot of IT's time. If your organisation is only purchasing a small number of dongles, then this won't impact your decision. However, if you're wanting a large-scale roll-out, software is a much better option.
Thanks, but no thanks.
Wireless Presentation Solutions that connect via dongles claim to have a great advantage for when it comes to guest access. They can simply plug in a dongle, and present. However, one thing that all businesses have in common, no matter their size, is data security. We all have that panic when we receive an email from an unknown sender, with an attachment, and we think "uh oh" DELETE DELETE DELETE!!! If you have a guest come in from industries such as the Military, Government, Healthcare, Defence, Security, Aerospace, and many more, they will not be able to contribute to the meeting. They'll have severe reservations about plugging an unknown piece of hardware into their devices – or may not even have the permissions to do so. What then? Time to hunt around the office for cables, and go back to square one?
Uncertainty is the only certainty.
Does the political impact of Brexit impact on the movement of goods and supply chain? Many bodies, such as KPMG think so. The introduction to barriers to trade will increase costs, complicate decision-making, and may prevent any goods being transported internationally. So this is definitely something to keep in mind, when opting for hardware systems over software.
Final Thoughts.
We advise that you seriously contemplate how these drawbacks could impact your organisation. Think through the hard and soft costs of the project – is it a one-time fee, or is there going to be future costs thrust at you further down the line, especially when it comes to things like lost dongles? Think about whether the solution you are considering is easily deployed on a large scale. Will there ever be a scenario whereby a colleague needs to connect to a meeting remotely? Consider attitudes and policies around the data, and device security, both now and in the future. Speaking of the future, especially with device manufacturers reducing and eliminating USB ports, ask yourself will your colleagues have the ports needed to allow a dongle to even connect?
And hey, dongles may still be the most suitable solution for you and your business needs. It's just worthwhile to think about these considerations.
Want to stay in the loop?
Keep up-to-date with everything DisplayNote – including new releases, job openings, and customer giveaways.
Don't worry, we'll not spam you and we'll never share your email with anyone