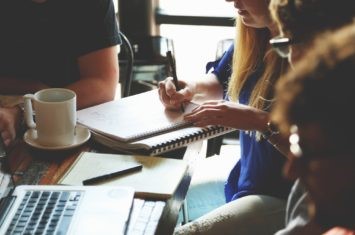 Remote working, wireless presentation & collaboration from distance.
DisplayNoteBlog
•
May 24, 2016
Something that all-too-often gets neglected from meeting room considerations around wireless presentation … the question "What if somebody can't make it to the meeting?" Can she still contribute and, importantly, collaborate with the others in the room?
We could always email them the minutes of the meeting but all context is lost. Or we could get somebody to record the meeting and send them the video but contribution is at a minimum. Or, perhaps we could get them to dial in to the meeting through a video call? Then can they share content?
In this post we take a look at how Montage can be used to help teams like yours collaborate across distances. Let's imagine a typical scenario – You're runing a meeting at HQ and you have 4 other team members joining you in the meeting room all connected to a Montage session which is connected to large-format touch screen display. You're all wirelessly presenting but towards the end of the meeting you need to present your ideas and get sign off from your CEO or SVP.
She, however, is working from today. You could collate what you have presented and email it along with notes explaining how you came to your decision. But that, in our opinion, is creating a productivity bottleneck (as you collate and wait for a response and the standard 'I don't get this bit' comments attached to your word doc) and opening the door to a faster, more fleet-footed competitor.
This where Montage can be used really effectively. Send the meeting ID to your CEO and ask her to join you in the Montage session. She can then see what's happening on the main screen, use the in-built video conferencing to talk with you all, share her screen if she needs to and sign off on your idea.
How does she do this?
By connecting to our Montage session via the web client, she can share either her full screen or individual app with all of us in the room.
Right away she can turn on her mic and camera and instantly start communicating with the entire team.
From that there are a few things you can do when it comes to sharing content:
Become the active display.
View active display.
Becoming the active display means your CEO can share her screen with the rest of the team. Viewing the active display means she can see what your team is presenting.
Need a signature for sign-off? No problem: Montage lets you share files directly in-app. That means you can share what's on the main screen with remote attendees, they pick it up as a jpeg and can save it, initial it and send it back.
Next Steps
Find out more about Montage by signing up to one of our weekly webinars.
You may also be interested in our blog post – 11 Ways to Use a Wireless Presentation System in your Organisation
Want to stay in the loop?
Keep up-to-date with everything DisplayNote – including new releases, job openings, and customer giveaways.
Don't worry, we'll not spam you and we'll never share your email with anyone