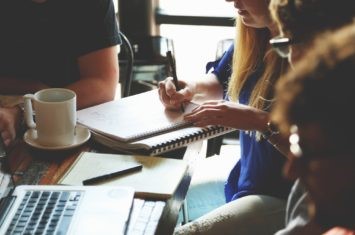 Here's How You Run Better Meetings
DisplayNoteBlog
•
May 27, 2016
We all want better meetings.According to the guys at Altalassia, of the 62 Meetings attended monthly by employees, 31 Hours are spent unproductively. And that comes at a cost: an estimated $37 billion is lost every year to unproductive meetings.
It's evident we're meeting lots but it's clear we need to learn to meet smarter. Here we explore 5 simple things you start changing that will make your meetings more productive and effective.
Better Meetings Have Better Notes
Taking good notes in a meeting is invaluable. There are a tonne of great note-taking applications to choose from –Google Docs or Evernote being just two that spring to mind.
Personally, I still use Word and record only what's pertinent, it's easy to fall into the trap of taking lots of notes just for the sake of taking notes. Also, where applicable, notes I take have an action required against it – an action that needs to be done in follow up: be that: read later, ask Chris to send me copy, book flights, make a call to journalist, draft a skeletal plan etc.
Share Those Notes
However you choose to do it, you need to ensure that the rest of your team has visibility to what's being noted. You can go down the route of a real-time note-taking using the plethora of software that exists out there. The downside of digital note-taking is that you have to flip back and forth between your notes, other tabs, what others are referencing.
What helps us run better meetings is using a wireless presentation system for collaborative note taking. Practically it works like this: no matter what the meeting we always assign a note taker and stream what's on their device to the main meeting room screen. So no matter who's talking, the notes are available to see in real-time.
More often than not it's a group meeting and using a Wireless Presentation System means everyone can make suggestions or show what's on their screen alongside the notes.
Bonus: It acts as a great reference screen for everyone at the same time and keeps misunderstanding to a minimum.
Screen Sharing Means Better Meetings
Often you're mid call or at some point in a discussion and you need to be able to see what's on the other person's screen – be it a presentation, first pass at a wireframe, images from the latest product prototype – it's crucial that they can share their screen with you pretty much instantly and, if they're not in the actual meeting room, see what's happening on the main screen.
Time spent sharing cables for those in the room or figuring out if others out of the room can contribute is wasted time and totally avoidable.
Strive for Maximum Participation
Better meetings have an outcome that's well defined, understood and everyone brings a unique contribution to that outcome. Whatever that contribution is – expertise, budgetary-authority, creative oversight, research findings-you should strive to ensure that everyone that needs to contribute should be able to contribute.
Distance should be no barrier to better meetings: your people should be able to present content back to the main room and talk to everyone at the same time. Your meetings shouldn't be crowded with people there to observe and see what's going on. In room technology should allow everyone to contribute – no matter what device they have or programme they're using to present.
Better Meetings Need No More Cables on the Table
We lost count of the number of times we were in meetings when someone had to unplug a cable and pass it to a colleague or actually had to find the right cable, or struggled to actually connect the cable.
Another blocker to better meetings is someone turning their laptop around to show everyone else, or worse still someone showing an image on their phone and then passing the phone around for everyone to have a look and then waiting for that phone to return.
If this is all-too-familiar we recommend you use a wireless presentation system, one that allow multiple attendees (wherever they happen to be) to simultaneously stream what's on their device, be that an iPhone, tablet, laptop, back to the main meeting room display.
Want to stay in the loop?
Keep up-to-date with everything DisplayNote – including new releases, job openings, and customer giveaways.
Don't worry, we'll not spam you and we'll never share your email with anyone