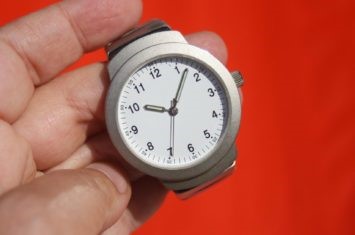 Hurry up, streamline your work instantly: effective time management.
DisplayNoteBlog
•
May 27, 2016
How many of these words don't apply to your work process? Easy. Uncomplicated. Effortless. Undemanding. Simple. Un-complex. Unexacting. Trouble-free. Straightforward.
Work can be complicated, tasks can spiral into others, projects have a way of becoming all-consuming. What can you do? There's some little changes you can implement that help the overall workflow. Following even just a couple of these tips can streamline how you work and take you from productive to uber-productive in no time at all!
Streamline Your Work: Fix Your Email
Ohio. Not the state, the email handling mantra – standing for 'Only Handle It Once'. Conceived by productivity expert Bob Pozen. The basic guide is that, "I've read this but I'll deal with it later," is a productivity blocker – you're creating problems for future you.
This is how it works, you read it – you think about it – you pass it down the line. Later, when you choose to deal with it, you read it (again), you think about it again, you act on it (or maybe even pass it on again).
Email takes up such a large amount of time in businesses. When you get an email, if it needs acted upon, act on it then and there – if you don't have time for it then why did you open the email in the first place? Open it, do it – no time, don't open it. It's that simple to streamline your work when it comes to email.
A survey from Harris Poll found that US employees at companies with more than 1000 workers used nearly 14% of all their working time interacting with email.
You need to find a method that works for you, maybe it's OHIO, maybe it's something different. We all know that email isn't exactly super-productive most of the time, chains of messages spanning a whole team going back 3 weeks with 200 reply-to-all in line messages to get to grips with. Sometimes, ditch the email and just go have a meeting – but make sure it's as productive a meeting as possible!
The Eisenhower Method – Sorting Out Your Priorities
President Dwight Eisenhower developed a method of prioritizing what level of dedication or attention a particular task called for, according to 2 different parameters, "Important or Not Important" and "Urgent or Not Urgent." It seems simple, but simple can work – it helped Eisenhower!
A matrix that Dwight may have produced using the Eisenhower Method for his actions during the second world war might look something like this:
Theory being that ideally you spend more time in section one than any other, where you are completing important tasks that aren't urgent – possibly because you are completing them now rather than letting them move into the urgent category.
It would be easy to assume the most important quadrant would be important and urgent, but if you prioritize and keep on top of things, only surprises and emergencies should fall into quadrant two. Quadrant 3 should be delegated, where possible – quadrant 4 can be delegated or even questioned if it needs doing at all.
Applying this method to your own environment to help streamline your work, perhaps this is more relevant:
Basically, when you're overrun with to-do lists and beginning to lose track of what needs doing, by when and by whom, or what doesn't need doing at all, the Eisenhower method can help streamline your work prioritization process.
The more activities you keep out of quadrant two, the better, and the less time you spend on quadrant three and four, the more productive your time is. Congratulations, Eisenhower has boosted how you streamline your work.
Streamline Your Work Processes With Mindmapping
If you're a visual thinker, I bet you have lists of paper everywhere, scraps with ideas written on it littering your desk and post-its with super important project notes written down cluttering your keyboard. Maybe not all of that, but you get the idea.
Whether you use XMind, Coggle, FreeMind or one of the many other tools out there, creating a mind-map for a project or whatever you're working on can help you stay on top of the big picture and lead you to be much more productive and effective. Especially for a big project at work, spend a little bit of time making a comprehensive mind-map of what's required, it'll be simpler for you to stay on track and sail through to the end.
Stop Being A Perfectionist… At Least Some Of The Time
Here's some news for you… If you want be more productive, you need to stop being a perfectionist all the time, most of it just results in procrastination with no real impact on end results. Don't believe me? Just ask Simon Sherry, a Dalhousie University Psychology Professor who conducted a study on perfectionism and productivity.
"We found that perfectionism trips up professors on the way to research productivity. The more perfectionistic the professor, the less productive they are," says Dr Sherry,
Problems with being a perfectionist
You spend way more time on a task. If you wait for the perfect moment, you'll be waiting forever. You can't afford to wait until next Tuesday when everyone's calendar is aligned and you have a meeting room booked for an hour (and someone will bring cakes and everything will be sorted out then).
See, while you're spending lots of time on font size and style, you'll miss the big picture – the thrust of your argument is wrong/your boss just wants a 5 point plan on A4 paper/you could be at something else more pressing.
The perfect moment is right now. Put that yo-yo down, get things done and be more productive, this is a great way to streamline your work process.
Montage is a wireless presentation system designed to help organisations, like yours, run smarter, more productive meetings.
Next Steps
You may also be interested in our blog post 10 Commandments of Meeting Room Time Management.
Want to stay in the loop?
Keep up-to-date with everything DisplayNote – including new releases, job openings, and customer giveaways.
Don't worry, we'll not spam you and we'll never share your email with anyone