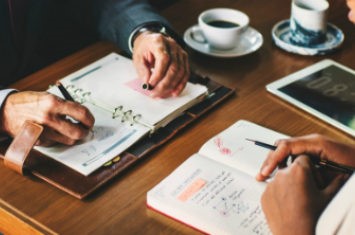 Take killer meeting notes for more effective meetings.
DisplayNoteBlog
•
May 9, 2016
Meetings have outcomes, on this we can all agree – meetings don't take place in a vacuum (or in a Roomba for that matter…), there's a reason to have a meeting and whatever the meeting was for, it probably doesn't end at the culmination of the meeting itself – so you're going to need to take meeting notes.
Whether to ensure actions are followed up on or to guarantee accuracy of what was agreed – and everything in-between, meeting notes are essential. Why just take meeting notes when you could be taking super, amazing, incredible, killer meeting notes! So, follow these tips to rev up your note-taking technique and make sure you're getting the most from your meetings!
Summarise Now, Organise Later.
It can be tough enough in a meeting to pay attention, especially if it isn't as productive or effective as the meeting should be, so writing down every single word spoken is just a fool's errand! If you need to document every single thing said in a meeting, record it – this is one of those times that it's ok for a machine to replace a person's job. If you need to document the important topics and points of a meeting, type or jot down little groups of words – not the whole sentence, just the bullet points – then, afterwards, you can organise these into salient meeting notes for everyone to follow.
The main point here is that if you're at the meeting, you should be involved in the meeting, and taking brief notes then expanding on them later means you can actually contribute to the meeting rather than just being present with the sole purpose of taking meeting notes.
Your Own Shorthand For Your Own Meeting Notes.
There are plenty of official methods of taking shorthand, some of them look like little more than a series of lines…
Luckily, these kinds of hieroglyphics are reserved for handwriting, typing needs a bit more structure (thankfully!). You only need to use a code that works for you, you can transcribe later on, if something is important, instead of writing, "CEO believes that getting meeting our targets in this coming quarter is of the utmost importance. "You could just use existing standard punctuation, "CEO=(1/4)Targets!!!", as long as you know that "=" means believes or thinks, "!" is important, you can fill in the blanks later when you have time. You could group linked topics together with a box around associated points, instead of indicating levels of importance, italic, underline or bold?
There's plenty of formatting options there for you to play with. Plus you have the added bonus of feeling like a top secret spy when people try to look at your notes… "I shall let you see them when they are ready, until then, they are classified."
Embrace Technology in your Meeting Notes.
What if you miss something when taking meeting notes? What if someone else is taking the meeting notes and completely ignored something crucial or important that you said or asked? Using a Wireless Presentation System, such as Montage, where multiple users can display their content simultaneously on the main meeting room display, you can see the notes as they're taking. Just a cursory glance at what Janet has written so far allows you to see that what needs to be recorded, has been. Using this method reduces the risk of misunderstanding and losing out key information on follow-ups – yes, someone is still taking the meeting notes, but everyone else can quickly and simply fact check as the meeting progresses.
With the right kind of tool, like Montage, you can also share meeting notes, minutes and updated content from within the meeting technology itself rather than having to export to some other storage device, upload to the cloud or to an email, and then send round to those who (you remember) were in the meeting – simply share from right there in the meeting.
You could also use something like Evernote to store your meeting notes, if you're feeling ambitious you could perhaps incorporate Evernote and Dragon NaturallySpeaking (A superb voice-to-text solution) to digitise your meetings – although these can work, they're quite labour intensive and still reliant upon using extra tools rather than just the same wireless presentation system in the meeting room that enables you to have a fantastically productive meeting in the first place, like Montage.
Use What You've Got – Begin With The Agenda.
If you've been following our guide on the 10 Commandments of Meeting Room Time Management or How You Can Immediately Run Better Meetings, then you know by now that meetings need to be as productive as possible, otherwise it's a waste of time, effort & ultimately, money. One essential instrument to great meetings is having an agenda, distributed beforehand so that everybody knows what's in store. If you're making meeting notes, use this as a starting point.
It should (repeat: SHOULD) have all the topics up for discussion, so it should (repeat: SHOULD) be as simple as typing the notes in the relevant places, this will also make it even easier for other meeting attendees to get the most from the meeting notes when you distribute them following the meeting. You can use the Agenda as a template, or, if you're SUPER organised, you could design a template that can used for every meeting, as both an agenda AND meeting notes, now THAT'S efficiency!
Own Everything.
Not necessarily you personally, but someone should own everything, for sure! Every single meeting note you take, it belongs to someone. Perhaps it's a statement made by someone, well when you're taking that down, make sure it's clear who owns it.
This is especially true for actions required, when decisions are made in the meeting for something to happen following it, be it short term or long term, you need to know who's responsible. Everybody does. Perhaps when sharing your meeting notes, you could aid your colleagues in their quest for maximum productivity by having a section on Actions, separate from the day-to-day notations.
Actions.
John Compile marketing proposals by the 18th of the Month. Review the JULY all-hands event
Catherine Assess what funding is available for the NOVEMBER all-hands event. Gather quotes. Ensure everybody is aware to block book their appointments for the week. Consult AV department to ensure equipment for all-hands is available
Graeme Distribute meeting notes to everyone
This simple little section can really keep people on track with what they need to do, hopefully meaning that 3 weeks after the meeting, people aren't struggling to remember what happened in that meeting and what they needed to do – your meeting notes have saved the day!
At DisplayNote Technologies, our core belief is that everybody innately wants to be as effective and productive as possible, that's why we build collaboration solutions – to make this happen.
Collaboration isn't just a buzzword, it's a very real and important aspect of modern business, working together is just the way of the world, it's our aim to make that act of working together smarter, better and easier.
Want to stay in the loop?
Keep up-to-date with everything DisplayNote – including new releases, job openings, and customer giveaways.
Don't worry, we'll not spam you and we'll never share your email with anyone