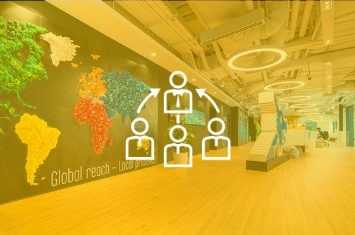 What Lego can teach you about creating a hybrid workplace.
DisplayNoteBlog
•
Dec 5, 2017
Last year, Lego unveiled their brand new London offices, and it looked like they had used the iconic bricks to build the office itself!
The new office includes a layout committed to offering different ambiances for different members of the team.
There are a few articles regarding the rise of the hybrid workplace – this space where open plan and privacy are amalgamated in offices, to cater for all different types of workers.
Your staff are the most important stakeholders in your organisation. As Richard Branson said, "Clients do not come first. Employees come first. If you take care of your employees, they will take care of the clients".
Dr Mark Batey, senior lecturer in organisational psychology at Alliance Manchester Business School, believes that workplaces should really be used for two things – collaboration and meetings.
So your physical spaces should be created and equipped specifically for your organisation.
The physical workplace
There's no doubt that the traditional office layout is changing. All offices are not confined to 4×2 cubicles anymore. They're, in the most part, becoming more open. We're breaking down these physical barriers between employees, to enhance the sense of teamwork and collaboration.
But destroying all these barriers, and having an entirely open office may bring its disadvantages, for example, there could be distractions, it may be loud, there's no sense of privacy.
Organisations should endeavour to design their office spaces to suit the needs of their employees. Some may want a cubicle to take calls in a quiet and private environment, some may want large, open spaces, with idea paint and digital whiteboards, to collaborate and brainstorm on projects in large groups. Similarly, some may opt for boardroom style spaces for meetings clients, yet prefer smaller, informal meeting spaces for a conference call, or meeting with their team.
Take Lego as an example. They've divided the office into flexible work areas, with no specific seating arrangements, and this innovative design aims to increase collaboration between colleagues.
Lego's COO, Bali Padda says "the lack of fixed seating is a very tangible consequence, but the biggest impact is that the traditional physical concept of a 'department' has been dissolved, which enables cross-organisational collaboration even more than we are used to".
There are the occasional small rooms which offer staff privacy, and circular 'study caves' carved into the wall offer designers a place to rest.
One thing is for sure – you need to equip the workplace with innovative and reliable technology. For Employees should walk into a meeting space, and share content and ideas instantly, and without fuss. Meeting spaces should be equipped with suitable furniture, screens, and if you want them to be truly productive, a super easy way to share information and ideas, through a wireless presentation solution, for example. Wireless presentation solutions eliminate cable clutter, and remove the hassle of trying to find the right cable or adapter. But even more than this, they allow users to instantaneously share content, provide feedback, and be more productive in meetings.
The virtual workplace
However, we can't help but notice that there's an element of the hybrid workplace glaringly missing from this – the digital (or virtual) workplace.
With remote working on the increase, and the prediction that half of the workforce will be implanting this type of digital or virtual working by 2020 (a mere two years away!) we need to give thought to the future hybrid workplace, to cater for all types of workers.
People are walking around with all the information they need in the palm of their hand. Yet sharing this information with colleagues, customers, partners, is still difficult.
There are tonnes of video conferencing solutions out there that allow users to communicate with their colleagues, no matter where they are. These are great solutions to enhance relationships between remote employees and their colleagues. But one thing that is missing is the ability to share content from anywhere.
Even though someone may join via video conference, they won't have much tangible input to a meeting. Sure, they could email their content beforehand, and have someone cast it to the screen in the meeting space. But this itself encounters so many problems – is everyone on the same page, how can you gather feedback, is the context missing because that person isn't in control of the content?
Wireless presentation solutions allow users to share content from any network, and any location. Some have their own built-in video capabilities, or even work alongside your current video conferencing solution.
There are even some collaboration solutions specifically designed for teams in different locations, that allow them to video call, open a blank workspace, and collaborate in real-time with their colleagues on a project.
This helps break down the barriers for remote staff, both physical and metaphysical, and boost productivity and that feeling of connectedness.
Looking back at Lego, and the fact that their brand is everywhere within their office space, this can also be extended into the virtual workplace. Some solutions cater to company's branding requirements, reducing the disruption in workflow.
Next steps…
Call it what you will – the Hybrid Office 2.0, the Blended Hub, or, simply what it is – today's workplace. Design your workspace with the core focus of your employees' needs, and your employees will deliver results.
Take your first steps to today's hybrid workplace right now, with a free 14 day trial of Montage, wireless presentation solution.
Feature www.lego.com/en-gb/aboutus/news-room/2015/december/new-lego-singapore-office-inauguration>image source: www.lego.com
Want to stay in the loop?
Keep up-to-date with everything DisplayNote – including new releases, job openings, and customer giveaways.
Don't worry, we'll not spam you and we'll never share your email with anyone