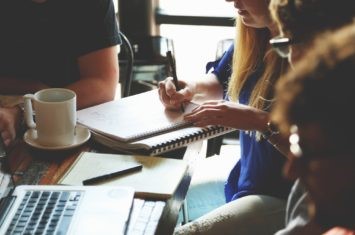 New battleground of conference rooms with wireless presentation systems.
DisplayNoteBlog
•
May 23, 2016
Consider this scenario: you need the main meeting room at 14:30 for 2 hours. No dice – it's booked. You could book it for 16:00 but the meeting before that might not get started on time, so you think about booking it for 16:30 but then decicde that's too late in the day to do any meaningful work, so you check tomorrow's planner. Meanwhile your competitor has no such productivity bottlenecks and steals a march on you.
It doesn't have to be this way. In conference rooms across the planet, there's a constant war being waged – a war over time, a war over cables and connections – a battle of bandwidth and of scheduling, sometimes the most intense fighting is over something as simple as space, chairs or plug sockets… How can we alleviate this? How can we bring peace to the conference rooms of the world?
Conference Room Setup
Don't be stingy with space, you'll regret it later. If you're at the point where you're planning or laying out a conference room, give as much as you can – you're thinking you'll have 12 people in the conference room… so what happens when it's 16? Plan for 15, end up with 24?
You can't give unlimited space of course but you really do need to factor for as many as you can. Conference rooms are for co-workers to collaborate – to share information, to join forces and get stuff done, to report and research and just generally co-operate.
However, they're often also where customers come to, people you want to make deals with and impress with your business – you don't want them walking into a storeroom with 3 chairs and a 28″ monitor as a display, you need to wow them. A conference room is often a reflection of the company itself, a flexible and open conference room vs a linear and formal conference room can often be a good gauge of the prevailing business personality.
If you've got restrictive space, think out-of-the-box – modular furniture, multi-purpose even. Instead of filling the room with loads of different tech solutions, shop smartly and get technology that does more than one job – this is true for all conference rooms, but if you're working in a smaller space, the last thing you want is an AV rack stacked from floor to ceiling.
Conference Room Technology
We believe you need a Wireless Presentation System – admittedly, we're biased on the subject, so we'll come back to that. Other than that, the most important piece of equipment in a conference room simply has to be a remote control. Yes, a remote control. But ideally you want one that's integrated with as many of the technology systems in the conference room as possible; the lighting, the AC & Heating, the display/projector, the coffee machine (wouldn't that be a dream!) – you want to be as productive as possible, why bother wasting time getting up to turn the AC down 2 degrees or to dim the lights?
Of those things, you NEED a large display or digital projector – unless you're going old-school with a typewriter or using acetate sheets and a retro overhead-projector.
You need as large a display as you can manage, everyone in the conference room needs to see the content on screen, you can't be having attendees missing out on what everyone is talking about because it's too small and far away.
Some of the great large format displays feature touch control, with multi-point touch available in models also, so in theory you could have your whole team around the display, annotating, manipulating and controlling the data and content being shown. Some of the solutions built in to large format displays are game-changing in terms of productivity gains and efficiency benefits, we covered some of this in our review of Large Format Touch Display Evolution at ISE 2016.
Using the right programs and apps to collaborate can completely revolutionise how your conference room is used – no longer is it a case of the most vocal person or the HIPPO (Highest Paid Person) getting their points across, but everyone can show what they want and need to.
Having everyone in a conference room being able to equally and easily collaborate through the technology stops quarrels over contributing and makes 'working together' a fair process. The more efficiently you can collaborate, the less time the meeting will take (in theory!), which means fighting over conference room scheduling should be reduced (again, in theory!!).
Essential: Wireless Conference Rooms
At this point in time, this isn't even an option… with the global proliferation of BYOD and an ever-increasing range of connectors, adapters, plugs and cabling, it's pointless trying to fight it. Wireless and device agnostic is the only way to go.
You need to have a sufficient number of power sockets for laptop devices but nowadays it's equally key to also have USB charging points for attendees. You don't want a war breaking out over whose phone needs charged as a priority – especially when you consider how much computing and work is actually done on smartphones now.
Some Wireless Presentation Systems allow you to share content directly from smartphones to a main display, Montage, for example, allows iOS or Android to share their screen and content – you can't gather an entire team to collaborate in a conference room and then not provide them with the essentials they need. You've scheduled 2 hours for a meeting, but everyone needed 5 – 10 minutes at the start to get plugged in, connected together and wired up.
What if somebody needed that in the meeting before? So now you're starting late; the meeting after yours might now be 20 minutes late in starting… Another element of conference room conflict is with the technology and installations themselves.
Whatever solutions you incorporate, ensure they are as easy to use as possible – the user interface needs to be so simple that someone who has never seen or heard of the technology before, should be able to get up to speed quickly. So you need simple, effective, wireless systems, with an instantly accessibly user interface that interacts well with other conference room technology solutions, such as your audio set up. Montage is designed to fix broken meeting spaces and solve productivity problems the world over.
Are you designing a huddle room or collaborative space?
It will help you learn how to create effective huddle rooms, how to cater for remote workers and what technology is available.
Want to stay in the loop?
Keep up-to-date with everything DisplayNote – including new releases, job openings, and customer giveaways.
Don't worry, we'll not spam you and we'll never share your email with anyone