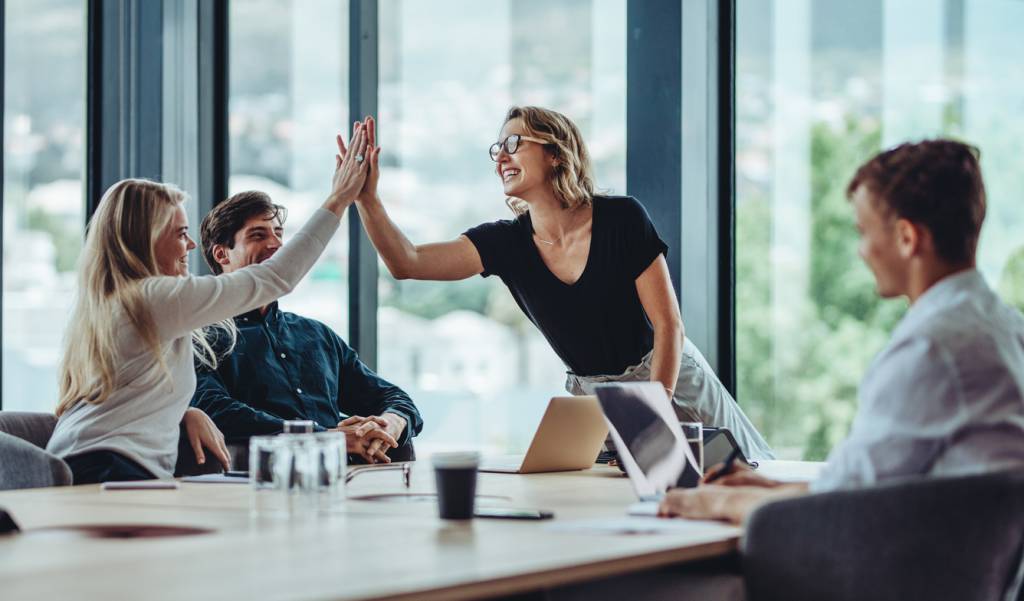 Hints & Tips
Launcher
Montage
Omni
The Transformative Effects of a Good Internal Communications Strategy
DisplayNoteBlog
•
Jul 17, 2023
Ask any CIO, Facilities Manager, Head of AV how they think the workplace has changed over the last 10-15 years, and you'll more likely get puffed out cheeks, some considered silence, and a response to say that it has changed beyond all recognition: people don't come into the office when they do they'll move from space to space frequently, 70% of jobs can be done with a supercomputer that fits in your pocket and distance is no barrier for colleagues interacting.
With these seismic cultural and technological shifts, companies, no matter how large or small, are seeking new ways to collaborate and communicate across teams, departments, and geographical locations. A by-product of all of this is, is the growth of internal communications departments in enterprises.
Internal communications are when employers, employees, and colleagues share information and talk to each other to ensure a mutual understanding between leadership, management, and staff.
Communication is delivered through an appropriate channel and should result in employees knowing exactly how their role contributes to achieving company goals. An effective internal communications strategy plays a key role in motivating and engaging employees, resulting in many businesses' overall success.
But why? What are the positive impacts of an internal communications strategy?
1. Achieving goals.
To achieve organizational goals, co-ordination and communication among various departments are essential. Effective internal communications will help to co-ordinate projects and tasks amongst different departments.
2. Motivation.
Effective internal communications can help to motivate employees. It can bridge the gap between what's decided at an upper management level and how these decisions are implemented right across the company. Without a sound strategy, communication can get lost in translation or watered down, resulting in a disengaged and demotivated workforce.
3. Employees understand the bigger picture, the company's vision, and how they fit in and contribute to this vision.
According to Gallup, 24% of employees worldwide are 'actively disengaged'
With an effective internal communications strategy, employees will feel valued, listened to, and like an important part of the team and the organization.
4. Employees are more productive.
When an employee is fully aware of their contribution to organizational goals, they contribute more and feel better about the value they add. Hence, they stay on the job and help move the business forward.
5. Knowledge is power.
Let's take the example of competitor information. Knowing your competitor's strengths and weaknesses are necessary for high performance in a competitive market place. With an effective internal communications strategy, this information can be shared with the right people at relevant times. Accessibility of the right information is also important for agility; internal communications can help make everyone aware of where to find the right information. Many companies use company websites, internal blogs, SharePoint, Yammer, and other tools to share information or links to stored information.
6. Better leadership.
Leaders are better able to understand employee needs and how to meet those needs to motivate, inspire, and engage them in the business's overall goal.
7. Managers have a greater understanding of their workforce.
Sourcing the best employees for your organization can be difficult, so when these employees exist in your organization, it is important to retain them. According to a survey from SHRM, 46% of HR pros say retention is their greatest concern, followed by employee engagement at 36%.
Building the trust and credibility to keep employees engaged requires effort. Internal communications can help build trust and credibility by proactively listening to employees and providing ways to give feedback.
8. Exchange and generation of ideas.
Engaged employees who understand the bigger picture and overall vision of the company tend to feel encouraged to give more feedback and offer new ideas. By providing an effective way of communicating these ideas and brainstorming, an organization can benefit from increased creativity among employees, encouraging overall innovation.
What does a good internal communications strategy consist of?
According to Staff Motivation Matters, good internal communications consist of the following;
Open and objective communication
Clear, jargon-free, succinct language
Consistent and regular communication
Two-way dialogue
Understanding the audience and what appeals to them
Using good verbal, non-verbal, and written communicators
A communication identity that people recognize and use
An accessible medium.
"The power of communication lies in keeping your audience involved in its evolution, because it is their interaction and interest that will mean the difference between communication that goes nowhere and is read by no one, and communication that can motivate entire workforces."
In summary
Great communication must be a continuous process. It's an organizational habit. You must work every day to ensure you communicate openly and honestly with employees and colleagues.
By making an effort to provide an effective way of communicating and providing information, you encourage employees and colleagues to give positive feedback and contribute to overall success by doing their jobs better.
There are many effective communication tools to keep you collaborating remotely and 'sync and share' document storage solutions like SharePoint and DropBox, all of which can have a positive effect on communications across organizations.
The overall impact of providing a good internal communications plan is a positive one! Good communications can only result in higher levels of motivation, engagement, performance, and business results.
At DisplayNote, our mission is to provide ways to work more effectively together; we like to think we are doing our best to break the barriers to great ideas by providing team communication and collaboration solutions.
Want to stay in the loop?
Keep up-to-date with everything DisplayNote – including new releases, job openings, and customer giveaways.
Don't worry, we'll not spam you and we'll never share your email with anyone