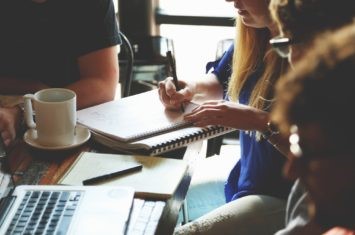 Quickfire meeting room checklist – with wireless presentation systems.
DisplayNoteBlog
•
Sep 2, 2016
You're away from the office, meeting a customer or a client, a contractor or a supplier or just a person you need to have a meeting with. Maybe you arrange to book a meeting room in a hotel or exhibition centre. Maybe you look to a remote working virtual office space company such as Regus. Does it have the equipment you need?
If it's a business meeting, there's a safe bet that you're going to need to show & share information from your device or computer. In this day and age it just doesn't look slick enough to turn up with a wad of printouts stapled together, ensure that the venue you choose has the technology you need.
Solutions
The most productive meeting rooms throughout the business world will have a Wireless Presentation System; many will also be equipped with some method of remote communication, to bring people in to the meeting who can't physically make it. This is an essential need when you're scheduling an off-site meeting venue.
When we travel for business, we book all sorts of meeting rooms in all sorts of venues, we've come to know what to ask for and what to take for granted… most of the time! Sometimes it's worth not checking if tables and chairs are provided just for that quick laugh when you walk into a meeting room in some close-to-the-airport hotel in a country where you don't speak the language. "I guess it's a stand-up-and-hold-my-laptop type meeting!"
You'll ideally want a meeting room with a display of some sort; a projector, a large format touch display or even just a reasonably sized flat panel; something for you to display information upon. There's a lack of professionalism in crowding around one laptop in a meeting and it can be solved easily if the meeting space has a display and a Wireless Presentation System.
When sourcing a space for a meeting when you're on the road, follow this checklist and hopefully you'll not run in to inefficient and unproductive meeting spaces when you can't afford to.
The Meeting Room Checklist
Large Format Display/Projector
Wireless Presentation System
Wifi and Guest Access (ensure guests can connect to your wireless presentation system)
Power Sources
Tables and Chairs
Appropriate Room Size
Next Steps…
Want to stay in the loop?
Keep up-to-date with everything DisplayNote – including new releases, job openings, and customer giveaways.
Don't worry, we'll not spam you and we'll never share your email with anyone