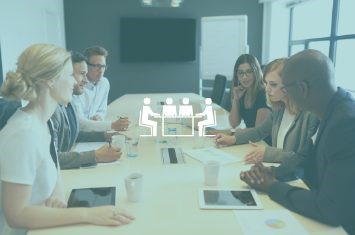 3 ways wireless presentation can make meetings more productive.
DisplayNoteBlog
•
Jul 31, 2017
According to research, more than $37 billion per year is spent on unproductive meetings, and management teams spend up to 50% of their time in meetings. Meetings are important in business, but often they aren't as productive as they should be, with 92% of workers admitting to multitasking in meetings. In this blog, we'd like to highlight 3 ways, we believe, your meetings could be more productive with a wireless presentation system.
1. Encourage remote employees to make use of their webcam
According for Forbes, 91% of workers believe they 'get more work done when working remotely'. However, remote employees can feel disengaged from their colleagues when they are not working in the traditional office setting. Working remotely can get lonely. While remote working has its benefits, it's nice to have interaction with your team on a regular basis.
Most of the time it's not feasible for remote workers to visit the office every week. This could be down to a number of reasons; they are always out on the road, such as salespeople or inspectors. They are located in a different city or even country, where there's no option of jumping in the car to visit the office for a couple of hours. Or they could even have complex equipment in their home that they need to do their job, and visiting the office won't be a productive experience.
With this in mind, it can be very difficult to work as a team, and be innovative. This is where the webcam steps in.
We're not saying a webcam replaces human interaction entirely, but it is good enough. It allows remote workers to communicate with colleagues quickly and easily – very useful for ad hoc calls.
The webcam is commonplace to most organisations, but what is now being required is to augment the experience by contributing to the meeting or call by presenting and viewing content. Simply joining via video call isn't enough for a productive meeting. But joining via video call and presenting your content along with annotations, and being able to gauge reaction in the meeting room via video, can drive the business agenda that bit further.
2. Make it easy for everyone to share information
Joining a meeting these days is very easy – everyone shows up into a meeting space, or connects remotely from their device.
But what can be frustrating is when four or five people need to share content, as well as a colleague who is working remotely.
Wireless presentation systems allow a number of people to share their content to a large format display at the same time, no matter what format that content is.
Imagine you wanted to set up a meeting with a customer, 1000 miles away, and show them the work you've done on their project so far. But they also want to present a slide-deck to you with some suggestions. This can be easily facilitated with a wireless presentation system.
This is another reason why wireless presentation systems are beneficial. They can allow anyone to connect to a meeting, no matter where they are, or what device they are using.
People can connect via Windows, iOS or Android apps. If they don't have permissions to download new apps on to their device (or if they simply don't want to) they can also join via web browser or Airplay.
No one needs to create an account, or change their content – just enter their name and a meeting ID (provided by the host of the meeting) and they are a part of it – it's as quick and easy as that.
3. Go beyond wirelessly casting
Your meeting has begun. Remote workers are connected via video conference. Four people have cast content from their devices up to the main display. Now it's time for brainstorming.
What if you need to share a whiteboard? Yes – you could open a separate whiteboard application, or focus on a physical flipchart, but what if a remote worker needs to view and contribute?
A whiteboarding feature built into your wireless presentation system is the answer to this question.
A blank canvas is perfect for idea-sharing. Everyone can contribute to the one canvas, providing ideas and suggestions through annotations. This helps ensure that everyone is working together to achieve a common goal, and if people are collaborating in real-time, they are more likely to understand the context, and all be on the same page.
Participants should also be able to annotate over existing content. Someone can present a piece of content and everyone can annotate over the top. This is useful to draw people's attention to certain things, or highlight where changes need to be made.
Work is progressed during the meeting, and if participants are expected to collaborate, they are a lot more likely to be engaged, than if a presenter was just talking at them, for example.
One of the best things about this collaboration is that everyone can provide feedback in real-time. Because it's so easy for people to connect to a meeting, no matter where they are, they are involved in the brainstorm, and can provide feedback straight away. This eliminates time wasted and ensures a more productive meeting.
All this feedback and annotation can be captured, and sent to participants during the meeting, with a simple click.
This allows you to keep track of the progression of ideas – where you started, where you finished, and how you got there. Sometimes it's easy to see the content, but completely miss the context. Saving the journey allows you to keep context in mind.
When you are evaluating wireless presentation systems, check whether they stop at screen-casting, or do they provide collaborative tools as well. You will know what best suits the needs of your organisation.
By sharing this during the meeting, people are ready to get back to their desks, home offices, coffee shops, and get straight to work on the project. There is no need to chase people for information, or feedback, because it was all provided and saved during the meeting. This results in projects being progressed more efficiently.
Final Thoughts.
At DisplayNote Technologies, we developed Montage to help us make meetings more productive. As an innovative company, in a fast-paced sector, we wanted to quickly and easily share content with colleagues, whether in the office or remotely, and be able to collaborate on ideas. Allowing up to 6 devices to connect to a large format display resulted in seamless idea-sharing between our office in Belfast and our office in Murcia.
There's no taking away from the importance of meetings. In most cases, they are necessary. But with the right technology and some common sense, you can ensure that all meetings can be more productive and effective.
Want to stay in the loop?
Keep up-to-date with everything DisplayNote – including new releases, job openings, and customer giveaways.
Don't worry, we'll not spam you and we'll never share your email with anyone