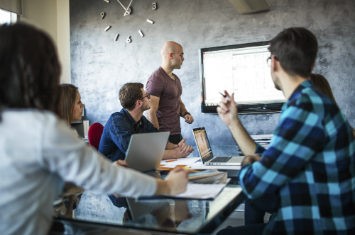 How can wireless presentation systems future-proof your existing displays?
DisplayNoteBlog
•
Jun 8, 2017
It's a popular concept – using software solutions to enhance your existing hardware. And Wireless Presentation Systems can do this.
Technological change.
There's no doubt about it; the rate of technological advancement is phenomenal. As Intel CEO Brian Krzanich said. "Moore's Law is alive and well and flourishing."
The evidence is all around us; from smartphones and drones, to self-driving cars.
Only 13 years ago, we were still using the iconic projector and the TV-on-wheels!
We've moved on a great deal since 2004… displays are now bigger, slimmer, and interactive.
They're by-products of technological advancement.
However, there is a major downside to this, and that is the acceleration of technological change: it's almost impossible to keep up! We've only just got our head's around 4G, and there's already talk of 5G!
A 2015 report states that entrepreneurs start up a new business at a rate of 80 an hour. It's sometimes not feasible for start-ups or small businesses to invest in the latest tech – whether that's due to a lack of funding, a small budget, or even that they believe they cannot keep up with the latest trends.
This is especially difficult with hardware. You could purchase the best display the world has to offer, and it feels like next week there's an even better one out. It can be very difficult to be agile.
However something you can do is future-proof your hardware.
Future proofing your existing technology.
The very concept of future-proofing technology might seem like a paradox considering the rate of change in the sector.
But what does future-proofing actually mean? Usually, the answer to this is focused on ensuring IT systems are up to date, but it means much more than this.
It doesn't necessarily mean that you must implement the most up-to-date piece of technology; but more that your technology is fit for purpose, and will still be fit for purpose in the near future. Statistics show that 85% of employees who believe their company's technology is ahead of the curve, say they love their jobs. Employees who love their jobs and feel engaged are more productive than those who don't.
The solution you implement should be efficient, user-friendly, and it should make complex processes easier to manage.
Technology should also embrace the BYOD initiative. Employees are accustomed to using their mobile device in their personal lives, and they expect only the same in their work lives. So when implementing new IT, consider how flexible it is.
Mobile devices are only going to keep evolving as per Moore's Law. So ensure your technology will support their equipment now, and in coming years.
A lot of manufacturers and distributers in the AV world focus their efforts on selling the benefits of the hardware, when what the customer is actually interested in is the software. After all, it's the software that will extend the life of the display, and it's the software that allows your company to be agile.Whether you have a display from 5 years ago, or a brand spanking new touch screen – there is a solution available to enhance and future-proof both.
How can wireless presentation systems future proof your existing displays?
Companies tend to use displays to share and present content, or for video-conferencing.
Wireless presentation systems are available to "plug into" your existing displays, enhancing their shelf-life, and thereby future-proofing your existing technology.
Gone are the daily struggles of finding the right cable to connect to your laptop in order to project your content.
No more passing the clunky cables around other staff members to share their suggestions.
Wireless presentation systems are easily implemented, and can turn any screen into a collaborative, content-sharing hub and puts the solution at the centre of modern workflows.
The further benefits of software solutions mean they are updated quickly and easily, and any bugs can be rectified in a matter of hours – without the need to pay for physical parts, or replace altogether.
Final thoughts.
When it comes to updating your IT, think about flexible ways to enhance your current technology.
The proof isn't in the pudding; it's in the future.
Next Steps…
To see our intuitive solution, Montage in action, book a demo now!
Want to stay in the loop?
Keep up-to-date with everything DisplayNote – including new releases, job openings, and customer giveaways.
Don't worry, we'll not spam you and we'll never share your email with anyone