DisplayNote and Clevertouch combine to simplify the meeting room.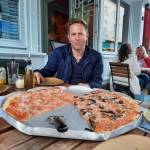 Eddie Morgan
•
Jun 10, 2020
Creating meeting rooms that are simple and easy to use requires dedication and true commitment to the user of these rooms. Success means thinking about how to remove friction and things that distract at every step. But true success requires more than just a mindset, the tools must be there too. That's why we've partnered with Clevertouch, to promote a solution that removes complexity and complication from meeting spaces. Through a joint product offering of Launcher and the Clevertouch UX Pro, we're working in tandem to make it easier for people to launch video calls and get to the apps they use everyday in meeting rooms.
"By prioritizing user experience, Launcher simplifies meeting rooms by removing all friction and making it easy for users to get to the collaboration app they need", said DisplayNote CEO Paul Brown. "When you combine that user-first approach with Sahara's award winning UX Pro display, you go a long way towards making meeting spaces more effective and productive.
The marketing partnership will see DisplayNote's Launcher software sold alongside CleverTouch's range of UX Pro displays and Jabra's Panacast camera. From June 2020 Launcher can be included with each 55, 65, 75 and 86" UX Pro Displays with options for customers to purchase additional 1, 3 and 5-year licences of the software via their Clevertouch dealer.
"Clevertouch is world leader for touchscreen innovation and we only partner with leading brands that will add to our user's experience, said Shaun Marklew, Group Sales and Product Director at Clevertouch. "DisplayNote is known for tech innovation and we're very proud to be presenting Launcher with our UX Pro range of touchscreens'.Launcher adds simplicity to the UX Pro
With Launcher included, the award winning UX Pro now gives users one touch access to your apps, video calls and calendars. It allows users to start a video call, such as Zoom or Teams call , with one tap, either at the display or via Launcher's smart phone app.
This is how it works: Launcher's room calendar picks up any scheduled Outlook or Google Cal event so that all a users needs to do is start or join a call with the simple press of a button.Launchers integrates with MS Exchange and Google and supports the most popular video conferencing tools. So whether you're scheduling Zoom, Teams or Skype for Business, we've got you covered.
Hassle-free sign-in to 365 apps
Launcher's mobile app allows your users to wirelessly sign-in and out of 365 on the meeting room screen so that they can start personal video calls and access their content in seconds.
Launcher mobile app is compatible with iOS and Android devices and is available for download on the App Store and Google Play.
The same, simple experience in every room Launcher's organized and intuitive interface lets you standardize the tools you use across all of your rooms so that your users can easily find and launch the apps they need.
With support for any Windows program, Store App or Web URL, users can launch the tool they need with one simple touch.
Want to stay in the loop?
Keep up-to-date with everything DisplayNote – including new releases, job openings, and customer giveaways.
Don't worry, we'll not spam you and we'll never share your email with anyone