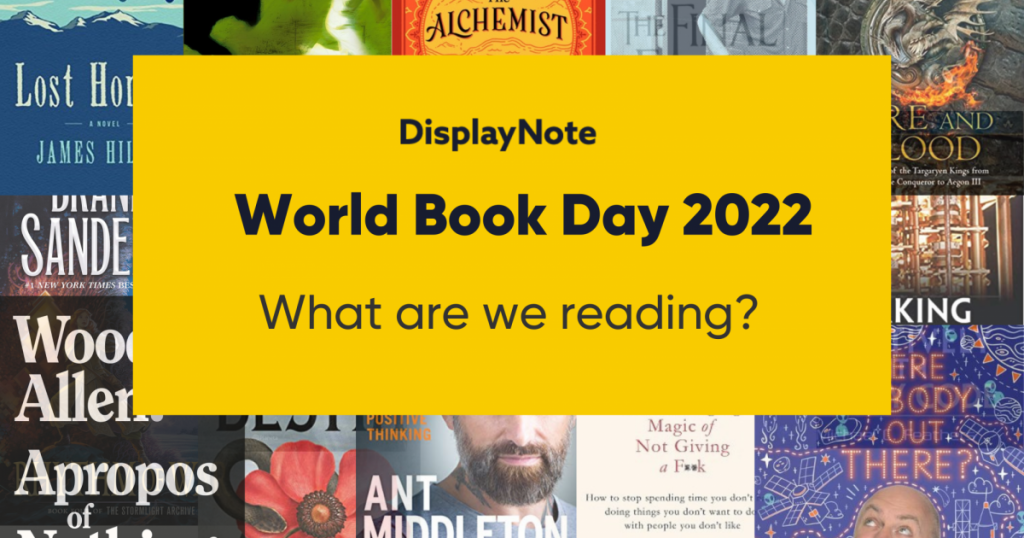 It's World Book Day – Here's what we're all reading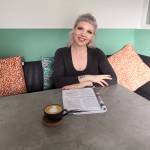 Julie Adams
•
Mar 1, 2022
Alan McDaid, CFO – Lost Horizon, by James Hamilton.
Pepe, Broadcast Backend Lead Developer – La bestia, by Carmen Mola.
Pablo, QA Engineer – Mistborn: The Final Empire.
Miguel García, Backend Systems Engineer – Apropos of Nothing, by Woody Allen.
youssef samih, Frontend Developer – The Alchemist, by Paulo Coelho
Alex Salmerón, Product Designer – Por si las voces vuelven, by Ángel Martín and La vida mola, by Raúl Gomez.
Kathryn McMath, Business Development – Andalus: Unlocking the Secrets of Moorish Spain, by Jason Webster. – "It charts the story of Zine, an illegal immigrant from Morocco, taking a look at the Arab ancestry of modern Spain. It's really interesting."
Robert McMillen, Channel Account Manager – Sing Backwards & Weep – an autobiography by musician, Mark Lanegan.
Denise Herron, Accounts Administrator – Zero Negativity: The Power of Positive Thinking, by Ant Middleton. – "I'm only a few chapters in but I'm not really feeling it much…"
Juanma, Team Lead – Working Effectively With Legacy Code, by Michael C. Feathers.
Enaut, Xamarin Developer – Basque Mythological Routes.
Luke McSorley, Broadcast Product Manager – Rythm of War, by Brandon Sanderson.
Sara Dalzell, Digital Marketing – Is there anybody out there? by Dara O'Briain. – "It's the third of his science books written for kids. My son and I take turns reading to each other as part of his bedtime routine. So I'm always on the lookout for books that we both can enjoy. Dara's science books are really engaging for both of us!"
Jordan Sarac, Software Engineering Intern – Oathbringer from the Stormlight Archive series by Brandon Sanderson. – "A great series if you want a fantasy novel!"
Jose Javier, Head of Engineering & Spain Site Manager – The latest Game of Thrones book. – "This one is a bit too long…"
Lucio, C++ Senior Developer – La Fuente de las Tinieblas, by Aitor Solar. – "A modern anthology based on Lovecraft's Myths."
Miguel, Head of Technology – Peopleware: Productive Projects and Teams, by Timothy Lister and Tom DeMarco and The Life-Changing Magic of Not Giving a F**k, by Sarah Knight.
Juan, Senior Software Engineer – The 100-Year-Old Man Who Climbed Out The Window And Disappeared, by Jonas Jonasson. – "It's a hilarious story about a man who lived a lot of adventures during his life with historical characters like presidents and governors – I'd highly recommended."
Carmen, Front-end Web Developer Intern – In Case The Voices Come Back, by Ángel Martín.
Laura M, Software Developer – The Last Duel: A True Story of Trial by Combat in Medieval France, by Eric Jager. – "If you haven't watched the recent movie directed by Ridley Scott, believe me, you are missing out."
Laura S.C., Frontend Developer – The Extraordinary Years, by Rodrigo Cortés.
Cuenca, Horizontal Web Lead – The Punisher Graphic Novel Collection, by Garth Ennis.
Rónán Logue, Customer Support Specialist – 24 Hour Party People, by Tony Wilson. – "I really like the music and bands from that era and interesting to read about how it all came about. I've been reading too many heavy sci-fi/fantasy books recently that I'm enjoying this change of pace."
Ángel Planelles, Systems Administrator – The Physician, by Noah Gordon
Pepi Harding, Office Manager – A Discovery of Witches, by Deborah Harkness. – "It's ok, maybe a bit slow going…"
Raul Martinez Ruiz – Montage Team Lead – The Delusions of Certainty, by Siri Hustvedt.
Alvaro, Developer – Analects of Confucius. – "It's a Chinese classic compiled by his disciples which contains still-relevant philosophy and wisdom for life. It's a nice book for some everyday reading before bed."
Ed Morgan, COO – Parting the Waters: America in the King Years, by Taylor Branch. – "The first volume of the definitive history of Martin Luther King, Jr., and the civil rights movement was a struggle that was to change America forever. Taylor Branch is an incredible biographer and nothing has helped me understand American history or our current civil rights issues more than this book."
Niamh Hutchinson, Talent Acquisition Partner – The Girl with the Louding Voice, by Abi Daré. – "It's about a teenage girl living in Nigeria trying to get an education – it's very good!"
Julie Adams, Senior Communication and Content Specialist – Cured, by Dr. Jeff Rediger. – 'It examines incredible stories of spontaneous remissions in medicine and unpacks some of the science behind them – it's a very inspiring and uplifting read.'
Ronan McAleenan, Launcher Product Manager – Why We Sleep, by Matthew Walker.
"I'm very much enjoying learning about how impactful sleep actually is to every aspect of what we do."
Want to stay in the loop?
Keep up-to-date with everything DisplayNote – including new releases, job openings, and customer giveaways.
Don't worry, we'll not spam you and we'll never share your email with anyone