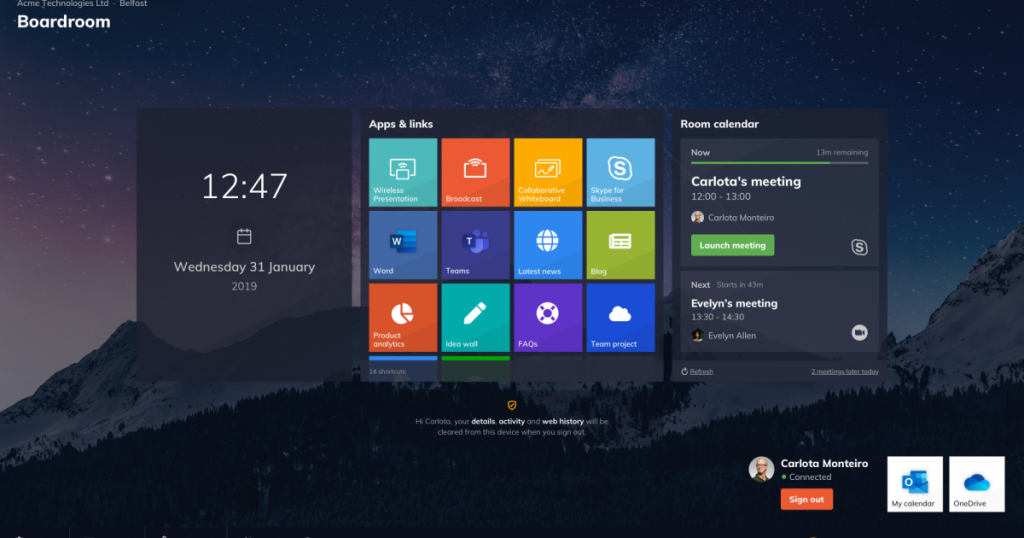 Launcher 1.3 is Here …Featuring One-Touch Meeting Join for Zoom, Teams & More.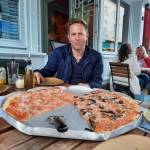 Eddie Morgan
•
Sep 3, 2019
This article was published in 2019…things move pretty fast in the tech industry. To read about the latest version of Launcher, see here.
DisplayNote Launcher 1.3 has arrived, and it brings new exciting features to the meeting room table. There are many new features to talk about, including one-touch meeting join, room reset, and improved Kiosk Mode. So, let's get right into it!
An Overview of Launcher 1.3
Launch meetings directly from the room calendar with one-touch using Skype for Business, Zoom, Teams, GoToMeeting, and BlueJeans.
Pair Skype for Business accounts with Launcher for a more streamlined setup with MS Exchange and easier access to meetings from the room calendar.
Reset the room to close all apps and clear your data from the device, giving you peace of mind and leaving the room just as you found it.
Enable Kiosk Mode that removes keyboard shortcuts and Windows gestures.
Experience many more enhancements, including license key visibility, connectivity improvements, UI tweaks, and screen personalization.
One-touch join
Joining or starting meetings in today's world of video conferencing can be difficult. Take the – sadly common – scenario:
Your previous meeting overran, but you've made it into the meeting room at 11.00 AM with no time to spare. You open your laptop to confirm that Skype for Business is the video conferencing tool to be used for the scheduled meeting. You step up to the meeting room display, find and launch the Skype for Business application. It's 11.01 AM. Skype for Business opens, and you're about to pat yourself on the back when you realize that you still need to sign in.
After a battle with finding the correct login credentials, you're signed in at last. You find the 11.00 AM meeting on the Skype for Business app, and you join the meeting, but it's now 11.05 AM. You feel stupid because you're late.
Flustered and embarrassed, you apologize to the rest of the meeting attendees, and you promise yourself never to let this happen again. With Launcher 1.3 and one-touch join, however, we're streamlining this process by providing meeting attendees with the ability to launch video calls directly from the room calendar.
We're not reinventing the wheel either. Simply schedule your meeting in MS Outlook as you would normally, and your meeting slot will appear on the Launcher home screen. So whether you're using MS Teams, Skype for Business, Zoom, GoToMeeting, or Zoom, simply step up to the screen, tap your meeting from the calendar and get the meeting going – you can even pat yourself on the back for being stress-free and on time for your meeting!
Skype for Business pairing
As we all know, Microsoft is now full steam ahead with the migration of Skype for Business to MS Teams, which is a significant change that will see many companies transition over time. We're keen to accommodate everyone during this period of transition, and so we've added the ability for you to pair Skype for Business to your Exchange room calendar. This means that your Skype for Business application will always sign in with your room account by default.
Clear Device
Many years before the advent of technology and widespread use of computers and displays, meeting rooms enjoyed the same activities that we have nowadays: Discussions are had, decisions are made, ideas are born, etc.
Like today, these activities revolved around proposals, designs, statements, etc. When the meeting was over, everyone would leave while ensuring that every document, scribbled piece of paper, blackboard, or flip chart was absent from the room, keeping information safe and secure. In today's meeting room, a cleared table and clean whiteboard no longer mean that the room is safe and secure. Indeed, the touch display at the top of the room might include sensitive information that served a meeting yesterday or even last month.
Whilst most of us understand our responsibilities in today's world of free-flowing information, our data footprint can be difficult to manage.
Thankfully, Launcher 1.3 addresses the issue of leaving information behind you as you leave the room. When you sign out from Launcher – or anytime you want, thanks to a button on the home screen – you can clear the device of data that was generated during your session and close all opened applications in the process.
Other improvements coming with Launcher 1.3
Modified kiosk mode to now disables Windows gestures and keyboard shortcuts.
License information is now available from the application settings.
Revised the application setup to include Skype for Business pairing.
Added small tweaks to the user interface
Launcher 1.3 is a free update for everyone with an active license key. If you have any questions or feedback, contact us, or get in touch via LinkedIn, Twitter, or Support.
Want to stay in the loop?
Keep up-to-date with everything DisplayNote – including new releases, job openings, and customer giveaways.
Don't worry, we'll not spam you and we'll never share your email with anyone