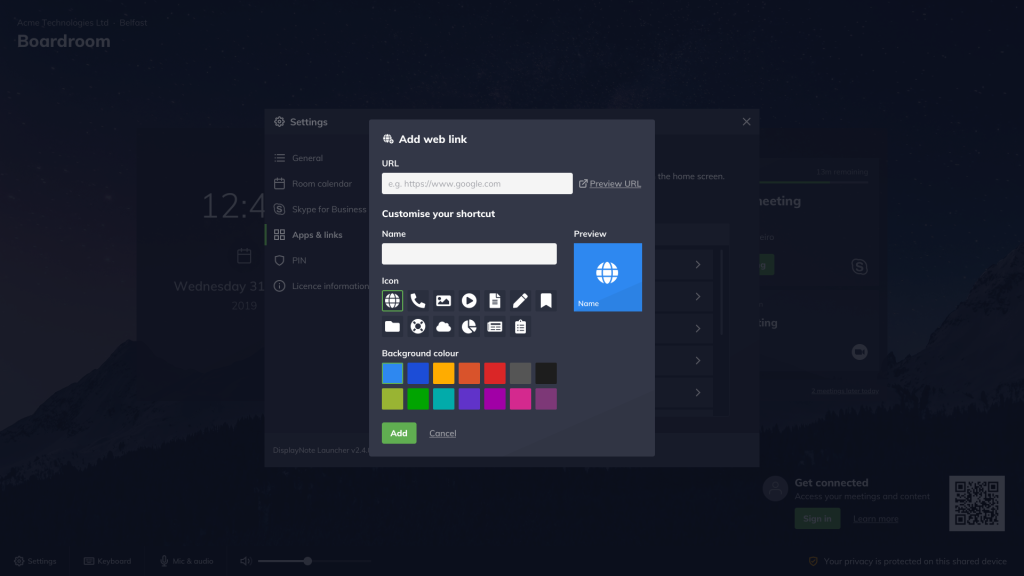 DisplayNote Launcher 1.5: Web apps, custom shortcuts, improved calendars and more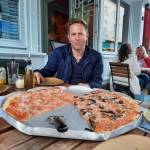 Eddie Morgan
•
Nov 29, 2019
After a small update release (v1.4) DisplayNote Launcher 1.5 has arrived, and it brings new exciting features to the meeting room screen. There are lots of new features and improvements to talk about, so let's get right into it
Overview of Launcher 1.5
Add web shortcuts to the home screen
Customisable shortcuts
Improved calendar
Personal space
Improved home screen
Web shortcuts
Web pages can now be added to the Launcher home screen using URL shortcuts. These can be previewed, added and customised (more on that below) via the settings panel.
Customisable shortcuts
New and existing shortcut names, icons (web shortcut only) and background colours can now be customised. This means you can rename any app.
Improved room calendar
The room calendar now shows only the most relevant information: now and next meetings. This provides users with a clear understanding of meetings scheduled in the current time slot (now) and upcoming meetings (next), with the rest of the day's meetings accessible via a sliding drawer.
In addition to the improvement listed above, a meeting tracker has been added to the room calendar, to allow meeting attendees to keep track of time remaining.
Lastly, the room calendar has received an automatic and manual refresh function to ensure the calendar is kept up to date.
Personal space
The personal calendar from previous versions has been moved to an area that we now refer to as 'Personal Space', for a clearer division between shared and personal information. The personal space, as before, includes access to One Drive. The dedicated Skype for Business option has been removed from the 'Personal Space', as personal S4B meetings are available from one's personal calendar.
Improved home screen
Our ongoing efforts to provide a best-in-class user experience is reflected through UI enhancements to the home screen, the introduction of an option to show an on-screen keyboard, and shortcut scrolling to operate vertically in accordance with Windows best-practice implementation.
Launcher 1.5 is a free update for everyone with an active licence key. We'd love to hear what you think of the latest update so please let us know your opinions on this latest release.
If you have any questions or feedback, contact us or get in touch via LinkedIn, Twitter or Support. We're including lots of nifty features for the admin in the next version, so stay tuned!Experience Launcher for yourself with a free 14 day trial.
Want to stay in the loop?
Keep up-to-date with everything DisplayNote – including new releases, job openings, and customer giveaways.
Don't worry, we'll not spam you and we'll never share your email with anyone