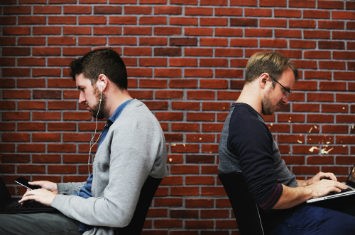 People versus technology.
DisplayNoteBlog
•
Jul 26, 2017
Technology is transforming the way in which we live and work in surprising and unexpected ways. Computing power and cloud connectivity, coupled with mobile devices means we can now walk into a meeting room and share content from one device to another totally wirelessly. Or from one location to another without even having to give it much thought. Touchscreen technology is redefining classrooms and collaboration software is changing how we do business.
AI Takeover
There was a recent documentary here in the UK, in which they showcased the famous robot hotel in Tokyo, Japan. There are no human members of staff – only robots. Cleaning, room service, check in – they're all completed by robots. Guests even have their own mini-bot in their room.
In the program, guests become a little frustrated by their mini-bots – when they misunderstand them, or they won't switch off! As cool a concept as it is, I don't think I'll visit the robot hotel.
But the question is, must technology and people be mutually exclusive?
In recent years, there's been a bit of scare-mongering going on – stating that robots are going to "take over the world", and "replace humans", resulting in a loss of jobs.
This simply isn't the case – people still matter.
People VS Technology
Yes, technology is expanding and adapting rapidly, but a lot of the time, people involved in the IT sector will push technology to its fullest, just because they can – not everyone agrees that it's always a desirable approach.
One of the most obvious examples of machines replacing humans, is in automobile manufacturing. Typically, the old method of human assembly line workers is replaced by robots.
However, Mercedes have taken a different approach and actually replaced their robots with humans on their production lines, allowing them to improve their service offering.
The reason for this being, while it makes sense for robots to automate production, they work best when they are given one job to do. Add in customisation, and they start to fail.
Mercedes have discovered this on its S-Class Saloon production line, where customisation options are endless. Robots can't cope with the amount of different options. So Mercedes are replacing them with humans. They did a complete 180!
Another example: surgeons use machines to help them come up with proper diagnosis and treatment. They also use very advanced tools to perform operations. There's even technology that can be controlled by a surgeon in a booth, to perform procedures. The presence of the surgeon is vital in this scenario – but the technology facilitates the work to be carried out.
The underlying theme here? The technology is supporting the people – not replacing them.
Facilitating Collaboration in your Organisation
At DisplayNote, we believe that technology should support people, and make their lives easier.
Which is why we create intuitive solutions that increase productivity and collaboration.
How?
Our solutions allow people to wirelessly present content, without the frustrations of clunky cables or the wrong connections, wasting valuable time. Up to six people can share content from the device of their choice, from any location, and project it up to the main display. We make the meeting process about the person – not the device and not the location.
Here at DisplayNote Technologies, we are firm advocates of the term "two heads are better than one" (or six heads are better than one), which is which is why our solutions are designed to improve how people work together, from co-annotating on an idea, and sharing files in real-time.
Our solutions also support video and audio capabilities, allowing for effective collaboration and idea-sharing between people who aren't even in the same room.
Again – the people are vital here. They provide the ideas, the creativity, the spark. The technology facilitates with the sharing of these ideas, to anyone, anywhere, as though they were with each other in the same room.
Companies today are increasingly shifting their focus to what's important. They are not trying to improve everything, but zeroing in on the highest value activities and making them better. Activities such as the complex collaborative interactions between high value workers. Being able to collaborate from different meeting spaces, different devices, different types of content, can be very challenging. Companies are aware of this and try to find a solution that will enhance this.
It's this workforce interaction that is the central focus of the modern workplace. A model which puts people and their collaboration in the very heart of the workplace. This is reiterating the fact that people are a core component of business – but technology is needed to help them work as efficiently and effectively as possible.
At the end of the day, no robot or machine is going to have the creativity and spark that people do. So one tip when researching collaborative tools – be sure to think about the human interaction when deploying technology, and whether the technology will help or hinder them. If it's the latter, it's not the right technology for you.
Final Thoughts.
People come up with ideas. People put together plans. People deliver results.
Technology is equally as important to help drive these ideas and projects, but it's just the enabler.
So back to the original question. No – people and technology shouldn't be mutually exclusive.
People + Technology = great results!
Next Steps.
Check out our collaborative solution Montage in action, and see for yourself how it easily facilitates effective content sharing and collaboration.
Book a demo today.
Want to stay in the loop?
Keep up-to-date with everything DisplayNote – including new releases, job openings, and customer giveaways.
Don't worry, we'll not spam you and we'll never share your email with anyone