Say Hi to Broadcast: a new tool for one-to-many screen sharing.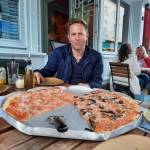 Eddie Morgan
•
Jun 21, 2019
At DisplayNote we build tools that help people share information and ideas, which is why we're very excited to introduce DisplayNote Broadcast; a technology that makes it easier to get what's on your large display out to hundreds of devices. At the heart of Broadcast is simplicity and we've tried to make it as frictionless as possible to share your content with lots of others.
With DisplayNote Broadcast you can send what's on your display to many devices in real-time. All you need to do is press the Broadcast button on your display and your broadcast is now live.
Audiences join your broadcast with minimal fuss, simply by going to the Broadcast webpage and entering a unique 6-digit ID.
We've purposely removed any steps that involve advanced setup. Because Broadcast sits discreetly on your display's home screen, you only need to tap the button to start sharing your screen – that means you don't have to spend any time setting up, sending invites or scheduling sessions.
And it doesn't matter if your displays are powered by Windows or Android. Broadcast has been designed to allow you to instantly get your content onto a large number of devices without having to worry about what type of screen you have.
"Broadcast has been designed for sharing content like presentations, images, documents, those things that don't need or have a great deal of interaction built-in", said Ed Morgan, COO at DisplayNote. "We've kept it as simple as possible, set up is minimal, there's nothing to learn and its core function is sharing what's on a display to lots of connected devices."
Broadcast will be available in Q3 2019. If you would like to join a limited group of organisations trying the software ahead of its official release, you can email us at marketing@displaynote.com.
Find out more about one to many screen sharing with DisplayNote Broadcast and book a demo.
Want to stay in the loop?
Keep up-to-date with everything DisplayNote – including new releases, job openings, and customer giveaways.
Don't worry, we'll not spam you and we'll never share your email with anyone