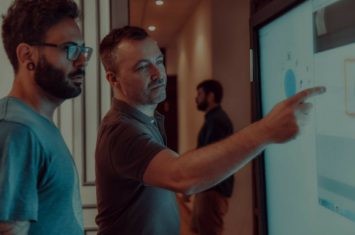 The walls are alive -why next-gen whiteboards are taking over.
DisplayNoteBlog
•
Jan 13, 2017
This year will see your meeting room walls come alive. No more will a traditional whiteboard be the last bastion of analogue in an otherwise digital environment. Next generation whiteboards, says Irwin Lazar of Nemertes, will enter meeting spaces rapidly, systems that allow teams to project, share content, co create, co edit and include remote users.
But why?
Firstly, the traditional board, and I include here those non interactive flat panels and projectors, present collaboration challenges for remote and in-room participants.
It's easy to see why the remote issue is a problem: it's not easy to connect with distributed teams and communicate via audio and video. With a traditional panel, if you're out of the room, there's no way you can even see the board never mind contribute.
Take also, those sitting 3 feet from the board. While presenting content was never really an issue, (projectors, displays and wireless presentation systems all do this well against your typical whiteboard), it the co-creation, ideation and manipulation of content that's the real problem.
It's the co-creation, ideation and manipulation of content that's the real problem.
6 things you should look for in these next generation whiteboard?
Video Conferencing
No question here about video as a must but what's the best flow. I'd want to be able to add video right into my whiteboard and take the video as a starting point and bring a board up.
Collaboration
Now, admittedly, the bar to collaboration is quite low. There's no shortage of things that 'make it easier' for you to work together. What I'm talking about here is actual co creation especially by remote attendees, who are probably on another touch screen but could be on a touch enabled laptop or tablet (it gets trickier as you go down the device sizes).
So, co-inking, manipulation of content, wireless presentation. The board itself should be infinite, stretchable and a large creative surface.
Screen sharing
I'm including here screen sharing in all directions: from a big display down to connecting devices or from one display to another and also from devices back to the main display.
Sound
New solutions will have a mic and audio included in the board but there's the in room audio to think about and how you, it at all, integrate with that.
Chat
This falls under the umbrella of collaboration but because team chat is, pretty much, a separate class of product, I'll include it here. Yes, for me there's need for chat for a couple of reasons: as a conversational back channel to live sessions and to share and swap files that are pertinent what's going on. I'd even want to take this a step further and take the files out of the chat.
Saving/Exporting/Playing Back
At a basic level, you should be able to export what you're working on as a jpeg, pdf etc. but here you're into the realms of a modern day cave painting. Session record shows ideas came to pass but, personally, they can be time consuming to watch. Maybe an ongoing chat thread helps shines a light on an idea's genesis but could be littered with non-pertinent messages.
In Summary
According to Nemertes, it's believed that about 70% of companies are already using or evaluating these platforms types of platforms and the stage is set for your meeting room walls to come to life.
Next Steps…
Learn How to Transform Your Large Format Display into a Collaboration Hub.
You may also be interested in our blog post 3 Ways to Enhance your Interactive Whiteboard.
Want to stay in the loop?
Keep up-to-date with everything DisplayNote – including new releases, job openings, and customer giveaways.
Don't worry, we'll not spam you and we'll never share your email with anyone