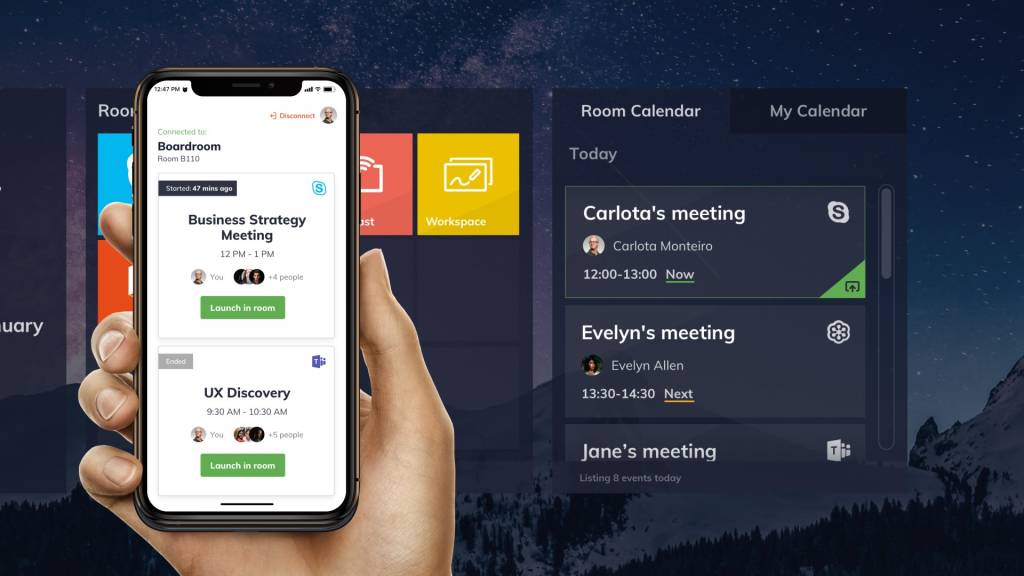 Introducing DisplayNote Launcher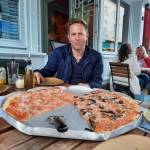 Eddie Morgan
•
Jun 7, 2019
Today we are delighted to announce our latest product, DisplayNote Launcher, a software based solution that uses sensor technology to allow people to use their smartphone to turn any shared meeting room display into their own temporary Office 365 device.
A smarter home screen for your meeting room displays
Today, screens in meeting rooms are used by more people, across different departments and for different purposes. Users demand secure access to their meetings, content and preferred applications but this is increasingly difficult in today's multi-purpose spaces.
DisplayNote Launcher changes the way people interact with these screens by giving them temporary, secure access to their individual calendars, content and calls by using their smartphone to personalise the screen.
"We believe that the future of meeting room collaboration is A.I. driven with a person using their own trusted device to identify themselves and personalise their experience Our new Launcher software has begun to make this a reality for users of meeting room displays", said DisplayNote CEO, Paul Brown.
Joining us on our mission will be some of the world's biggest manufacturers of touch displays, starting with Newline who will embed the technology on their Windows based displays.
Launcher will be available in Q3 2019 and its initial focus will be on organisations that use Microsoft Teams, Skype for Business and Office 365 with the company stating that they have ambitious plans in place for further integrations.
How Launcher works
Launcher is a Windows 10 application that provides a locked down kiosk interface with a one touch experience for the user on a shared meeting room display.
Launcher includes a mobile app that uses a tokenised authentication protocol built on top of Bluetooth Low Energy (BLE) to enable any smartphone to passively and securely emit a signal that represents the user. Users create their identity within a DisplayNote Launcher app using an Office 365 account and that app communicates to the Launcher software on the touch display or mini PC. Once connected, users get temporary access to their One Drive, Skype for Business/Teams calls and personal company calendar applications on the meeting room display. When a user disconnects these applications revert to a room state with no data stored on the display.
Feature set
Easily configure & launch your most-used applications
Use your smartphone to access your individual Skype for Business/Teams, One Drive and Calendar on a shared display.
Microsoft Calendar Exchange integration
Locked down kiosk mode for Windows 10
Authenticate with Office 365™
Connect via proximity sensor, QR code or manual log-in
Start calls on your phone and they launch on the main display
One touch calendar join
Quick access to mic, audio and volume
Includes wireless presentation , one to many screen sharing and collaborative whiteboard)
PIN protected admin to add room calendars, add/remove apps, turn on kiosk mode and access Windows settings
Launcher software available for Windows with apps for iOS and Android
If you have any questions or feedback, contact us or get in touch via LinkedIn, Twitter or Support. We're continually adding features, so register your interest in Launcher to keep up to date!
Learn More About Launcher and experience it for yourself with a free 14 day trial.
Want to stay in the loop?
Keep up-to-date with everything DisplayNote – including new releases, job openings, and customer giveaways.
Don't worry, we'll not spam you and we'll never share your email with anyone