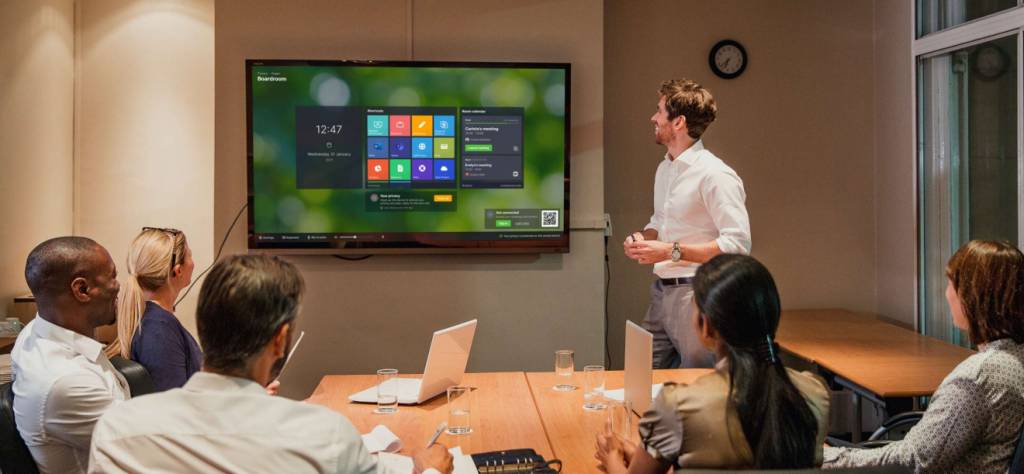 +
Launcher keeps Transco connected and collaborating
International transportation and logistics company Transco incorporates Launcher to facilitate virtual meetings and improve collaboration within their meeting spaces.
Introduction
Headquartered in Singen, Germany, Transco is a global leader in transportation and logistics across Europe.
Transco has a renowned reputation as one of the world's leading transportation groups. Since 1970, they have been setting new standards within the industry, with innovation and sustainability at their core.
Transco has 580 employees and 220 drivers, with multiple locations across Europe in countries like the UK, Switzerland, Russia, and many more.
The Challenge
As a global distributor, Transco operates with teams and suppliers in multiple locations. Like many other industries, Transco has also been faced with the challenges of safe, collaborative working in the wake of the COVID Pandemic.
With travel restrictions in place and many employees working from home, the Transco IT team recognized the need for an innovative solution to enhance and simplify virtual meetings within their Singen headquarters. They also wanted to improve team collaboration and increase productivity within the meeting space.
The Solution
Transco chose to install Launcher at their headquarters and data center in Singen. Using Launcher in conjunction with an interactive meeting room display a camera, Transco has made it easy to host virtual meetings. The ability to customize apps on the meeting room display has also enabled full interoperability with all the different video-conferencing platforms.
From an administration perspective, Launcher has been incredibly simple to install – our colleagues have found it easy to use.
As we work with clients in countries across the world, Launcher's app-style set-up means our meeting room is equipped to take calls on WebEx, Zoom, Microsoft Teams – all the different video-conferencing platforms. We also use the browser app on Launcher to launch our Citrix workspace on the meeting room display. It means colleagues in the room can transform the display into a virtual workspace and easily show the projects they're working on to the whole room.

Nelson Luzio – IT and Systems Administrator, Transco
The Results
With Launcher installed at their headquarters, Transco can launch apps, access calendars, and start video calls with one touch.
Meeting attendees can use their mobile phones to…
Wirelessly sign in and out of Microsoft 365 on the meeting room display.
Access OneDrive, calendar, and calls.
Launch calls on the main display using Zoom, Microsoft Teams, Webex, etc.
…without the need to sign in or interact with the main display.
Launcher has improved the usability of our meeting room – our teams are very happy with the product. We can transform the interactive touch-screen into a desktop and easily launch calls across all the different UC platforms.

Nelson Luzio – IT and Systems Administrator, Transco
Provide flexibility and security for your meeting room users
Want to stay in the loop?
Keep up-to-date with everything DisplayNote – including new releases, job openings, and customer giveaways.
Don't worry, we'll not spam you and we'll never share your email with anyone