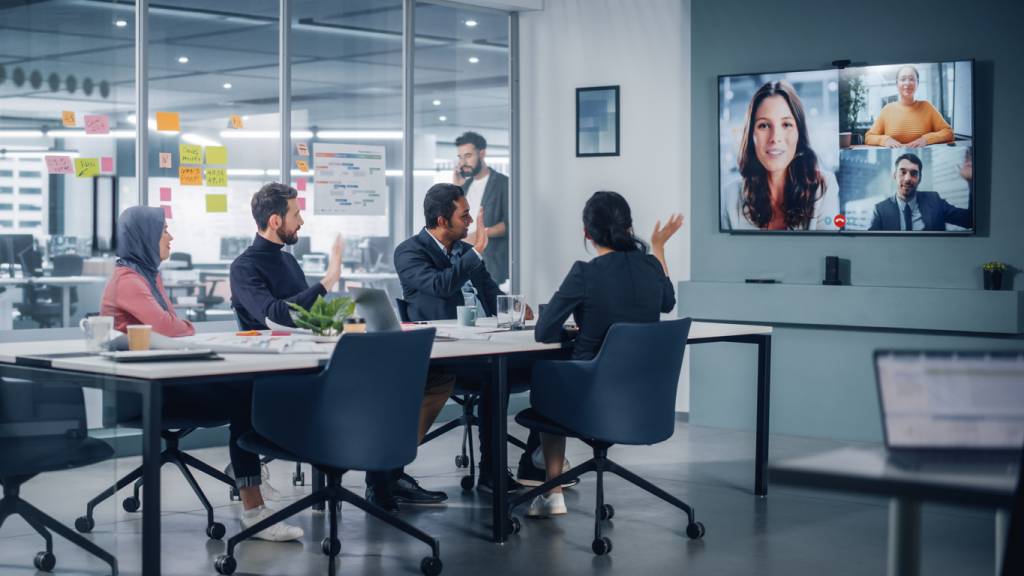 Enterprise
Hybrid Working
Thought Leadership
Hybrid meetings: Equipping your meeting spaces to be more collaborative, flexible, and equitable for all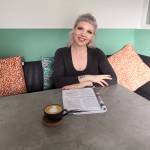 Julie Adams
•
Sep 27, 2022
In this article:
The changing landscape of work
It's hard to imagine another time in history where work culture has experienced such a rapid, seismic shift as it has in the last three years. Many of us have bared witness to an unplanned revolution, with the traditional 9-5 office culture being swapped for a more balanced 'hybrid working' model.
Of course, hybrid working isn't a new concept. It's been about for a long time. But what is new is the favorable attitude many businesses have adopted towards it. Where the prospect of working from home might have filled many managers with doubt and fear before, it's now widely accepted to be a necessary counterpart to the office – the place where our 'deep focus' work can take place, free from the distractions of the office. And this is all thanks to the accidental experiment that the pandemic forced us to partake in.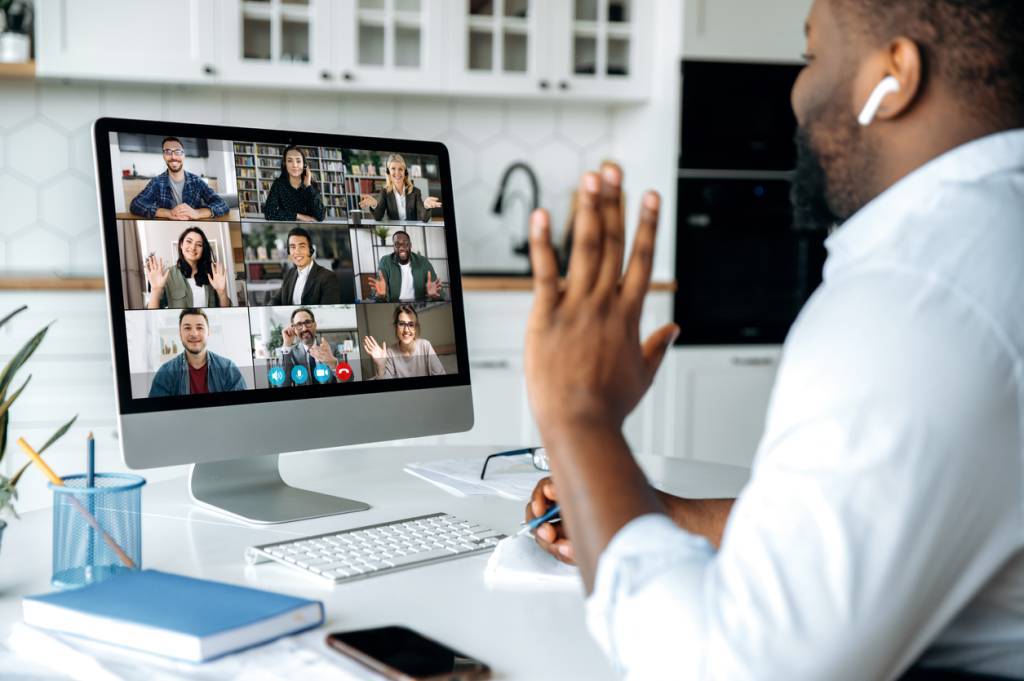 The pandemic has opened the gates for a hybrid model of working and encouraged us to talk more openly and honestly about accessibility and inclusion in the workplace – and the reality that some workplaces have been falling short.
But these conversations are paving the way for real change. Large and smaller organizations globally have begun to adopt new policies and adapt the workplace culture to reflect the diverse needs of their employees.
The new hybrid meeting space
As a result of these changes, organizations are also starting to think about their physical spaces and whether they are equipped to meet the needs of the modern, hybrid workforce.
A hybrid meeting refers to those where not all attendees are in the room. Some of the attendees are together in the same location, while other participants join the meeting virtually via video conferencing platforms. 
Hybrid meetings offer many benefits; they're more accessible, more environmentally responsible, and they facilitate better collaboration between globally dispersed teams than relying on traditional in-person meetings.
As a result, leaders, HR teams, and IT admins are starting to ask the following questions:
How do I create a meeting space that facilitates hybrid working?
How do I give staff joining a meeting from home the same experience as those in the room?
How can I make our meeting spaces more accessible for all our employees?
How do I create workspaces that encourage employees to come into the office?
These are all important questions. The power of hybrid meetings to open up the workplace to more candidates should not be overlooked. Hybrid meetings have the potential to increase participation from employees that may have barriers to coming into the office every day. Whether this is due to mobility issues, neurodiversity, illness, or just childcare, hybrid meetings are a leveler in making the workplace more accessible and inclusive.
However, to be truly successful – employers need to put everyone on a level playing field.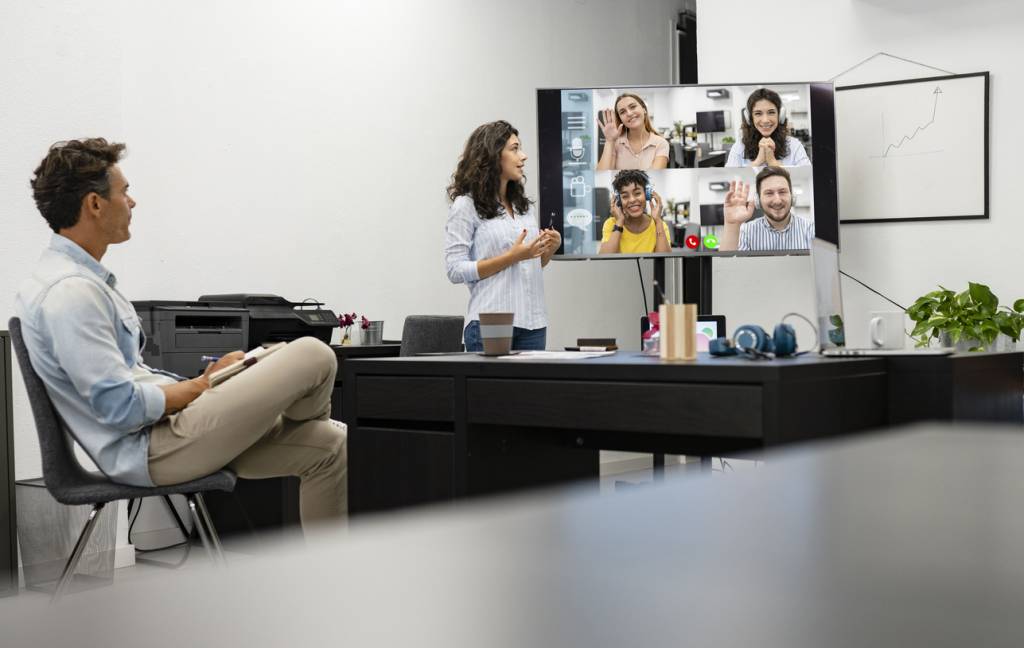 How to equip your meeting room for hybrid meetings
Poorly designed meeting spaces aren't just a barrier to inclusion; they also lead to significant costs. In fact, ineffective meetings are estimated to cost $37 billion annually in the US alone.
Considering that 37% of employees' time is spent in meetings, having a well-designed space isn't just a luxury; it's essential. Giving your employees the tools they need (and can easily use) reduces set-up time and the demand on IT departments and improves productivity and collaboration. Plus, it creates an environment where people enjoy working, giving them a real reason to come into the office.
Audio and visual
To try and give virtual attendees the same experience as those in-room, good quality audio and visual equipment are essential.
HD cameras help to resolve the 'fish-eye' problem of traditional video cameras and give remote participants a more natural viewing experience. Some can pivot to automatically detect who's speaking in the room, to keep the presenter as the focus.
Good quality audio and microphones are also essential for relaying content accurately and helping remote attendees feel like they're 'in the room.' The key is to choose microphones for your space that can identify between background noise and the people speaking. There's nothing quite as frustrating as hearing 'I didn't quite catch that' for the third or fourth time…
Screen sharing
Good hybrid meetings allow everyone to collaborate and share content as they would if they were all in the same room. The built-in screen sharing tools in your video conferencing tools are a great way to do this. If you want to encourage people to share during the meetings, ensure your sharing settings are set to 'all participants' before you start the meeting – this will remove friction during the meeting.
Room layout
Is the room configured to give virtual attendees the best view of the room and who's speaking? If not, it's worth reconfiguring the seating plan to face the camera and be as close to the microphone as possible; it'll create a more natural meeting experience for all involved.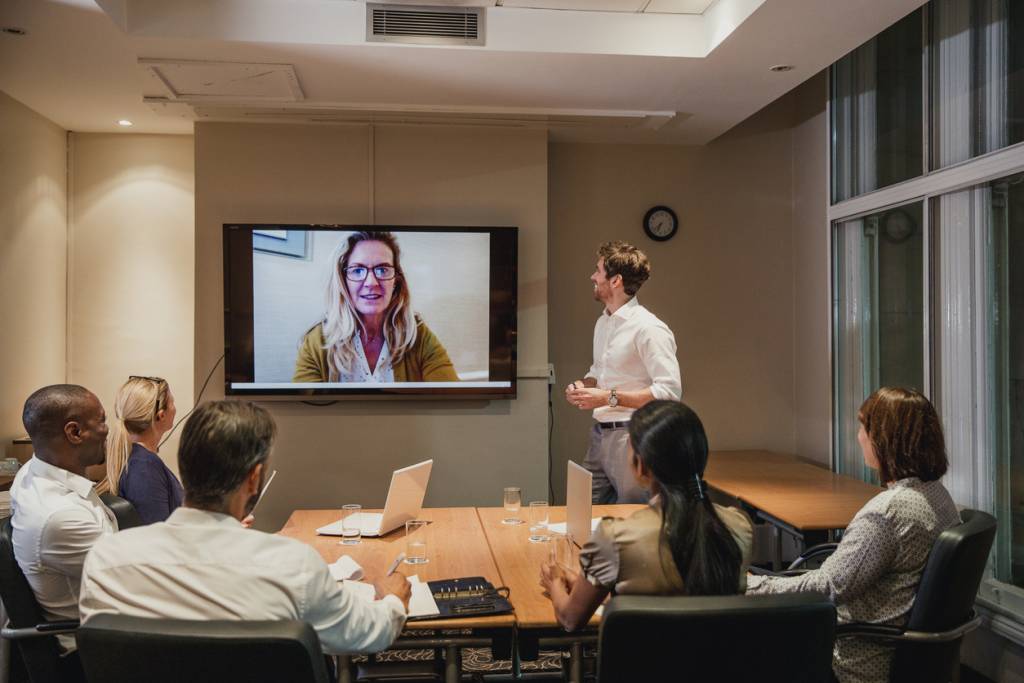 Video conferencing tools
We touched on the issues of video-conferencing interoperability in a previous article. For those unfamiliar with the term, it refers to the inability of different video conferencing platforms to communicate with one another (i.e., why you have to stick with a single video conferencing tool for a call). The issue arises because there isn't one unified video platform that we all use, yet meeting spaces are often vendor-locked to a single solution.
This can cause friction when it comes to launching calls across different video conferencing platforms – and it can make you look unprofessional on external calls with clients. Launching calls should be quick, intuitive, and painless – and shouldn't involve a lengthy set-up or the intervention of the IT department.
This is something we considered when designing our call and app Launcher for meeting rooms. With Launcher software installed on your meeting room screens, users can easily launch scheduled calls, regardless of what platform it's on. Launcher is compatible with Microsoft Teams, Zoom, Webex, Google Meet, GoToMeeting, Lifesize, and BlueJeans… unlocking your meeting spaces from a single UC vendor.
Launcher integrates with the room calendar, meaning all your scheduled calls are pre-loaded on the screen and ready to launch with a few simple taps. Plus, meeting room console support means calls can also be launched from your seat if you have a console on the meeting room table.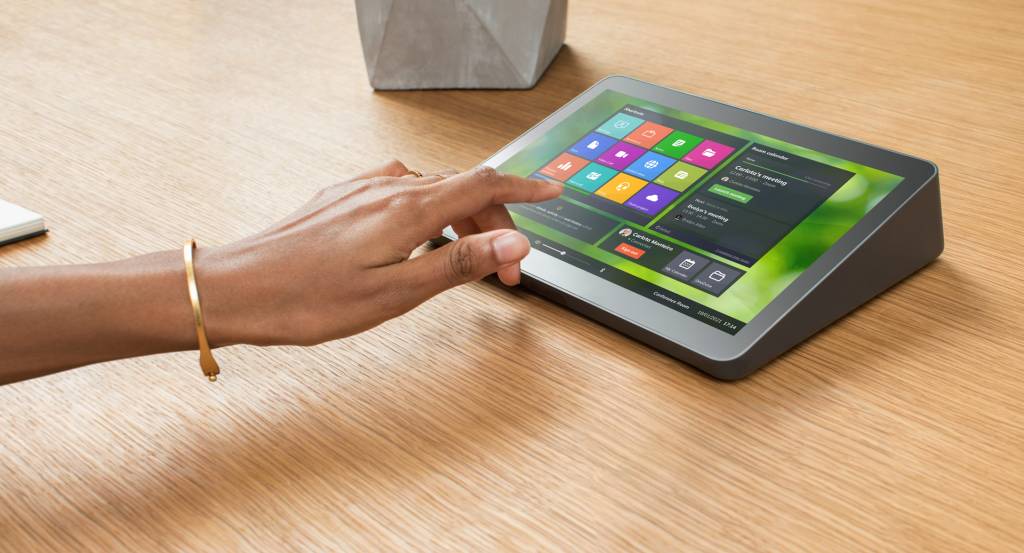 Giving everyone a share of voice
As we've discussed, creating a good hybrid meeting experience means ensuring high-quality, life-like video and audio experiences for those joining virtually. But it also means giving everyone an equal share of voice, regardless of whether they are inside or outside of the room.
Helpful tips to keep virtual attendees included:
Use cues and prompts when you expect remote attendees to contribute.
Speak slowly and clearly.
Share your screen so attendees can follow at home.
Leave space for questions and contributions – ask attendees one-by-one if they have anything to discuss. Interjecting into a room full of people can be intimidating when you're on a video call.
Interactive tools like live chats and polls can be useful for gathering real-time contributions.
Make your meeting spaces hybrid-ready with Launcher
Launcher software enables an employee to walk into any meeting space and instantly launch video calls, calendars, and apps without the need to log in to a shared computer.
"The main problem I saw with alternatives was being tied to a single video conferencing solution. I was looking for a solution that would allow us to use any tool, whether Teams or Zoom, or something else. I also wanted it to be wrapped into a nice interface so users don't get confused. – Andrew Yearsley – CTO, Bishop Fleming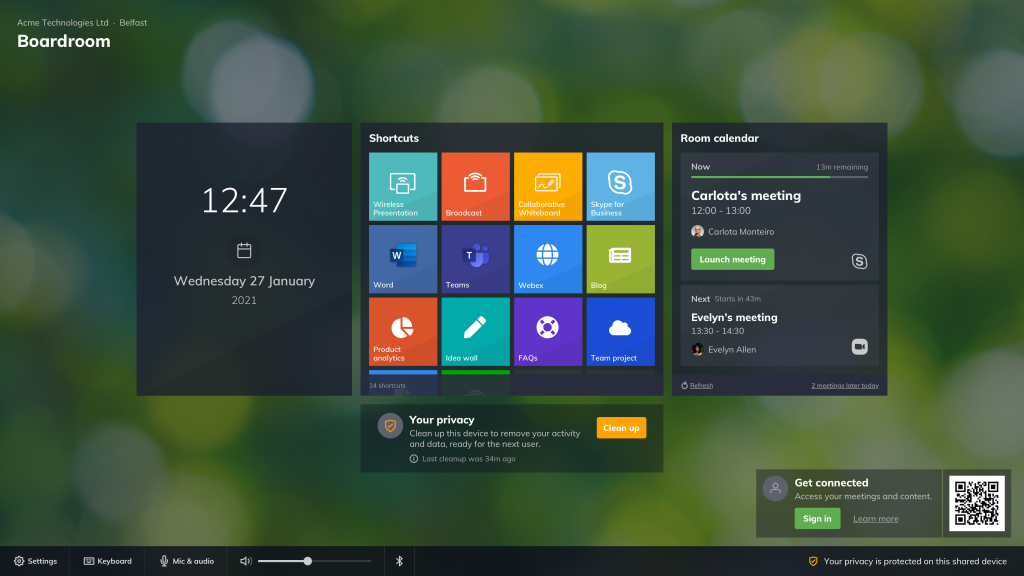 We'll be at UC Expo 12th-13th October at ExCel London – join us on Stand M30 to find out how Launcher can help unlock your meeting spaces. You can book a slot to chat to us.
Make your meeting spaces hybrid-ready
Want to stay in the loop?
Keep up-to-date with everything DisplayNote – including new releases, job openings, and customer giveaways.
Don't worry, we'll not spam you and we'll never share your email with anyone