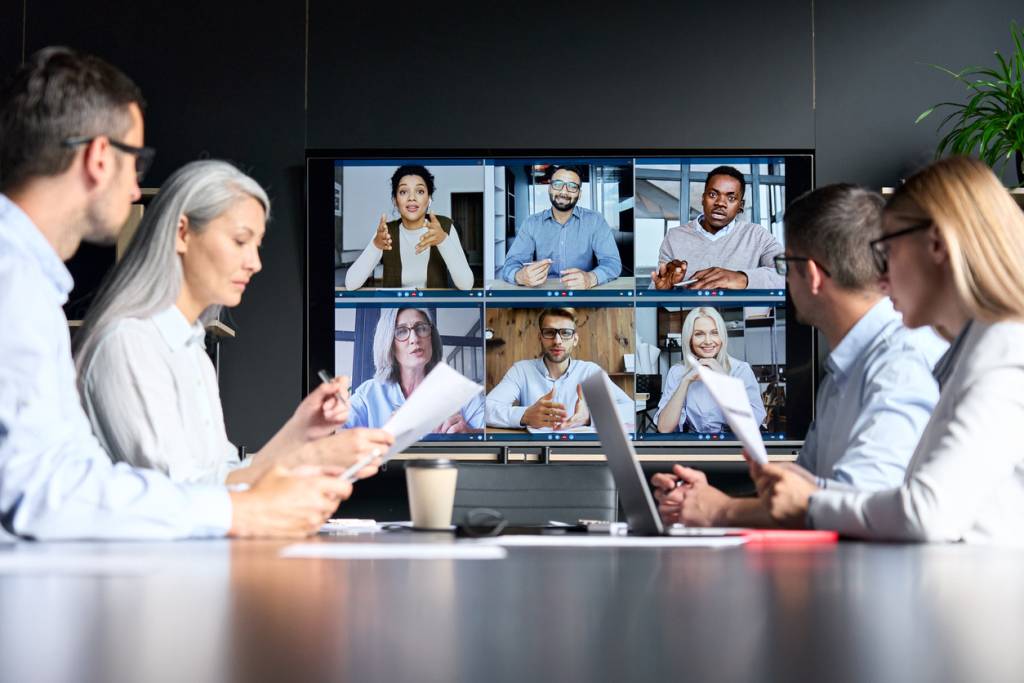 Enterprise
Hybrid Working
Launcher
Digital Domination: Will virtual meetings ever replace in-person for good?
Niamh O'Brien
•
Sep 8, 2022
The world is slowly but surely returning to normal after the pandemic. And as a result of lockdowns, travel restrictions, and remote working, many businesses were forced to undergo significant changes, and one of these changes was a switch to virtual meetings. This change was crucial at the time to continue collaborating as normal, despite restrictions on physical gatherings.
However, as we return to more familiar settings, many businesses have found that virtual calls remain a staple of their daily routines. This leads us to the big question… Will virtual meetings ever replace face-to-face meetings for good? Although a very hotly debated subject, the general consensus is no.
We're going to take a look at why this is the case. But to do so, we first have to examine how the landscape of work has changed as a result of the pandemic and what this means for meetings.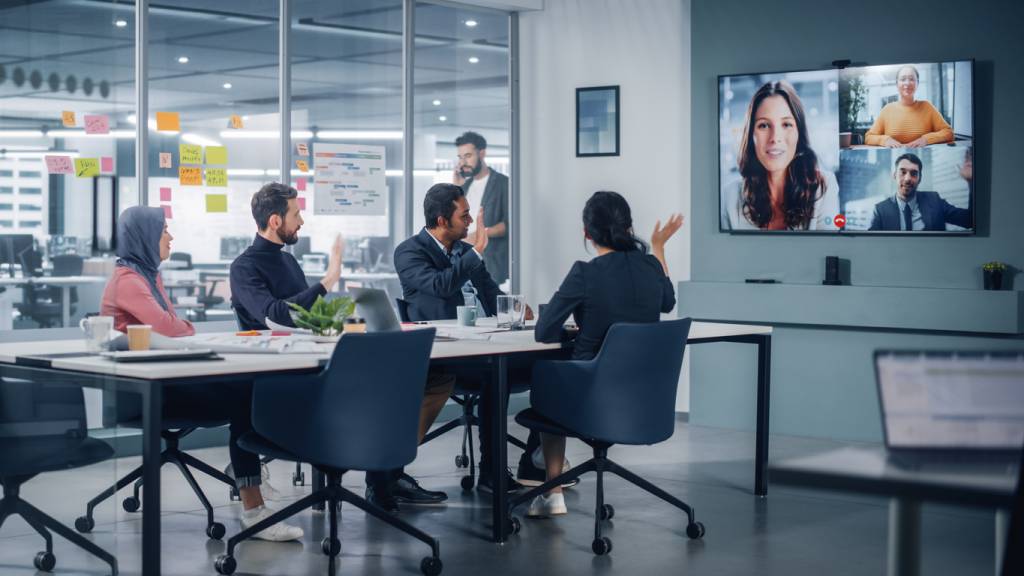 The Rise of Video Conferencing
The COVID-19 pandemic and related stay-at-home policies have had a huge impact on how people work. These changes have resulted in an increase in the use of video conferencing for business meetings and internal communication. In fact, studies from Statista have shown that Zoom, which had 10 million daily meeting participants in December 2019, had more than 300 million by April 2020. During that time, many industries would have been completely paralyzed without video conferencing.
And in the post-pandemic world, many businesses and academic institutions are still in favor of virtual meetings, with Zoom's popularity. In fact, the number of Zoom's daily meeting participants in 2022 was 350 million.
The Benefits of Virtual Meetings
Virtual meetings are likely to remain part of our working lives as most businesses adjust to a hybrid way of working. Hybrid forms of working are here to stay, so businesses are now accepting the fact that virtual meetings won't be going anywhere any time soon, and they are figuring out how to maximize the benefits of these meetings.
1. Cost-effective
When you start to add up the costs of travel and accommodation, physically meeting in a shared area becomes expensive. Virtual meetings eliminate all of that.
2. Efficient
The amount of planning and logistics required for a meeting is typically much less with virtual meetings than with in-person meetings. You won't need to worry about making hotel reservations or if your meeting space is big enough for all attendees.
3. Increased participation
The use of virtual meetings allows for increased participation from a wider audience because almost anyone with an electronic device and a reliable internet connection can easily access the meetings.
The participants don't need to travel to attend the online meeting. They can have discussions with colleagues and clients from any location.
Although the benefits of virtual meetings exist, there are real benefits to face-to-face meetings that just can't be replicated virtually. Humans are undoubtedly hardwired to have social relationships, and in-person meetings emphasize human connection and are (usually) free of distractions.
The Benefits of Face-to-Face Meetings
Studies have examined the advantages of face-to-face meetings and, not surprisingly, these studies have shown how important they really are, as they tend to lead to more complex strategic thinking and give room for difficult, timely business decisions. In reality, face-to-face communication cannot be completely replaced in the workplace. Here's a few reasons why…
1. Engagement and productivity
It can be very difficult for even the best meeting hosts to maintain the whole team's engagement in a virtual meeting. It's more tempting to browse, text, or scroll when on a virtual call. However, the likelihood of getting side-tracked is significantly reduced in a face-to-face meeting. Taking your phone during a meeting to scroll through social media or check your emails would be considered extremely rude – so people are less likely to do it face-to-face.
This also means people tend to participate more actively. As a result, face-to-face meetings are generally more productive – proving they are still relevant and essential in today's workplace culture.
2. Building strong relationships and trust
For a company to succeed over the long term, relationships must be strong – and communication is an essential part of this. Meeting co-workers and clients in-person enables a sense of human connection, which can help build trust and facilitate the creation of deeper bonds.
Having a face-to-face meeting with a client shows them how much their company and time are appreciated. It communicates to the client that they are important to the company and that the meeting subject is worthy of their time.
3. Idea generation/collaboration
When people exchange ideas in person, collaboration occurs more naturally. Participants may feel more comfortable contributing their own thoughts in face-to-face meetings because it is easier for them to tell when someone has finished speaking.
To ensure that everyone understands their vision, participants can also graphically represent their ideas on a whiteboard or piece of paper in face-to-face meetings.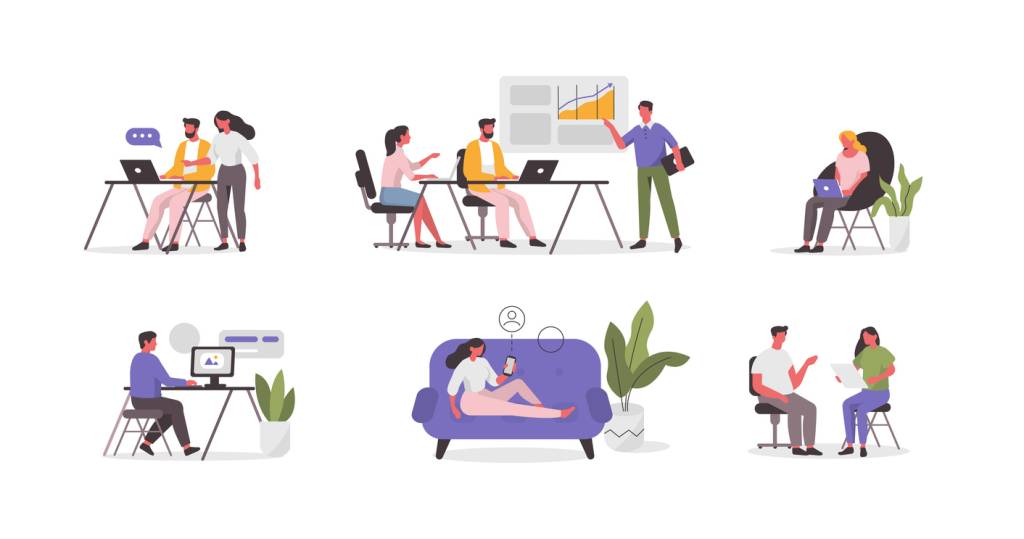 Finding the Balance
This rise in hybrid working reflects the need for increased flexibility in the modern workplace and has become increasingly relevant as more and more businesses adapt to post-pandemic ways of working. This doesn't come as too much of a surprise, as there are many benefits of a hybrid working model, including increased employee wellness and satisfaction and the removal of geographical restrictions when recruiting new talent.
Understandably, employees still like to come into the office for social interaction (we are humans after all!). Many feel that working in the office brings increased innovation and collaboration, and others like to keep work and home life separate.
As we've discussed, both virtual and face-to-face meetings are both essential and have their own merits in today's workplace. As we move back into the office, it would be unwise to underplay the role that virtual meetings can and have played in the last few years – they have kept us connected at a time when we were forced to be apart.
But we can't ignore the value that face-to-face meetings bring and their necessity for developing long-lasting connections and trust with clients and colleagues in an increasingly digital age. Despite the rise of virtual meetings, there will always be a preference for the human interaction that comes with in-person meetings, and a hybrid approach to meetings is most likely to prevail.
Facilitate hybrid meetings with DisplayNote Launcher
Want to make your hybrid meetings as simple as possible? Launcher is installed on the meeting room display and provides shortcuts to the most frequently used apps and tools.
It facilitates better in-person and virtual meetings by providing secure, easy call launching on Microsoft Teams, Zoom, Webex, Google Meet, BlueJeans, Lifesize, and GoToMeeting. Plus, users enjoy one-touch launching of all their favorite apps on the meeting room screen.
It's intuitive, user-friendly design replicates a similar experience on the meeting room screen that users are used to on their personal devices – taking the stress and hassle out of meeting room set-up.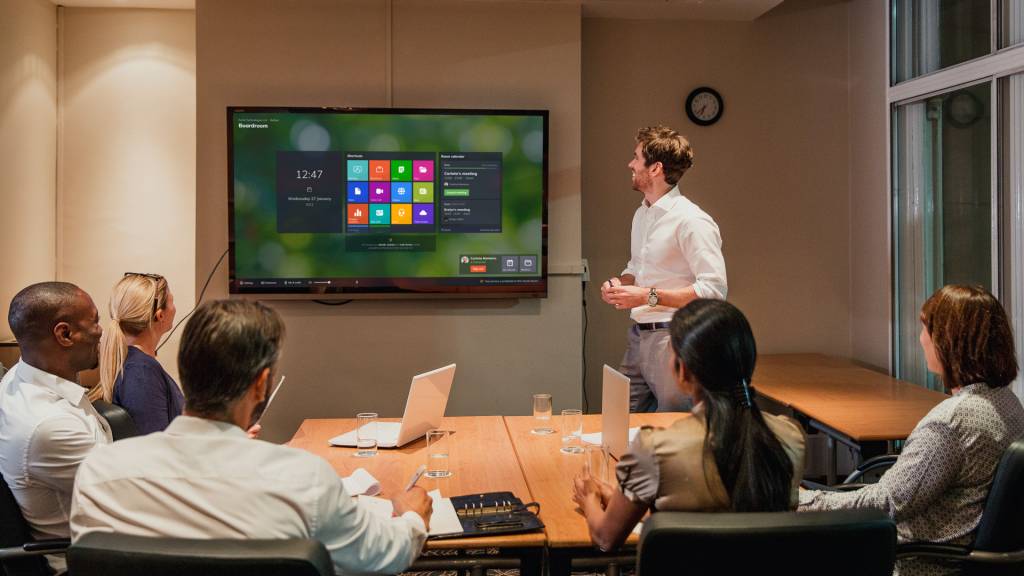 Make your meeting spaces hybrid-ready
Want to stay in the loop?
Keep up-to-date with everything DisplayNote – including new releases, job openings, and customer giveaways.
Don't worry, we'll not spam you and we'll never share your email with anyone