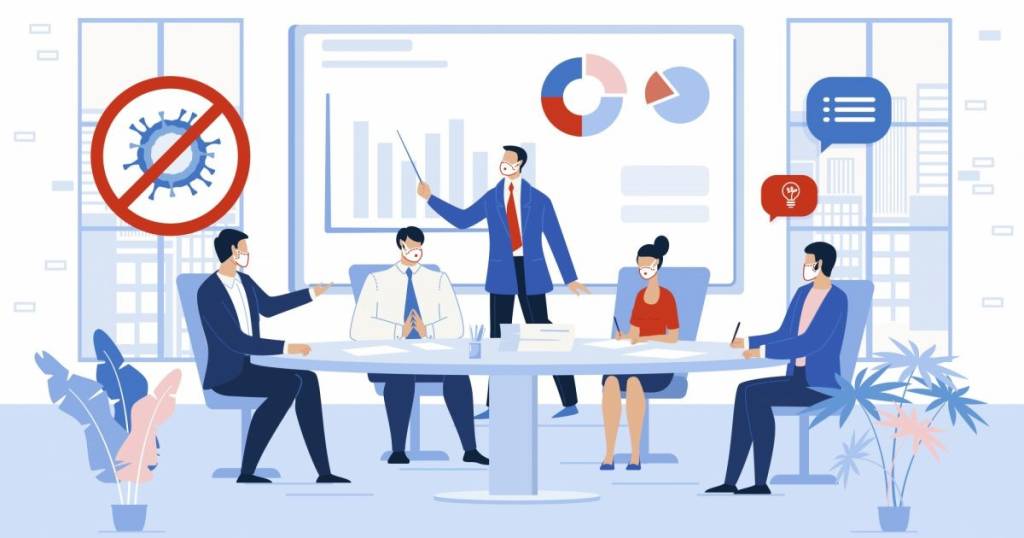 5 Things to Expect in the Post-Pandemic Meeting Room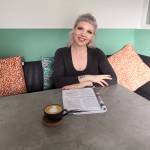 Julie Adams
•
Jan 8, 2021
This article is written by Julie Adams, a Communication & Content Specialist at DisplayNote.
It's been a strange year. Back on New Year's Eve of 2019, when everyone was thinking wistfully about their goals, aspirations, and intentions for the year, I don't think anyone had 'survive global pandemic' at the top of their list. Yet here we all are, 12 months later.
Our homes have become offices, 'can you hear me' is the new hello, and Zoom Rooms are our connection to the outside world. With a vaccine on the horizon, this won't be the case forever. But with the prospect of a permanent hybrid working very much on the cards, it's likely that our new reality will be a blend of the best parts of pre and post-pandemic life: regular human contact and more flexibility.
The workplace of the future will be a blend of remote and office-based working. Organizations that can successfully adapt to this new way of working over the coming years will be the ones that thrive.
1. BYOM is the new BYOD.
Sorry if you're not a fan of acronyms for this one. In the last few years, BYOD (Bring Your Own Device) has surged in popularity in the workplace. Many organizations have included it as part of their digital strategy; it makes technology more accessible in the workplace; it increases flexibility and improves productivity by making employees feel more comfortable with the tech they're using. BYOM (Bring Your Own Meeting) is set to be the new kid on the block.
BYOM rooms have peripherals already present, i.e., a screen, microphone, and camera. By using intelligent meeting room software like DisplayNote Launcher, attendees simply show up, connect wirelessly to the meeting room screen using the Launcher app with their own device, and start their video call at the touch of a button using their preferred conferencing platform instead of the legacy technology the room is set-up with.
When it comes to sharing content in the meeting room, DisplayNote Montage allows any person in the room to wirelessly share their screen from their own device onto the meeting room display. With smart tools like screen annotation, file sharing, and screen capture, collaboration is even easier. You're in control of what your audience view.
As more workplaces become hybrid and teams become global, meeting rooms will need to support interoperability, i.e., they can work seamlessly with a range of different technologies, apps, and tools. This is particularly relevant for video conferencing (think the Zoom Vs. Teams debate). BYOM enabled rooms will play a big part in facilitating the transition to hybrid meetings.
2. Interoperability is imperative.
Can you pronounce it? I'm still not sure if I can. You've likely come across interoperability in the contentious realm of video-conferencing: namely the iconic – Teams from Zoom or Zoom from Teams debacle. Basically, in 2021, meeting rooms and huddle spaces need to facilitate the various platforms out there.
Interoperability in the workplace means efficient automated data sharing between applications, databases, and systems. The benefits of this include increased productivity, reduced errors, and lowered costs.
When it comes to video, a lack of interoperability across the conferencing platforms is a significant pain-point for IT Administrators and end-users. IT Admins have to deal with the chaos of managing multiple platforms while monitoring the threat of Shadow IT platform use.
BlueJeans, Webex, Teams, Zoom, GoToMeeting, Skype for Business (RIP). The era of rigid IT systems that only work with one video-conferencing tool is no longer valid. We need flexibility, accessibility, and interoperability. If our client calls using Webex, that's okay. If the sales team uses calls from Teams and the marketing department calls from Zoom, that's also okay.
Our meeting room solution Launcher addresses these needs, supporting interoperability in the meeting room. Launcher integrates with MS Exchange and Google to support Zoom, Teams, Skype for Business, GoToMeeting, Google Meet, Lifesize, and Webex. Plus, Launcher's room calendar picks up scheduled calls and meetings, saving you and your attendees precious time. Simply tap a button to start or join your calls.
3. Face-to-face can't be replaced.
As much as we all love wearing jogging bottoms to a team meeting (virtual, of course), video calls will never really replace face-to-face meetings in the long term. We're social creatures who crave physical interaction and connection. A screen can't quite replicate this.
Only 16% of people reported that they would like to say goodbye to the office for good. Why? Because we all depend on and thrive off the interactions with others – be it for collaborative or social purposes.
71% reported missing the informal chitchat of the office (Unipos)
Another issue is the ad hoc sharing of knowledge, ideas, and skills – commonplace in most offices, is difficult to replicate across digital communication platforms, such as Zoom or Microsoft Teams. For hybrid working to be successful long-term, employees need to strike the right balance. Collaboration expert Judith Olson suggests a blend of in-person collaboration and team interaction at the office, with focused solo work on tasks at home.
4. Time is precious, use it well.
30-61 minutes. That's the average length of a meeting. Given the number of meetings we have scheduled each day, we spend a lot of our time 'collaborating.' But is it time well spent?
As this year halted the string of regular meetings many of us had scheduled, it's allowed us to reflect on which are of value. Going forward, quality over quantity should be the modus operandi when it comes to scheduling meetings. If you don't need to be there, don't. If something can be figured out over a quick 5-minute call, pick up the phone. Save meetings for big decisions, team catch-ups, and conversations that are better-discussed face-to-face.
5. You need the right tools.
It's maybe unsurprising that 79% of decision-makers surveyed have increased their digital transformation budget as a direct response to the pandemic. Technology manufacturers are inevitably going to play a vital role in adapting their product offerings to reflect the hybrid model that has emerged during the past year. Companies may opt to transition to more user-friendly, software-based computing, with a shift away from rigid, traditional hardware plaguing IT departments.
At DisplayNote, we recognize the problems integrators and business owners face when implementing new technology. When we created Launcher, we designed a meeting room solution that simplifies the set-up and management of meeting rooms across your business. Launcher acts as an intelligent user interface for the meeting room screen, allowing users to sign-in to their MS Exchange accounts, access calendars, launch calls, and share ideas at the touch of a button.
Remote sign-in enables access to 365 accounts from your personal device to launch calls without the need to touch a screen or shared computer. Plus, our built-in privacy features means that user data is cleared after use to keep details secure.
With Kiosk mode, system installers have complete control over what apps and features attendees can access. This allows standardization of meeting spaces across the business, reducing set-up time and IT queries.
Prepare your business for hybrid meetings with a free 14-day trial of Launcher.
Want to stay in the loop?
Keep up-to-date with everything DisplayNote – including new releases, job openings, and customer giveaways.
Don't worry, we'll not spam you and we'll never share your email with anyone