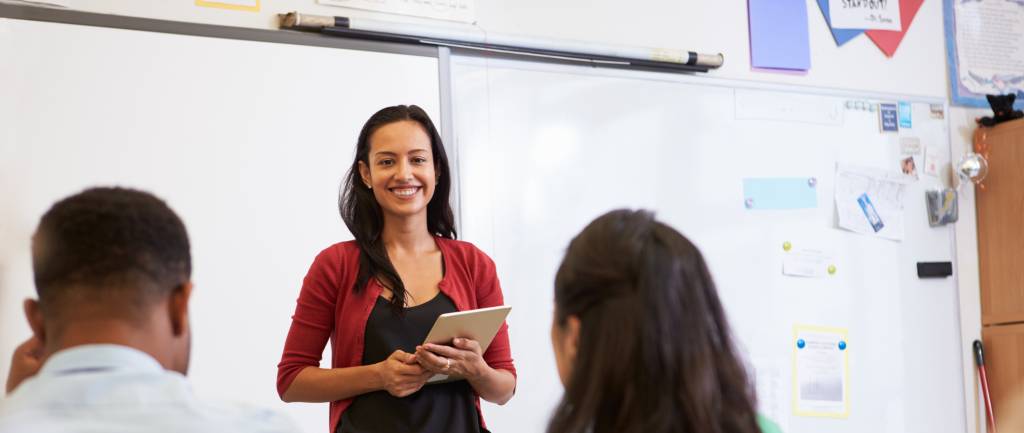 +
Making hybrid learning more inclusive at Horizon High School
Introduction
When COVID-19 broke out across the world back in March 2020, the education sector was suddenly upended by restrictions on physical gatherings. As the classroom moved online, many educators were forced to use video-conferencing tools to carry out their normal teaching practices.

For Rachel Prince, an Advanced Placement Literature and Composition Teacher at Horizon High School, COVID-19 has presented a significant challenge when it comes to connecting with her students and delivering the same quality of teaching via video-conferencing.
Despite the physical distance, there is still an expectation that all students classroom receive the same learning experience, and meet the requirements in terms of grades and academic milestones.
Find out how DisplayNote's one to many screen sharing solution, Broadcast, helped Rachel keep her students engaged, despite not always being in the classroom.
The Challenge
As hybrid learning became the norm, one-to-one interaction with students and assessing their content mastery became increasingly difficult to achieve. With 25% of Rachel's 40-pupil class learning from home, there were more barriers than ever to effective instruction.
To overcome these challenges, the class of 40 uses Google Meet for video and audio. While the solution worked well, there were limitations.
For Rachel, video is just one part of the puzzle. The problem stems from when you try to share and present on Google meet, as screen sharing takes over from the video, meaning students at home can no longer see her teaching.

Rachel found herself encountering the following problems during online lessons:
Ensuring the webcam is set at the right angle to capture the entire screen.
Continuously having to tilt the camera up and down, disrupting the lesson flow.
Students at home are unable to read what is on the board.
The Solution
Using Broadcast alongside Google Meet, Rachel can teach virtually via video, and share her content using Broadcast at the same time. This means that students inside and outside the classroom can follow Rachel's physical instructions while having clear access to the lesson material.
Broadcast has supercharged my lessons…I don't have to worry if everyone is seeing the same content – I know that whatever is on the board is being viewed by the kids in the room and out of the room; there's no need to keep asking if everyone can see what I see.

There are no more questions from students asking me to show something again.

Rachel Prince – AP Literature and Composition Teacher, Horizon High School
The Results
Before Broadcast, the class was heavily reliant on working from hard copies of work, which Rachel had to prepare and hand out. Given hybrid learning and the fact that not every pupil has access to a printer at home, a better solution was in need. This method of working has been transformed by Broadcast: one-to-many screen sharing keeps everyone on the same page (without all the paper!).

With Broadcast, Rachel enjoys:
More streamlined teaching
Better remote instruction
More engaged students
Solutions like Broadcast are vitally important for me and teachers like me. I can still teach my curriculum and not be affected by some students being out of the room – Broadcast allows my students to follow every lesson. I can loop in students at home and teach like I always do.

Rachel Prince – AP Literature and Composition Teacher, Horizon High School
Make your lessons accessible and engaging for all your students
Want to stay in the loop?
Keep up-to-date with everything DisplayNote – including new releases, job openings, and customer giveaways.
Don't worry, we'll not spam you and we'll never share your email with anyone