Unlock your meeting spaces from single vendor video calls
With Launcher added to your meeting room screens, users have quick and easy access to all their calls and favorite apps – without compromising on security or locking into a single UC vendor.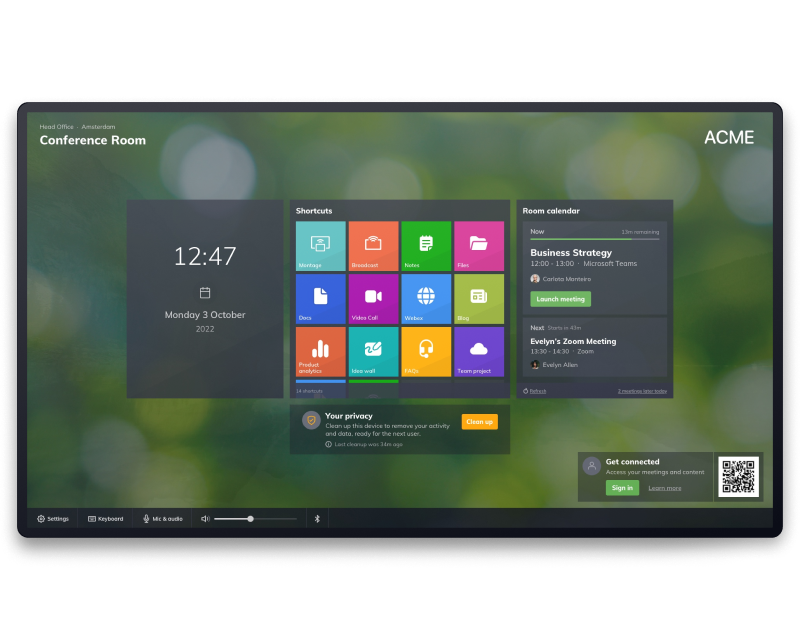 IMPROVING MEETING ROOMS FOR




Shared meeting spaces, hybrid working, and video collaboration are at the heart of the new way of working. But the experience can be frustrating for room users and IT admins alike, with technical difficulties, security risks, and inflexible setups.
Launcher solves these common problems, ensuing your meeting spaces deliver a best-in-class user experience for all users.
As a Windows software Solution, Launcher can be added to your existing screens (interactive touch screen or controlled by keyboard and mouse), making it a cost-effective Solution.
With Launcher, your rooms are:
Accessible and user-friendly

Launcher's intuitive design replicates the experience your users are familiar with on their personal devices, making meeting spaces more accessible for all tech levels.

Not vendor-locked

Launcher unlocks rooms from single UC vendors, allowing users to launch calls across Microsoft Teams, Zoom, Webex, Google Meet, GoToMeeting, Lifesize, and Blue Jeans.

Standardized

Customize the Launcher home screen with your approved apps and tools to create a familiar and consistent experience in every meeting room throughout your organization.

Locked down and secure

Kiosk Mode keeps things locked down, preventing access to the system. Plus, Custom Cleanup allows you to schedule when and what type of data is cleared between meetings.
We wanted the screens to be locked down, but still give staff the option to launch calls in their video-conferencing platform of choice. Launcher is easy to use, and we don't have people coming out of meeting rooms frustrated that they can't get into meetings. It's a good solution.
Glen Goodwin

Executive Director of IT, VCCI

points

Easy call launching with different video platforms
More efficient meetings with fewer help requests
Hybrid-enabled rooms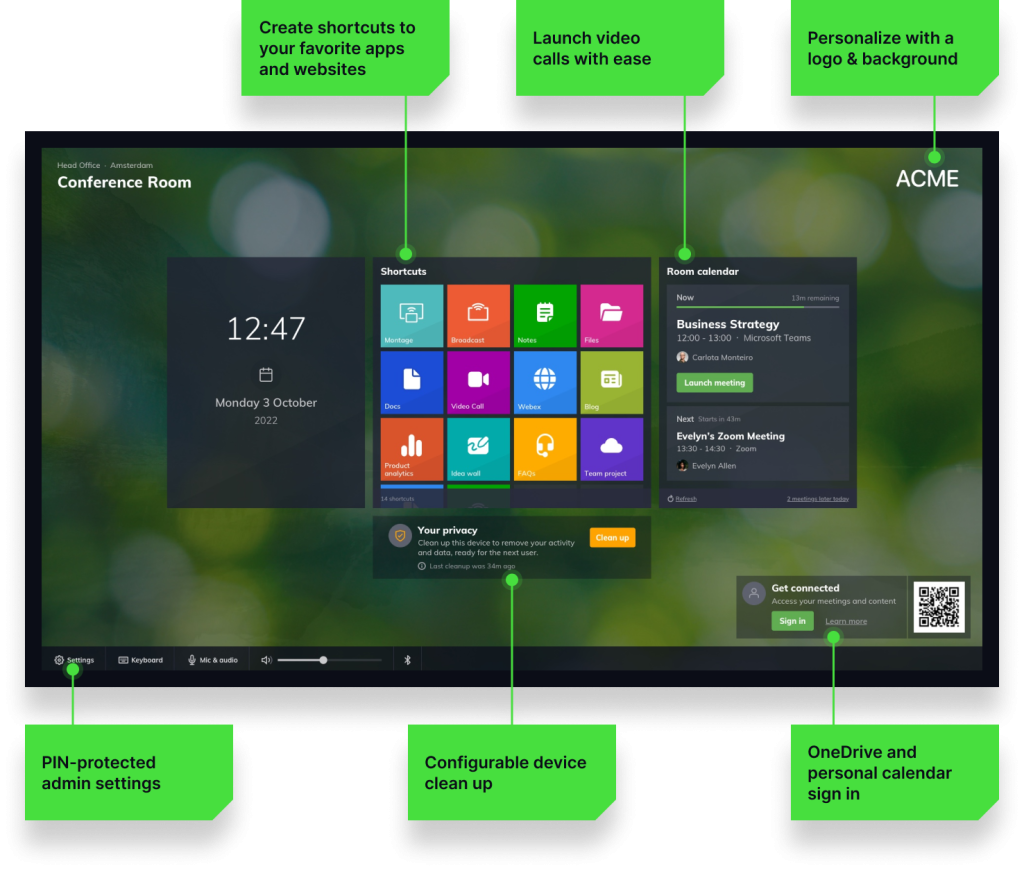 Who is Launcher for?
Multi-site organizations

Launcher makes communications between sites effortless.

Organizations supporting a hybrid workforce

Launcher makes collaboration easy, ensuring parity between employees - no matter where they work.

Professional services organizations

Launcher lets you join video calls quickly, no matter which UC tool your clients use.

Organizations with strict security protocols

Launcher's customizable security settings protect your systems and your information.
Having a meeting space that reliably works is a win for us. It reduces demand on our IT department and creates a positive experience for our colleagues.
Maximilian Heyne

Head of Internal IT, Commundardo

points

Less set-up time and more efficient meetings
Improved usability with fewer help requests
A more secure, locked-down system
Create a better meeting experience
Access the tools you need
Customize Launcher with your choice of productivity apps and URLs for one-touch launching.
No vendor-locked rooms
Launcher works with Microsoft Teams, Zoom, Webex, Lifesize, Blue Jeans, GoToMeeting, and Google Meet.
Standardize your set-up
PIN-protect your settings and export them across the organization for a standarized experience in every room.
Lock down your system
Keep the meeting room device secure using Kiosk Mode and prevent unwanted access to the Windows system.
Keep your data private
Built-in security options remove cached data, close application, and clean up the device for the next meeting.
Connect with your mobile
The Launcher app allows users to sign into Microsoft and launch calls on the meeting room screen from their mobile.
What are the benefits of using Launcher?
Benefits for IT Admin
Leverages existing equipment
Fewer help requests and callouts
More control over meeting room security
More digitally inclusive meeting spaces
Benefits for meeting room users
Less time setting-up
Fewer technical difficulties
No personal data is left behind
More confidence using room equipment
With Launcher installed, we are reassured that every screen is exactly the same no matter which station you go to; the same apps and icons are always there.
Mark Scoales

Digital Services Manager, GMCA

points

A consistent meeting experience in every room
Faster and better staff training
Full control over what apps can be accessed
Ready to start your free Launcher trial?
Here's what you need to know:
14-day, no obligation trial
No credit card required
Windows only
Buy Launcher today
Get Launcher for your meeting room screens for only USD $490 per year.
Want to see Launcher in action?
We'll walk you through it at a time that works for you.
Your questions, answered
Other users have asked us these questions. You might find the answers helpful...
A large format screen with a Windows operating system and access to Windows app store.
An interactive touch screen or a large format screen with a mouse and keyboard connected.
Can't find what you are looking for?
Send us an email
We're available every weekday from
9AM - 5PM (GMT)
support@displaynote.com
Support Center
For all other product-related resources and information.
Visit our Support Center
Want to stay in the loop?
Keep up-to-date with everything DisplayNote – including new releases, job openings, and customer giveaways.
Don't worry, we'll not spam you and we'll never share your email with anyone